Inside November 2020: Nikki Turner: focus on Covid-19 may be bad for other diseases; Paula Morris and Robin Hyde; Toby Batchelor: high performance; Emily Parke: invasive vs native.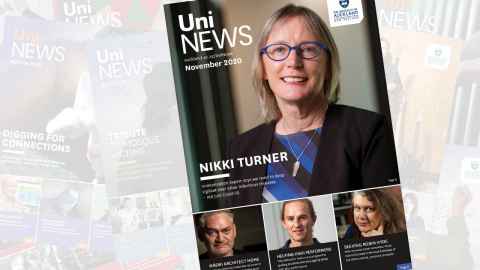 Cover story
Immunisation expert Dr Nikki Turner says as we wait for a Covid-19 vaccine, there are other diseases to keep in mind.
Features and Regulars
New book Shining Land visits places important to the renowned NZ writer. 

For our elite sportspeople and performers, studying can be a challenge. Toby Batchelor explains how the University can help.

The bulk of our national conservation effort focuses on birds such as kiwi and kākāpō - why? 
Professor of Architecture says work is needed on economic model for housing on Māori land
Other items
Good to Know
Snapshots
Vaccine video and podcast
Velocity winners
Teaching excellence awards
Spring Ingenio out
Decade of women supporting women
Ten-year anniverary of Business School Women's Mentoring Programme

Campaign for All Our Futures Wins Supreme Award
At the recent annual awards of the Fundraising Institute of NZ, the University won first place in the Best High Value category and then went on to be named supreme winner, receiving the 2020 Fundraising Excellence Award.

Eagles swoop to victory
Paddlers in the Great Waka Ama Race on 17 October enjoyed near-perfect conditions for the event.

Fresh win for young architect
Abdallah Alayan has been recognised nationally. The 2019 masters graduate of the School of Architecture and Planning won the Student Award at the 2020 New Zealand Architecture Interior Awards in October.
Books
Tyranny of Greed: Trump, Corruption, and the Revolution to Come by Associate Professor Tim Kuhner
Addressed to Greta by Fiona Sussman
Te Hahi Mihinare: The Maori Anglican Church by Hirini Kaa
Horrible Happenings: Ghouls that Go Bump in the Night and Miss Hardbotham's Cure by Michael Neill and Claudia Pond-Eyley