Arts student wins national Japanese speech contest
Congratulations to Valerie Liang, who has won first prize in the 7th National Tertiary Japanese Language Speech Contest.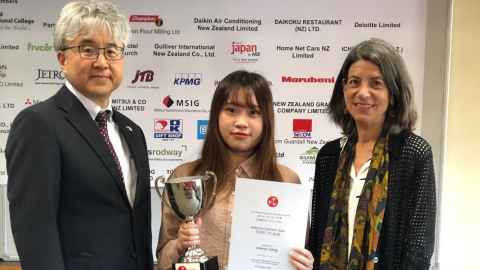 Valerie, who is majoring in Japanese and Mathematics, gave a speech entitled 'Overcoming the disappointing feeling'. She talked about the importance of changing the way we see things when we are faced with disappointing situations or consequences. Taking the example of the Covid-19 pandemic, Valerie talked about how she changed her perspective into a positive one despite the limitations this situation has imposed on her.
Valerie was recognised at an awards ceremony on campus on 30 October with Professor Bernadette Luciano, Head of the School of Cultures, Languages and Linguistics, alongside distinguished guests from local business and government organizations, prize winners and their families and friends, as well as staff in Japanese.
In past years the contest's first prize has been a return ticket to Japan. Because of the current travel restrictions Valerie has won a domestic travel voucher worth $1000 instead. She is looking forward to visiting parts of New Zealand she has not yet visited since she came here as an international student from China. Valerie is planning to go to Japan when the travel restrictions are lifted and hopes to work there in the future.
The contest is run annually by Japanese Studies Aotearoa New Zealand (JSANZ) for students studying Japanese in participating tertiary institutions throughout New Zealand. Entries are video recorded in front of an audience, followed by spontaneous questions and answers in Japanese. Contest sponsors this year included the Japanese Chamber of Commerce of Auckland Inc. ("Nisui-Kai") and the Japan Foundation.