Detecting plastic in our diets
Forensic science has been a passion for Liam Philip since childhood. During his masters research project, he used his forensic skills to investigate an emerging problem – the microplastics in our food.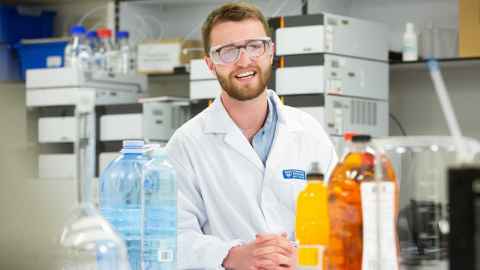 IN 2019, the World Health Organisation called for a crackdown on plastic pollution and declared an urgent need for further research into the impacts on human health. In the past few years, studies have been carried out on the amount of plastic present in our rivers, waterways, and consequently our drinking water.
In 2020, researchers reported finding microplastics in green lipped mussels and are investigating their effects on the entire marine food web. Many of us have seen what plastic does when ingested by animals, and we have seen headlines on the toxicity of certain kinds of plastic, such as bisphenols and phthalates.
Liam started studying at the University of Auckland in 2014. He enjoyed the way his Bachelor of Science in Food Science and Nutrition linked scientific concepts to the very tangible topic of our health and wellbeing. He has also been passionate about forensic science since a young age, so enrolling in a Postgraduate Diploma in Science majoring in Forensic Science was a natural next step. This year, he completed his Masters in Forensic Science where he researched microplastics in food products.
"It's been known for a long time that plastic waste is entering and accumulating in marine environments, but we've only recently discovered that microplastics are in food products. My masters research looks specifically at food produced in New Zealand. I wanted to see if New Zealand's clean image was reflected in food products," says Liam.
"This topic interested me as it seemed to be the meeting of my undergraduate studies in food science and my postgraduate studies in forensic science. It also piqued my interest as it wasn't something I had heard of previously. I thought it would challenge me and push my education in a new direction."
Liam received a Sustainability Research Award from the Faculty of Science to support his masters project. He credits the award with motivating him by connecting him with others who are interested in sustainability. "I think the way the award helped me the most was knowing there were other people outside of my own research group and family that were interested in my research."
Growing up in the Waitākeres was key to his interest in sustainability. "Nature and wildlife was part of my upbringing, so the importance of the environment was instilled from a young age. I believe that maintaining a world with good biodiversity and an environment as we know it is important for maintaining our way of life."

I would like to see more people realising that we are already consuming plastic and steps need to be taken now to prevent this getting far worse.
As part of his research into microplastics, Liam examined 19 different types of beverages readily available in New Zealand supermarkets using visual examination and pyrolysis with Gas Chromatography Mass Spectrometry (GCMS).
"The pyrolysis produces a fingerprint of compounds, which can be identified through GCMS, characterising what types of plastic are present. This helped me to gain a greater insight than previously achieved in the examination of food products."
The beverages Liam looked at included a selection of drinking water, fruit juice, milk, energy drinks, soft drinks, beer, white and red wine, and cider. "Through my research I was able to identify both Polyvinyl Chloride (PVC) and Polyethylene (PE). These are plastics commonly used as piping and bottles, respectively. Not materials I want to be eating!
"In total, I examined 13 of the 19 beverages for PVC and PE. Of these 13, seven contained PVC and six contained PE." Of all the beverages he examined, Liam didn't detect plastic in the bottled water and white wine. He hopes this research will show that we are consuming plastics – even in a country with a 'clean' or 'natural' food reputation like Aotearoa.
"I hope more people become aware that plastic waste management is everyone's problem not just a problem for the wildlife affected by our waste. I would like to see more people realising that we are already consuming plastic and steps need to be taken now to prevent this getting far worse."
Liam is due to graduate this year and hopes to continue his research or become more involved in forensics. Reflecting on his masters studies, he believes that "one of the most rewarding aspect was the opportunity to be involved with teaching in the food science department. Having the opportunity to pass on what I had learnt and getting to work with lecturers that I look up to was a highlight".
Sustainability Research Award
The Sustainability Research Awards were set up to boost the profile of sustainability and improve sustainable practices at the University. Each year, the Faculty of Science Sustainability Network grants ten awards of up to $2,000 each to eligible science students. The awards support students with their living costs whilst they are involved in research projects related toeither sustainability at the University or a broader sustainability issue.