Racing against the climate clock
The more we can learn about climate change and its impacts, the greater chance we have of living through it.
CLIMATE CHANGE IS ONE of the biggest threats our world has ever faced. As David Attenborough said in his first feature film which he describes as his 'witness statement', David Attenborough: A Life on Our Planet, "This is not about saving our planet, it's about saving ourselves" – a warning that the natural world will survive without us and not the other way around.
As the boiling point of the climate crisis speeds towards us, with experts predicting the disastrous impacts of climate change will be at our doorstep by 2050, we need to work together to reduce global warming and create a sustainable way of life so there is a future to live in. Science expands our fundamental understanding of the world but it is equally important that this knowledge informs the decision-making on how we must adapt to climate change and its challenges.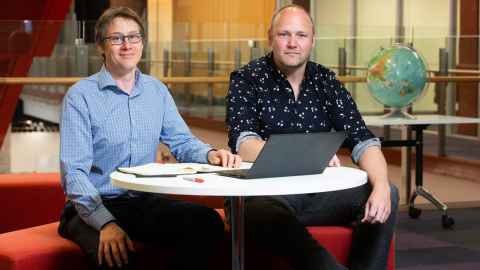 Unifying climate science research
This is one of the aims of the Climate Science Research Centre initiative, to unify climate science research as we build towards a more sustainable future. Professor David Noone was appointed this year in a leading role as Buckley- Glavish Professor of Climate Physics at the University and is Director of the Centre, which is in its founding stages. David hopes it will be a "nationwide academic alliance in climate change".
His research is on water, clouds and changing global wind patterns while he also helps build and use climate models in predicting future climate change. Referring to one of his research projects, David explains, "we're working to understand how pollutants in the atmosphere change the characteristics of clouds, in two parts – how efficient clouds are in raining and how bright the clouds are, both of which are quite central to understanding how reliable future climate model projections are".
David's work involves oceanic clouds that are prevalent in the Eastern Pacific, which have some similarities to clouds around New Zealand. "These clouds happen to be disproportionately important for the global planetary temperatures.
Clouds can act to either amplify or limit temperature changes, and determining which requires careful accounting of the way in which minute cloud droplets form and evaluating the wind patterns near cloud," he explains.
"We're trying to understand these physical processes, principally because we don't know the right way to code these into the climate models," he says. "It's clearly an area where models need to be improved and so by doing the observational component parallel to the theoretical side in the modelling, that's where we can achieve progress."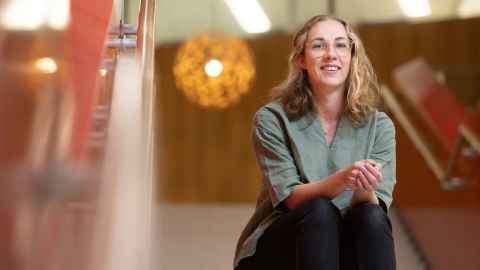 National Science Challenge: Resilience to Nature's Challenges
The National Science Challenges began in 2014 and with over $680 million in Government funding over ten years, a team of scientists are collaborating on the country's most urgent science-based issues.
Dr Murray Ford and Dr Emma Ryan from the School of Environment are both working in the team for the Coastal research programme within Resilience to Nature's Challenges, to understand how New Zealand's coast has changed over the past 80 years and what this means for future coastal change. The programme is led by University of Auckland Associate Professor Mark Dickson and Dr Rob Bell from the National Institute of Water and Atmospheric Research.
Emma has been part of this Challenge for four years, and its overarching aim is to improve the country's resilience to current and future natural hazards, one area of which is coastal hazards such as flooding and shoreline erosion. She says one part of the Coastal programme, which began its second round of funding in 2019, explores how New Zealand's shorelines have changed over the past 80 years, shaped by erosion or accretion. They employ historical aerial and satellite imagery and shoreline change mapping techniques to help form this picture.
The project will continue until 2024 and at this stage they have nearly completed shoreline change mapping in Northland. "The combination of that shoreline change mapping work we are doing and the decision support tools that will be developed by other colleagues in the Challenge, will be really important parts of research, information and guidance for coastal managers and decision makers around the country."
" ...you can walk up and
see them and there's
not many examples of
those types of exposed
fossil coral reefs that
are Holocene in age,
thousands of years old,
in the world."
Shoreline change in the Western Pacific
Aside from the Coastal programmes project, Murray's individual research is primarily focused on the formation, evolution and dynamics of low-lying atoll islands in the Pacific, which are particularly susceptible to impacts of the climate crisis. Murray's previous research has shown islands have not experienced widespread erosion as is frequently predicted.
"However, we've just scratched the surface with our understanding of how atoll islands respond to sea level rise," he says. Currently, Murray and others have been working to expand their island mapping across the Pacific as well as recently building scale models of islands in wave tanks to test how these islands can grow vertically, potentially keeping pace with sea level rise by changing shape and accumulating sand.
"The future for [atoll islands] is certainly not positive," Murray explains, noting that although his past research "paints a slightly more optimistic picture for the geological persistence of the islands. But as societies, economies and cultures, they're still faced with all those challenges along with all the other climate impacts – they're not only faced with sea level rise. When I lived in the Marshall Islands, the biggest impact was drought caused by more intense El Nino events."
Coral reefs as climate archives
"They're quite amazing little pockets of information," says Emma of coral reefs. Her research project, funded by the University of Auckland Faculty Research Development Fund, involved reconstructing past environmental changes in fossil coral reef systems on Kiritimati (Christmas) Island, situated in the Republic of Kiribati in the Pacific Ocean.
Describing the reefs there, Emma says, "they extend for kilometres and these amazingly preserved fossil corals are just sitting on the surface – you can walk up and see them and there's not many examples of those types of exposed fossil coral reefs that are Holocene in age, thousands of years old, in the world."
Through documenting the paleoecology of these reefs, Emma can gain an insight into what the past environmental conditions were like there, such as the water quality and changes in sea level. "This work provides important context about past climatic and sea level changes, within which current and future changes in coral reef systems can be evaluated."
In 2021, the Climate Science Research Centre may bring research on climate, whether past, present or future climate, and the knowledge being uncovered about the impacts of climate change, together. "The spirit of the Centre and of climate science that is being done in Auckland is in finding these interaction points," David says.
He suggests taking a "warehousing approach" to the range of climate science and climate change related research being done, to bring together different research projects across disciplines that are endeavouring to provide the knowledge and tools to help us in our efforts to survive the global climate crisis.
"How do we utilise all of that information to empower ourselves to make the right decisions, the decisions we need to make about adaptation and mitigation strategies?" he questions. "There is an underlying theme to these disconnected components, but we're actually all looking at the same problems from different directions, and there is a common need for rigorous science to provide evidence-based solutions."
www.resiliencechallenge.nz/scienceprogrammes/coastal-theme/