A side of knowledge with your beer?
Aucklanders wanting to make the most of Aotearoa New Zealand's freedom to socialise, and to keep abreast of the latest thinking, have their chance on 20 April at Raising the Bar.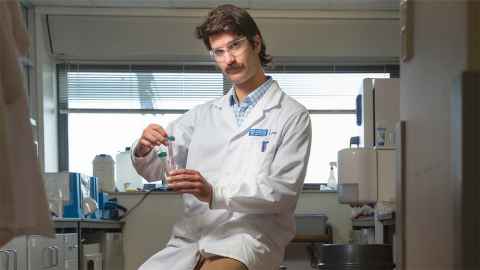 Raising the Bar, a global initiative that originated in New York, hosts academics in bars around Auckland to present some of their most interesting research in a convivial setting, bringing topical subjects out of lecture halls and into the neighbourhood.
The 20 topics this year range from searching for alien worlds to the challenges of keeping premature babies growing, and will take place in ten locations in Parnell, Ponsonby, Grey Lynn and the CBD.
Director of Alumni Relations and Development, Mark Bentley, says it's good to be able to bring the event back into real time.
"This is the fifth year we have held Raising the Bar. Last year's online event, necessitated by lockdown, ended up being a great success - especially for taking the event to international audiences. We plan to do a similar online event later in the year.
"In the meantime, we're looking forward to an in-person event where people get together with friends to listen to some world-leading research and perhaps debate some of the findings over a drink and a pub meal," he says.
"Our academics enjoy the opportunity to share their work with a different group of people and it certainly underlines the fact that the research being done is highly relevant to our communities – and not just a small group of people up on the hill."
There are two sessions per bar at 6.30 and 8pm, each one lasting approximately 45 minutes. Entry is free but attendees must register at rtbevent.com/auckland-21.
Venue
Time
(pm)
Speaker
Topic
Shadows
6.30
Dr Joya Kemper,
Business School
What does sustainable consumption truly mean?
8
Dr Joel Rindelaub,
Faculty of Science
How fresh is the air that we breathe?
Sweet Affair
6.30
Associate Professor
Linda Tyler, Faculty of Arts
Art: What is it good for?
8
Associate Professor Katie Fitzpatrick
Education and Social Work
Why are schools not prioritising mental health and sex education?
Little Easy
Fort St
6.30
Dr Sandeeka Mannakara
Faculty of Engineering
Survivor: Planet Earth 2021
8
Dr Jemaima Tiatia-Seath
School of Māori Studies
and Pacific Studies
Brown girl in the ring: a Pacific academic takes her gloves off
Everybody's
6.30
Professor Steven Dakin
School of Optometry and
Vision Science
Hate eye tests? Soon you'll be able to monitor your eyesight at home
8
Associate Professor Nabeel Zuberi
School of Social Science
Play it again, Samsung! Are we really in the midst of a paradigm shift in listening to recorded music?

The Birdcage
6.30
Dr Hilary Sheppard
Faculty of Science
Human genome editing: are we ready?
8
Associate Professor Suresh Muthukumaraswamy
School of Pharmacy
On a trip back from the fringe: the recent renaissance of psychedelic drug research
La Zappa
6.30

Darsel Keane, Associate Director
Centre for Innovation & Entrepreneurship
The extraordinary benefits of an entrepreneurial
mindset
8
Professor Frank Bloomfield
Liggins Institute
Breathing, sucking, swallowing: the challenges of keeping premature babies growing
Dice and Fork
6.30

Associate Professor Saeid Baroutian
Faculty of Engineering

Dr Rob Burrell
Chair, A&NZ College of Anaesthetists Sustainability Group

The secret waste of healthcare: an insight into new technologies to deal with pharmaceutical waste
8
Associate Professor Alys Longley
Faculty of Creative Arts and Industries
Making art across time, space and borders
The Oakroom
6.30
Dr Nicholas Rattenbury
Faculty of Science
Mission possible: searching for alien worlds and alien life
8
Dr Anne Bardsley, Deputy Director
Koi Tū: The Centre for Informed Futures
She'll be right: risk perception, politics, and failing to prepare for the inevitable
Little Easy
Ponsonby
6.30
Associate Professor Mike Lee
Business School
Anti-vaxxers
and Covid-19: who will get the jab?
8
Associate Professor Scott Optican
Faculty of Law
"Dude, you're a cop …?!" Scenario operations, 'Mr Big', and evidence obtained by
undercover policing in NZ criminal courts
Revelry
6.30
Dr Kelly Burrowes
Auckland Bioengineering Institute
Is vaping safe? Let's clear the air
8
Professor Anthony Hoete, Architecture and Planning
Is gaming the answer to our housing crisis? One architect starts playing