Engineering Professor named President of professional body
Our Acting Deputy Dean, Professor Rosalind Archer, has been chosen as Engineering New Zealand's newest President.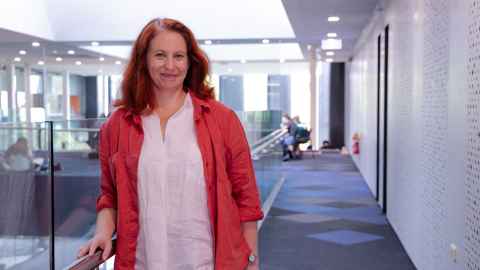 The official announcement from Engineering New Zealand (ENZ) came last Friday. 
Professor Rosalind Archer was made an ENZ Fellow in 2018, and she became their Vice President in the following year. In that time, we have seen her presented with several industry awards, and within our faculty, move from her role as Head of Department of Engineering Science to take on a broader leadership position as our current Acting Deputy Dean.
As President, she will be involved in the organisation's strategic direction, governance, and more, as well as chairing regular board meetings and interacting regularly with fellow Engineering alumnus Dr Richard Templar, the organisation's Chief Executive. "ENZ is a larger organisation than many people realise, with over 70 staff and a wide range of programmes", she says.
Her appointment is notable for several reasons: firstly, it's rare for academic staff to take on this particular responsibility, with the exceptions being our previous Deans of Engineering Professors Gordon Bogle and Ray Meyer in the 70s and 80s, and Professor Peter Jackson — known for establishing our faculty's Yacht Research Unit — in 2006.
Professor Archer, who currently teaches first year Engineering students, belives that she can now be a voice on their behalf as they build their professional careers. Leading ENZ means she'll gain further insights into the needs of employers and thus provide perspectives that are useful to an engineering education — including a professional ethics module she's embedding in her first year course.
She is also just the third woman in ENZ's over 150-year history to be made President.
This serves as yet another reminder of why her experience, influence, and commitment to several initiatives are valuable to alter statistics like it. Within our faculty, she is an executive sponsor and enthusiastic supporter of the 33% Project. Outside of the University, she is a co-ambassador for the global Women in Data Science Project, who hosts a global conference every year.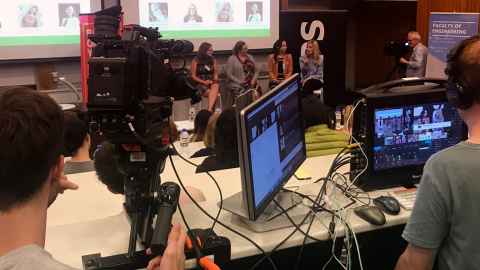 "I daydream of a time my gender becomes not newsworthy", she exclaims.
She however has confidence in ENZ's commitment to the Diversity Agenda and sees her gender as "never an issue at the board table. I hope it means that young women studying engineering now can see the potential of reaching this level in the profession if they wished to."
Diversity and inclusion, for both Professor Archer and ENZ, extends beyond gender. "Our faculty wants to see our cohort of students be representative of wider Aotearoa New Zealand", she says, and "ENZ has a similar ambition. They're doing great work at schools through the Wonder Project and programmes dedicated to developing student interest in STEM, all work that dovetails well with Te Herenga Mātai Pūkaha's efforts to encourage school students to consider pursuing an engineering degree."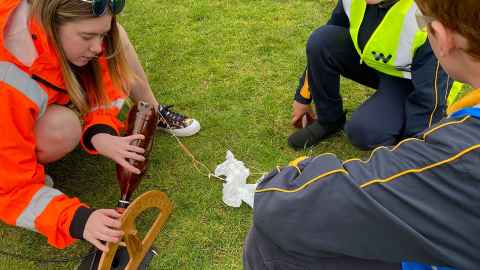 On a day to day basis, she's an advocate for the use of te reo Māori and wants to see it normalised. "I've been encouraging te reo by incorporating it in a range of ways, such as using a bilingual auto-reply on my email." Her drive to helping Aotearoa's engineering community grow its connection to Te Ao Māori is also a core focus in her new role.
In our faculty, she is also Chair of our Equity Committee, where she regularly sees how small actions — much like the auto-reply — can contribute to change. She also adds the youth mental health crisis to her list of concerns, so she maintains a certification from Lifekeepers, a suicide prevention training programme.
Ultimately, it's about creating spaces where everyone has the opportunity to live their values. This means our students should be graduating into a professional workforce which lets them 'bring their whole self' to work.
The need for diversity at all levels is evident to her as the faculty faced challenges in the last year. In both her roles as a lecturer and within faculty administration, she experienced first-hand how COVID-19 affected not just demands on educational offerings and the need for flexibility for remote work and study, but also the makeup of the profession in the future.
I currently lecture a postgraduate class where half the students are local and the other half join from around Aotearoa and the world. The mix of experience and backgrounds in the room benefit everyone. It's now easier to bring contributions from working engineers into our classes, such as being guest lecturers coming in by video. It also means young people who are digital natives may have an advantage. COVID-19 is changing the world of both education and work.
With the decades of leadership roles under her belt, Professor Archer confessed that she can't pinpoint when she realised it was the right direction for her. "But I've always enjoyed understanding what makes people tick and how organisations can be as impactful as possible". What she's noticed however, is the shift in how she's using her mana.
"Gaining a PhD requires a lot of motivation and focus on personal success. However, as my career has developed my motivation and focus has moved to supporting the success of others – whether that is my research group, my colleagues, the faculty, or other organisations."