Myna information: study tracks history of pesky birds in New Zealand
Student Annika Beesley is digging into the history of myna birds in Aotearoa New Zealand.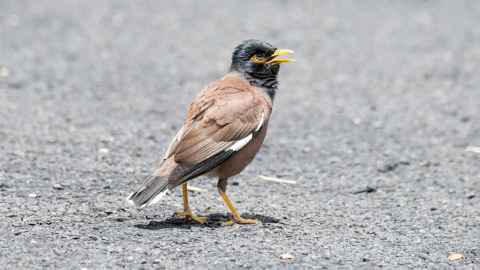 You'd be hard-pushed to find anyone with a good thing to say about myna birds but if they weren't around, student Annika Beesley might not have had a summer job.
Annika, a third-year science student of biology and anthropology, had a summer scholarship doing archival research to investigate the introduction of common mynas (Acridotheres tristis) to New Zealand. The work included a literature review and a breakdown of how and where mynas were introduced to various districts.
Her research was supervised by Dr Heather Battles (Anthropology) with Dr Anna Santure and Dr Annabel Whibley (Biological Science). Anna and Annabel will use Annika's findings as a resource for their Marsden project that's investigating the genomic adaptation of the common myna since its deliberate introduction to New Zealand. Anna and Annabel are comparing the genetics of birds in different regions, and having a good historical record of where they were present is useful to help explain genetic differences.

Annika spent almost three months trawling through books, documents and newspaper archives held in the online database Papers Past, looking for mentions of the birds.

"Most of the research was done online but I also went to Wellington to look at paper records in Archives New Zealand and the National Library, Alexander Turnbull Collection," she says.

Annika tracked all mentions of the birds she could find, to determine when they came here. She found different spellings of myna, mynah, miner in the documents she researched, and confusion over whether the birds were from India or Australia.
"The common myna wasn't known as the common myna back then," she explains. 
"It was usually written as minah, or Indian myna or Australian myna. There are other myna birds in Australia, one of which was probably introduced to New Zealand, but it's hard to know because Indian myna birds were all introduced to Australia where they acclimatised and were then brought to New Zealand.
"Even if someone from the Wellington Acclimatisation Society wrote that they'd imported 80 Australian myna, you can't know for sure that they were Australian.

"In the National Library, I found really interesting information from original 1870s records held by various acclimatisation societies."
Acclimatisation societies, the forerunner to Fish & Game, were initially motivated by a wish for the New Zealand countryside to feel more like 'mother England'. They were involved in importing European birds such as sparrows and starlings.
"It was a bit of a trend to bring familiar birds and animals to New Zealand," says Annika.
"But there are a number of reasons they wanted to import animals. As the 19th century progressed, people started focusing more on hunting and fishing, so wanted to bring in game animals and fish too."
I found really interesting information about myna birds from original 1870s records held by various acclimatisation societies.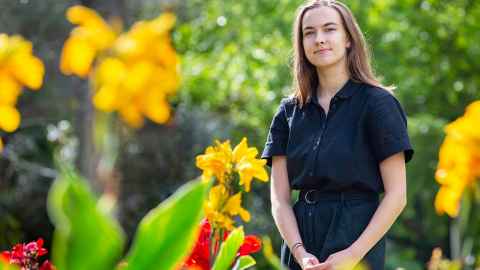 In the 1870s, about two decades after the setup of such societies, there was a push for insectivorous birds to be introduced, including the myna, because of a big problem with pest insects.

"In the 1850s, there are reports of caterpillars, crickets and other insects that would normally have been controlled by native birdlife, but that had dwindled with the clearing of forests."

Mynas were seen as a way to control the problem using biology, but not really thinking of wider long-term effects.

Annika collated historical mentions of mynas and their introduction, including how the public's opinion grew against the birds as they became established.

It wasn't until around the 1940s that mynas really made Auckland home and in the mid 1960s they reached the tip of the North Island.
Today they are common across farmland and urban areas in the northern half of the North Island. Despite being introduced largely to the South Island, they soon died out there and today are rarely seen below Whanganui.

"They're not very migratory, so the South Island is largely spared, and there are only sporadic sightings in Wellington.

"I haven't exhausted all sources of information. One of the things I'm trying to find out, is if there's information out there held in families as part of their history. I'd love to hear about it."
Annika would like to hear from anyone whose family was involved in acclimatisation societies or the independent importation of birds in the mid-to-late 19th century. She's keen to see if anyone has  original documents that mention myna birds.
Email: abee834@aucklanduni.ac.nz 
This story first appeared in UniNews May 2021.