Paula Morris reflects on landmark book of Asian Kiwi writing
Associate Professor Paula Morris teaches the Creative Writing Programme at the University of Auckand. In April she unveiled a special work in front of her classes. She explains why it was special.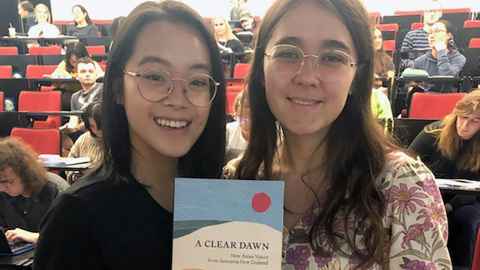 On Wednesday 21 April, I carried a package wrapped in brown paper to class.

The package was from Auckland University Press and I could guess what was inside. But I wanted to open it in front of English 252, a big creative writing class at the University of Auckland, so they would all see it the moment I did. In particular, I wanted to open it in front of two students – Cybella Maffitt and Joy Tong.

Cybella and Joy are class reps, but that's not the reason I wanted them to see the small unveiling. The book is A Clear Dawn: New Asian Voices from Aotearoa New Zealand. It's the first-ever anthology of Asian New Zealand writing, gathering 75 emerging writers of poetry, fiction and creative non-fiction. Cybella and Joy are two of those writers.

I co-edited the anthology with Alison Wong, which is why I received an advance copy. The book is being launched at a public event at the Auckland Writers Festival on Saturday 15 May.

Alison is flying over from Australia, where she lives, to attend events in Auckland, Napier, Wellington and Dunedin. We're hoping to add special events in June – Wanaka, Arrowtown, Invercargill and Riverton – funding, Covid levels and weather permitting.

Alison was a great collaborator: thoughtful, engaged, passionate. She was the tortoise and I was the hare, she joked, which made us a good team.

The anthology represents two years of reading, research, writing and editing, and endless hours spent on phone calls, in Zoom meetings, sending emails, spreadsheets and Dropbox folders.

Wrangling 75 chosen writers wasn't easy, especially as many were publishing in print for the first time. As well as Cybella and Joy, the anthology includes current University of Auckland students Russell Boey, Saraid de Silva, Isabelle Johns, Sarah May and Han May Nguyen, as well as a number of University of Auckland Master of Creative Writing alumni.
I don't think I've ever felt this proud of a book, and so eager to see it go out into the world.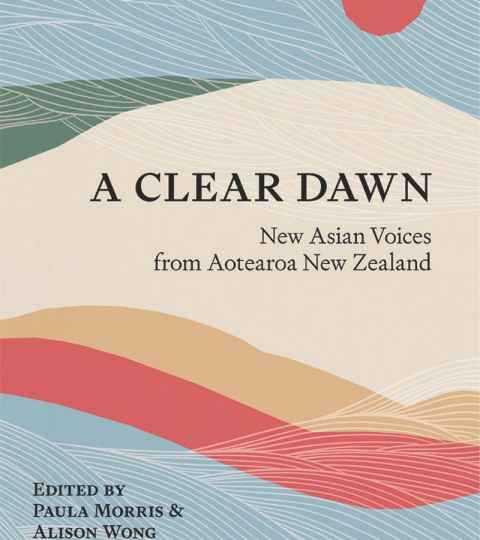 A Clear Dawn is a landmark book, as various first readers pointed out.
In the introduction, Alison and I marvel at the wealth of talent emerging from our various Asian New Zealand communities and lament how little has been recognised to date. Alison remains the only Asian New Zealand winner of our top national fiction award – for her 2009 novel As the Earth Turns Silver.
One of our selected poets, Nina Mingya Powles, is shortlisted for this year's Ockham New Zealand Book Awards for Magnolia (the winners due to be announced on 12 May). If she wins, she'll be the first Asian New Zealand poet to take home the poetry award.

In class, I took a photo of Cybella and Joy with the book and sent it to Alison. We were all excited and happy. I've published a number of other books – novels, story collections, essays – and edited two previous anthologies, including Ko Aotearoa Tātou (OUP, 2020).
But I don't think I've ever felt this proud of a book, and so eager to see it go out into the world.
– Associate Professor Paula Morris
A Clear Dawn: New Asian Voices from Aotearoa New Zealand, Paula Morris and Alison Wong, eds, Auckland University Press, $50 
The Auckland Writers Festival runs 11-16 May.