Accounting more important than ever during pandemic
A recent event at the University of Auckland Business School has highlighted the continued importance of accounting to business and the broader economy in light of the COVID-19 pandemic.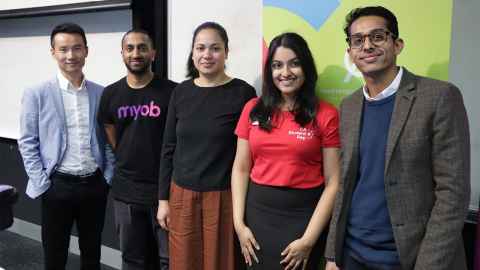 On Wednesday 5 May, the Business School partnered with MYOB and Chartered Accountants ANZ to host Accounting: The Language of Business. This panel event discussed the continued relevance of accounting as a profession and an essential skill in business and follows on from 2020 event, The Relevance of Accounting in a Digital World.
Panellists for this year's event were Savali Kolone, Group Finance Manager at Metlifecare, Nishaa Senarath-Dassanayake, Student Representative at Chartered Accountants Australia and New Zealand, Martin Ma, Professional Teaching Fellow, Accounting and Finance at The University of Auckland Business School and Gopal Tarakad, Consultant – Data and Analytics at BDO.

There's research from Australia that shows accountants were only
second behind the medical field in terms of the most important jobs, especially
to help businesses come out the other side of the pandemic.
The presenter for the evening was MYOB Education Manager Shailan Patel, who started proceedings reflecting on the growing importance of accounting since the COVID-19 lockdowns.
Unfortunately, the popular belief persists that, while accounting skills are essential to economic recovery, technology is increasingly doing a better job than people in providing them.
"A lot of people outside the industry say accountants are going to be replaced by robots, but they don't really understand the complexity of accounting. They think we stay in the back-office, crunching numbers, but at the end of the day, the company needs to make a profit, and you are the enabler to make projects successful," Martin Ma explained.
For Savali Kolone, mixing technical skills with solid business knowledge has been key to her providing the best possible service and advice throughout her career.

"Technology plays a big part because it makes us more efficient. And when the mundane work is automated, your time is more focused on value-added stuff, trying to identify opportunities for improvement, and putting forward the best recommendations for that."

Savali went on to say that, while having a level of technical skill was a given in her career, the soft skills gained from study and work experience have been just as crucial in particularly during the early days of the pandemic.

"Throughout COVID-19, everyone was running around trying to figure out how they're going to deal with the situation. So it's those analytical skills and the ability to deal with ambiguity and work under pressure that have really helped me."

For Gopal Tarakad, an adaptable mindset has served him better than any piece of software.

"Technology is central to my role and there are heaps of tools out there now. But what's really important is the ability to learn other tools and jump between them pretty quickly. That's what's been helping me recently."

As the student representative for Chartered Accountants Australia and New Zealand, Nishaa Senarath-Dassanayake offered a unique perspective as someone at an early stage of her career.

"I didn't major in Accounting, but as the language of business, accounting is so universal that I can go in the same direction as any of the panellists here even if I haven't taken the same pathway."

Supporting this, Martin Ma offered the view that we should see accounting in two ways: a profession and a skill.

"If you see accounting as an essential skill, it doesn't matter what you do in the future because you will always have this in your toolkit to deal with your daily life and your job. And you begin to see that accounting is almost everywhere. And you don't have to tie yourself to one profession. You can be an accountant, as well as a financial analyst so don't restrict yourself."

For more information on studying Accounting, and the range of double majors and conjoint options that the Business School offers, go to auckland.ac.nz/accounting

You can listen to an audio recording of Accounting: The Language of Business at the link below.