Accounting's future looks bright
You may have heard a rumour that accountants are being replaced by robots, but a recent event at the University of Auckland business school shows that the present and future of accounting is very bright.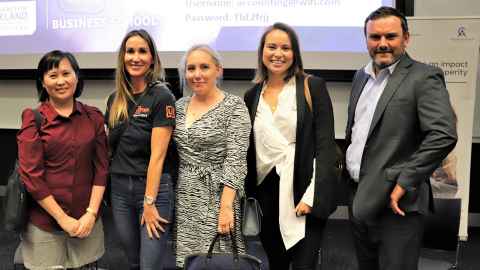 The Relevance of Accounting in a Digital World was a panel event on Tuesday 10 March, in partnership with  MYOB and Chartered Accountants Australia and New Zealand, that saw four leading professionals in accountancy discussing the continued need for the skills and attributes that accounting offers to their business, the wider industry and the economy, now, and heading into the future.
On the panel were Anna Davis, CFO of Teknique, Kylie Liew, Director at Giles & Liew Chartered Accountants, Lisa Marusich, NZ Leader and Account Director of UiPath, and Ian Hankins, Westpac Chief Financial Officer. Angela Liew, Senior Lecturer of Accounting, was our moderator for the evening.
There will always be a role for accountants, as business owners need to be able to call upon the advice of a trusted advisor but what we have traditionally thought accountants do is evolving and accountants have to adapt to changing expectations.
On the changing role of accountants, Ian Hankins explained that, while Westpac New Zealand currently employs over 100 accountants, their job title has changed.
"We tend to call our accountants analysts now, as the role is more forward-looking. We definitely still need accountants. We run a graduate programme every year because we are always keen to bring new talent into the business, and we don't see that changing."
And how about those robots? The consensus in the panel was that, rather than replacing people, Robotic Process Automation (RPA) software is enabling accountants to move away from the repeatable, manual tasks that have always been a means to an end, freeing their time to focus on the more important parts of the job.
"The primary role of an accountant is to solve financial problems. To do that you need commercial and financial judgement, a primary skill learned and honed primarily in accountants that can't be automated." Anna Davis
Of course, working with complementary technologies requires complementary technical skills. Employers in accounting and commerce are increasingly seeking out students with a mix of accounting, communication and IT skills.
"We are looking for individuals with IT experience but also business experience such as accounting and finance. When implementing RPA it is key to understand business processes and look for improvements to those processes such as risk mitigation, a key area for listed companies and banks." Lisa Marusich
Varying level of IT skills and experience is needed in different professions and roles. For example, computer programmer, data analyst, business advisor, and technology consultant.
The University of Auckland Business School offers a range of double majors and conjoint options that work well with Accounting to create students well suited to the changes in the business world, with Information Systems and Business Analytics popular choices.
For more information on studying Accounting at the Business School, go to auckland.ac.nz/accounting