A welcome return to Auckland for international students
Nicole Hayton began her doctoral studies with the University of Auckland from her home in Scotland during the Covid-19 pandemic.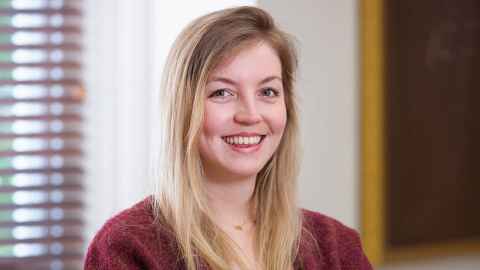 When Nicole first enrolled as a doctoral candidate in the University of Auckland's School of Environment, she could not predict the curveball life was about to throw her.
Just three days before her flight from Scotland to New Zealand to commence her PhD in March 2020, the New Zealand border closed due to the global pandemic and Nicole had to adapt quickly to her new reality.
"Being in Scotland in 2020 was crazy. We were in a lockdown for almost a whole year, which prevented us from meeting with family and friends and from travelling. Starting my PhD remotely was a little daunting as I couldn't be on campus and I couldn't speak with my supervisor or lab group face to face."
Nicole's research will focus on the behavioural responses in fish driven by emerging contaminants. Although making a start on her project from outside New Zealand was challenging, Nicole received a lot of support from her fellow doctoral candidates and from the academic staff at the University of Auckland.
"My supervisor, Associate Professor Kevin Simon, has been great. We have had weekly meetings over Zoom for the past year, where we discussed my project and I received feedback on various written pieces of work. I also attended lab meetings weekly with my supervisor and lab group over Zoom which helped me get to know everyone and has made the transition to being here in person really smooth."
Life is great here. It's good to meet new people face to face, go out to restaurants and bars again and to have the freedom to travel within New Zealand. It's also great to be on campus and get started on the practical component of my research.
Nicole was able to enter New Zealand in 2021 as part of the New Zealand government's border exception category for international PhD and postgraduate students. The new category, announced in October 2020, opened up the chance for 250 international students to enter New Zealand to continue their studies.
Minister of Education Chris Hipkins said the decision recognised "the vital role international education will play in the recovery and rebuild of New Zealand and the need to continue the fight against the pandemic."
Nicole made the long-awaited transition to New Zealand in February this year, completing her required two-week stay in managed isolation and quarantine before emerging into the final few days of Auckland's summer.
"MIQ was honestly not too bad – I was put up in a really nice hotel which definitely helped. Getting out after the two weeks was amazing. It's my first time in Auckland so getting to know the city and even just being in a country where life is relatively normal has been great."
Three months in and Nicole has adjusted to life in Auckland with ease. She is making the most of what the city has to offer, and is enjoying being on campus at the University.
"I love that in Auckland you get the benefits of living in a city while having easy access to so much nature. All the beaches, parks and nature reserves make Auckland a really nice city to live in, and the electric scooters are also really fun!"
"Life is great here. It's good to meet new people face to face, go out to restaurants and bars again and to have the freedom to travel within New Zealand. It's also great to be on campus and get started on the practical component of my research. I hope that my research will contribute towards understanding estrogenic pollution in freshwater ecosystems and ultimately protecting these systems."