Nicola Dalbeth wants the facts crystal clear about gout
Professor Nicola Dalbeth is an internationally respected gout specialist and researcher. She says it's a disease with much misinformation about its causes.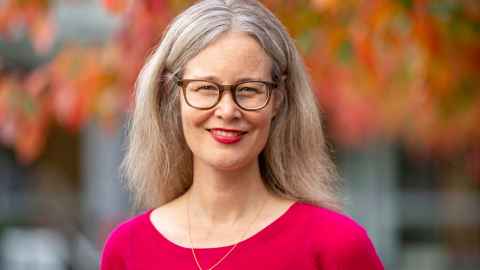 Professor Nicola Dalbeth says it's an exciting time to be a rheumatologist.

"The really big breakthroughs in rheumatology have been in the past 20 years, particularly in autoimmune inflammatory arthritis like rheumatoid arthritis. The treatments that we have now compared to in the late 1990s are incredible – in fact, I think we've lived through medical history.

"It was an exciting time to train and see these therapies developed at around the time I was going into practice."

Nicola works as a Professor of Medicine at the University of Auckland and as a specialist rheumatologist at the Auckland District Health Board. She is also President of the New Zealand Rheumatology Association.

Internationally renowned for research into gout, a form of arthritis, Nicola won the Gluckman Medal in April for her distinguished contribution to research on the disease. Her research in both pharmacological and non-pharmacological treatments has been incorporated into international gout management guidelines.

Her interest in gout came while she was completing rheumatology training in Rotorua, Auckland and Middlemore, and then went on a fellowship to the UK, to do postgraduate research and training.

"I noticed during my fellowship that there were very different presentations of gout that we were treating in the UK, compared to New Zealand. In New Zealand, we saw people who were badly affected and disabled by severe gout. It was totally different."

She returned to New Zealand in 2005 determined to help.

"I wanted to make an impact by improving gout management."

There are 41 million people around the world with gout, and in New Zealand the prevalence is one in 20. It affects one quarter of older Māori men and one third of older Pacific men in New Zealand.

Gout occurs when there are high uric acid levels in the blood which leads to crystals forming in the joints, usually at the extremities such as the feet.

Nicola says medical conditions such as kidney disease and heart disease can contribute to gout.

"If your kidneys hold on to excess uric acid, that leads to an increase in uric acid levels. This can also happen if you're on certain medicines for heart problems."

Nicola, who became a professor in 2015, has spent many years since her return to New Zealand researching the causes, impact and treatment of gout on people with the condition.

"There are perceptions and beliefs about gout that it is, for example, the 'disease of kings'.

"For some reason people think gout is really hilarious. But the disease can have a huge impact on people's livelihood, on their quality of life, on their whole family and community.

"The fact is, it's not usually because someone is drinking or eating the wrong things. These are old-fashioned views about the disease which are really unhelpful. And these beliefs lead to embarrassment and stigma.

"I want people, including healthcare professionals, to think about their assumptions about gout. Because it's not hilarious. It's incredibly painful. It has a huge impact on people's quality of life."

It's not usually because someone is drinking or eating the wrong things. These are old-fashioned views about gout that are really unhelpful and lead to embarrassment and stigma.
Around 80 percent of gout is controlled by medication, and less than 20 percent of control is influenced by diet and exercise.
"We've published data looking at the effects of weight loss and various dietary interventions. None of these interventions led to major reductions in uric acid to an acceptable level. I'm not saying it's not important to try to live a healthy life, but excessive focus on diet as the major strategy for gout management is wrong."
Nicola says it's important to understand there's no shame around the condition and that effective treatment is available. The main drug used is called allopurinol, which reduces the uric acid and helps dissolve the crystals in the joints.
Once a person has had a couple of gout attacks, better results are achieved long-term if they get treatment early.
"But what we often see is people not getting access to treatment until really late, and also not getting support and understanding, which is the role of the healthcare system.
"What we've also seen in New Zealand is major inequities around access to regular and effective long-term therapies. We know that Māori and Pacific peoples are much more likely to have gout. Yet these groups are least likely to get regular allopurinol, which is safe and the best treatment."
"In my experience, when the underlying cause of gout is explained to people and they're told there is effective long-term treatment, most people are very willing to take it."
She says issues can also arise once the treatment is prescribed. People get three months' worth but may not continue it.
"There's something about the way our healthcare system works, which means that when people have an interaction with a healthcare provider, they're given therapy but there's not necessarily support to help people keep taking the medication regularly."
Nicola says she sees this with other drugs too, including medications for autoimmune diseases like rheumatoid arthritis.
"There's been some interesting initiatives looking at strategies to support patients in New Zealand … actually regular checking-in saying, 'let's get your blood test' or 'do you need another prescription?', that sort of reinforcement.
"Allopurinol works by helping the body clear the crystals over time, but it can take a number of years to achieve this clearance."
Gout is not hilarious. It's incredibly painful. It has a huge impact on people's
quality of life.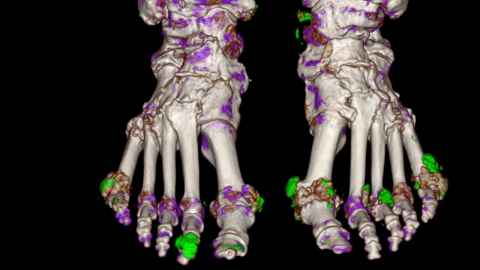 Nicola likes to show patients the crystals in their joints using ultrasound or dual energy CT scanning to explain that, even if they're not having an attack, the crystals are there, ready to pounce.

"Dual energy CT has also been very useful because it has helped us to understand the best strategies to prevent and treat joint damage. Some of our recent trials have demonstrated that getting the uric acid level down and treating those crystals can prevent progression of joint damage."

Nicola has published more than 400 research papers, working collaboratively with international or local researchers.

"As a medical student in Dunedin years ago, I did a summer studentship with an academic rheumatologist called Professor John Highton, who has now retired. That's where I got interested in rheumatology. Now I have one or two summer students every year here at Auckland. Some of these students have now become rheumatologists so it's an amazing opportunity for students to get exposure to fields that they wouldn't otherwise, as well as research training. As a student, that was a really important step for me becoming a rheumatologist and researcher."

Nicola was born in Kaeo, Northland, but grew up and went to school in Rotorua. After graduating from Otago Medical School, she went back to Rotorua for a year, and worked at Queen Elizabeth Hospital which was the old rheumatology hospital. She completed internal medicine and rheumatology training in Auckland.

She says there are huge social and economic costs to gout.

"We have the highest rate of gout in the world. It's not just about the disease itself but the severity and impact. When it's affecting men in their 20s and 30s, they're having time off work, they can't do sport or play with their kids.

"If crystals form around their joints from that time and are untreated, then they'll have severe joint damage into their 40s and 50s. This damage is preventable".

Nicola says there are rarely warning signs of developing gout.

"Mostly it's just 'bang', a sudden onset of really severe joint pain. People will remember their first attack because it's so dramatic and unpleasant. If they then get an action plan in place with treatment, they know what to do when they get an attack."

Most gout is managed by GPs but Nicola says there are a lot of interesting new models of care, with nurse educators, as well as community health workers and pharmacists.

"Gout is ultimately a chronic disease but we often view it as a disease that can be managed acutely. I think what's needed is a shift in our understanding about gout as a chronic condition and the imaging studies have been really important to help us visualise the disease in a way we haven't been able to.

"Some of the research we've done has been looking at how showing people medical images helps them understand their illness better – it's a powerful educational tool."

Her focus is on better outcomes for New Zealanders with gout and she says there is increasing recognition by the Ministry of Health and Pharmac that gout is an important issue for health equity.

"There's been some amazing work in the past few years looking at different models of care to improve the quality of gout management. I think we should be doing much more of that."
This article first appeared in the July 2021 edition of UniNews.