University of Auckland athletes head off to the pinnacle of sport
The University of Auckland is proud to have a number of students and alumni in the 2021 New Zealand Olympic Team.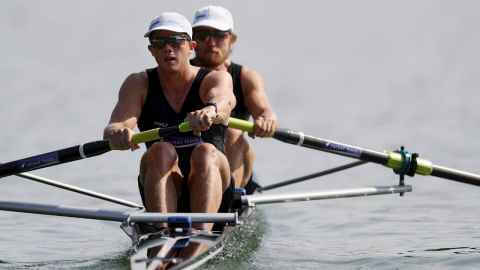 It's been a busy and somewhat anxious time for some of our top athletes, studying and gearing up for Tokyo, with competition kicking off on 23 July.
Engineering student and rower Michael Brake is one of those. He's off to compete for the second time. In 2016, Michael competed in Rio and his crew placed sixth in the men's eight. Since then, Michael has won silver in the men's pair at the 2019 World Rowing Championship and was part of the men's eight that won the final Olympic qualification regatta in Lucerne, Switzerland, in May. This crew has its sights firmly set on a medal in Tokyo.
"It all feels very real right now," says Michael. "It's very hot here, some days 30 degrees with 90 percent humidity. It feels especially hot considering that we've come from NZ winter. Aside from that there is a lot of excitement considering we are in Japan and the Games are near!"
He says having participated at Rio has taught him a lot about focusing on the job at hand rather than getting caught up in any distractions. 
"I'm better prepared to pay the distractions attention when needed and block them out when they aren't. 
"The second lesson from Rio is that racing at this event isn't about stepping up another level. It's about already being at the next level when you arrive. That's something that I've been working on for the past five years."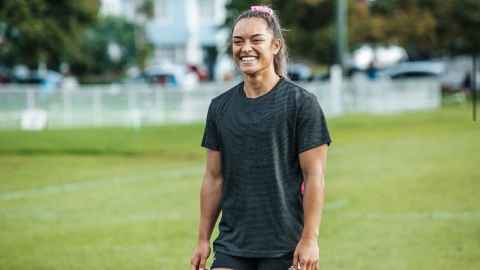 Michael is not the only University of Auckland student attending their second Olympic Games. Theresa Fitzpatrick, Bachelor of Health Sciences student and Rugby Sevens athlete, was also at Rio.
After winning silver there in 2016, sadly going down to Australia, Theresa and the Black Ferns are gunning for gold this year. The Black Ferns currently hold the world No. 1 ranking after winning 16 of the past 22 World Series tournaments and have been dominant in their Olympic warm-up matches this year.
"We are all working towards the common goal of the getting the gold medal at the Olympics," says Therese. "We are very big on team culture and know that the off-field environment translates onto the field therefore we're focusing on establishing a team culture where everyone gets along with one another; a sisterhood. 
"The element of joy is also a big component. We love to have fun with one another on this special journey. We train extremely hard but also have fun because life is short."
She says the team has excellent support networks keeping them up-to-date with any Covid-19 developments. 
"We're aware that the world is constantly changing and so we are prepared to stay resilient when changes happen. It won't be a 'normal' tournament; no crowds and many Covid protocols but we are just focusing on what we can control and that is to play our best to hopefully make everyone at home proud."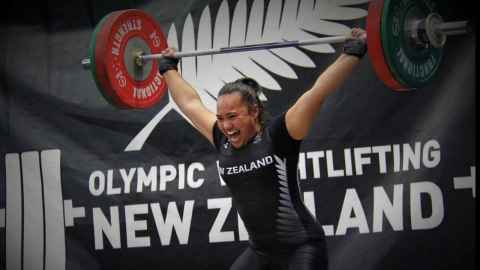 Tokyo 2021 will be the first Games for 20-year-old Faculty of Medical and Health Sciences student and weightlifter, Kanah Andrews-Nahu.
Kanah is the future face of weightlifting after her incredible recent success at the 2019 Junior World Weightlifting Championships, where she took out the women's 76kg snatch – the first New Zealander to ever win gold at this event. Kanah also won gold in the women's 76kg event at the 2019 Pacific Games.

"I feel very excited and relieved to be named in the team, purely because this was one of the longest and most testing journeys I've ever encountered throughout my weightlifting career and life," said Kanah.

Six University of Auckland alumni have also been selected for the Olympics. Black Sticks captain and most-capped player, Stacey Michelsen, is lining up for her third Olympics and is looking to improve on the team's two fourth-place finishes in London 2012 and Rio 2016. Stacey graduated with a Bachelor of Laws in 2018.

Andrea Anacan (Bachelor of Business) is a Philippine-born New Zealand karate athlete. Anacan will be the first New Zealander to compete in karate at the Tokyo Olympics.
Tarryn Davey (Bachelor of Pharmacy) is part of the Black Sticks hockey side.
Champion kayaker Teneale Hatton (Bachelor of Commercial Law) is at her second Olympics, after competing in 2012. 
Ryan Fox (BA, psychology) is a professional golfer and will represent New Zealand in that sport. 
And trampolinist Dylan Schmidt completed his Bachelor of Commerce in 2020 and is heading to his second Games. Asked about his ambitions for Tokyo, Dylan is emphatic: "I want to win".
Good luck to all our students and alumni competing in the Olympics, which run from 23 July to 8 August.