Te Kawehau Hoskins: building relationships with Māori is a win-win for all
Te Kawehau Hoskins says people shouldn't stress about not being fluent in te reo Māori, but be open-minded to learning it and to Māori ways of thinking.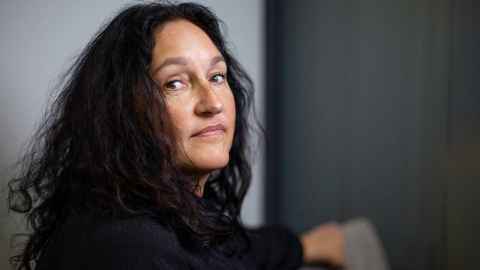 Despite being ensconced in the physical epitome of the ivory tower – the University of Auckland ClockTower – the last thing Associate Professor Te Kawehau Hoskins plans to do is cut herself off from people.

The Ihonuku Pro Vice-Chancellor Māori is still coming to terms with her large white-walled office, brought to life with a Goldie portrait Planning Revenge: Portrait of Hori Pokai glaring out from the wall. But revenge is far from her mind – she's all about building enduring relationships between staff, students and local iwi.

"Māori see the past in front of us. It's not behind us or out of view," explains Te Kawehau (Ngāti Hau, Ngāpuhi).

"We walk into the future with our eyes on the past, taking the knowledge, wisdom, relationships and everything that's gone before with us. All those social relationships determine the present and will, in ways, determine the future.

"But if you don't have any knowledge of the past it's hard to move forward. It's quite a profound idea for some people."

For example, it's important to know how the University of Auckland came to be where it is.

"Do many of us know how the University came to be on this piece of land, and the complex and conflicting histories woven into that? It's important to have a sense of the University's place in relation to Tāmaki and the knowledge that emerges from that history."

The University has recently been gifted a new Māori name by Ngāti Whātua Ōrākei that reflects the history – Waipapa Taumata Rau. The name is replacing Te Whare Wānanga o Tāmaki Makaurau. 

Te Kawehau says there are Indigenous ways of understanding our connections to past, present and future.

"Mātauranga a whenua' is the idea that knowledge emerges from 'place' itself, and also relationships with people, which is captured in the term 'mātauranga a iwi'."

Te Kawehau is also reflecting on how her own past experiences have prepared her for the job of Ihonuku.

In 2004, she started lecturing in the small Māori education unit Te Aratiatia, without a PhD. It was full-on time for about a decade – lecturing, supervising postgraduate students, raising two girls and working on that PhD.

"It was a massive six or seven years. But it prepared me as best it could for leadership. I think a lot of women, and of course Māori women, have quite significant imposter syndrome despite the work we have put in."
Māori don't want you to be Māori, they want you to think positively about how you can have productive relationships with Māori.
Above: Highlights of the dawn ceremony with local iwi Ngāti Whātua Ōrākei gifting the University of Auckland its new Māori name, Waipapa Taumata Rau.
She says her parents have always seen the value in education. "But I wasn't exactly on the rails at all times," says Te Kawehau, who is the only female of five children. "So my route through to where I am has been circuitous."
She speaks fondly of her childhood – with a Pākehā mother and Māori father – living in Whangārei and experiencing what she describes as a unique upbringing.
"We were pretty alternative – health food and literature mixed in with Māori politics, marae development and whenua. We spent time at the marae and at family land at Whangaruru (southern Bay of Islands). My parents were deeply involved in the 1975 Māori land march and in marae and hapū development."

At school there wasn't a lot of te reo taught though some girls from the Ngāti Hine area spoke Māori fluently.
"At Whangārei Girls High School we could choose te reo as an elective, but it was more about kapa haka and learning tikanga – we weren't learning a lot of language. My te reo learning has been lifelong."
Te Kawehau's first name is Clea, which is the title of one of the Alexandria Quartet books by British author Lawrence Durrell. "My parents just liked the name."
"I never had a middle name and in my early teens Dad gave me 'Te Kawehau'. Te Kawehau is the mother of the Ngāti Hao rangatira, Patuone, from whom we descend. Over time I became known as Te Kawehau and eventually had to make a decision about my signature, passport and so on. I asked Mum and Dad if they were happy that I swap the order of my names and they said, 'yes, that's great'."
While doing a Māori language course at AUT, she was part of a group of students who formed a voluntary trust called Te Wānanga Reo Rūmaki, to provide total immersion learning opportunities for adult learners of Māori.
"For ten years we organised, funded, catered and staffed week-long total-immersion wānanga at marae all around the country. We did this three times a year and that's how my reo developed.
"You'd go there and speak Māori for a week. It's very good for your brain, to switch over to Māori. There was nothing like that at the time because it was before all the wananga had taken off."
The group ran for ten years until about 2000.
"It was exhausting but because we were studying and poor anyway we just did it for the kaupapa."
Te Kawehau has spent 20 years in Māori medium education settings in central Auckland, from kōhanga reo through to secondary.
"We worked to establish units, to develop whānau as collectives and as educators, and we worked on Tiriti-based co-governance relationships in these settings. It's clear to me these aspects are central to Māori success in schooling."
Indigenising isn't just assimilating bits of Māori stuff into the University. It's about making it a place where Māori students and communities feel they can come.
Which brings us to the question of learning Māori. The University of Auckland's language revitalisation strategy has set a goal of 50 percent of staff having the ability and confidence to demonstrate a basic level of competency in te reo, by 2040. How realistic is that?

"I think that's possible. That's being able to listen to people speaking in Māori and getting the gist because you've got familiarity, and maybe have some basic short conversations, do a short mihi, and be able to self identify. It's also an understanding of concepts, like manaakitanga."

She offers up a tip on that particular concept, given it is central to the University's Strategic Plan, Taumata Teitei.

"The base of that word – manaaki – is two things, mana and aki. So we know the word mana, and aki is to encourage. So manaaki is to encourage or uplift the mana of others. For example, I do that by feeding you and honouring you and my mana is lifted by lifting your mana. My mana is diminished if I invite you to my house and I don't offer you any food."

Which is why for Te Kawehau's pōwhiri, welcoming her into the role of Ihonuku, most of her concern was around ensuring there was enough kai!

"Whānau and hapū were coming from the north and from the school communities in which I serve. We made a day of it with our leading Māori speakers, so people could get a feel for what researchers do at the University and how our work is relevant to iwi futures. It ended up being an event for the University."

In one of Te Kawehau's earliest interviews in her new role, she talked about indigenising the University. So what does she mean by that?

"I have always been drawn to positive, grassroots Māori community ways of working. Mostly it's not about opposition or resistance, though that is called for at times. It says 'we can do this, when we've got trust, then actually we can do anything'. So even though 'decolonising' the University is part of our project, my feeling is that indigenising is much more a Māori approach."

She says indigenising the University also means improving all levels of engagement and experience for students and staff. That includes the built environment – spaces that are cultural and inviting.

"Indigenising isn't just assimilating bits of Māori stuff into the University. It's about making it a place where Māori students and communities feel they can come.

"Cultural change across the whole University is required because a lot of Māori kids from the north, for example, will bypass Auckland and go to Waikato because there's a perception that Waikato is the 'Māori university'. Well there's nothing more Māori there than there is here. We need to challenge that perception and work on communicating and shifting our identity a little bit. Then we'll see those communities thinking 'oh maybe Auckland is for me'.

She says if that happens, the benefits could be an increase in Māori staff and students.
The recent Equity Review shows that the 2020 KPIs for Māori undergraduate and postgraduate students weren't quite met, nor were the number of Māori staff in academic and professional positions.

"Māori students said in their feedback to the Student Services Function Review that relationships are important. Moving everything online, even if people are savvy online, it's not the same as like, 'Oh, I met this great woman on campus and she kept me on track'.

Staff cultural competence is part of the University's plan but it's not just a matter of staff being able to pump out a pepeha.

"One of my main messages is that it's not about how much Māori you know, although being inquiring is absolutely the orientation. It's about an enduring and positive orientation to the Māori world.

"The dominant culture can have all sorts of fears, such as 'Māori want to be separate'. You know, we don't. We do want a celebration of diversity and unity – that's quite fundamental. We need to embrace the idea of how much richer our worlds are with two cultures.

"Māori don't want you to be Māori, they want you to think positively about how you can have productive relationships with Māori. What sort of University and world do we want? Do we want a place where the Māori world flourishes and we all move in a positive direction? Of course we do.
"It's about relationships. Let's all just work on that."

Denise Montgomery
This story first appeared in the August 2021 UniNews magazine.