Indigenising the University: Ihonuku Te Kawehau Hoskins
The Office of the Pro Vice-Chancellor Māori officially announces the appointment of the new Ihonuku, Associate Professor Te Kawehau Hoskins.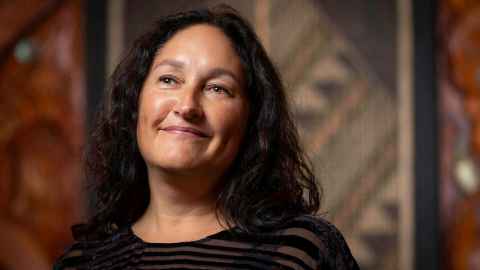 Dr Hoskins affiliates to the people of Ngāti Hau in Whakapara, a community located north of the Whangārei district. She is the former HOS of Te Puna Wānanga, the school of Māori and Indigenous Education and Te Tumu-Deputy Dean of the Faculty of Education and Social Work. She replaces Dame Professor Cindy Kiro who held the position for two years.
"Firstly, I'd like to acknowledge the work of the Dame Cindy Kiro", says Dr Hoskins. "She was instrumental in establishing the University's language strategy in the revitalisation of te reo Māori and in the University of Auckland strategic plan, Te Taumata Teitei.
"Our University and future generations will benefit from the changes she has made."
Inspired by the work of former University of Auckland Māori academics, Professor Graham Hingangaroa Smith and Professor Linda Tuhiwai Smith, Dr Hoskins has pursued an academic career in Māori education. She has further developed expertise in qualitative social and educational research, politics, ethics of Indigene, settler relations, and multicultural and bicultural education.
One of her first priorities as Ihonuku will focus on indigenising the university.
"We have to think hard about what this means, and I strongly believe we need to do it together. For me, indigenising the university is about finding ways where Māori knowledge, ways of being, thinking and doing can thrive."

Dr Hoskins specialises in the implementation of Te Tiriti o Waitangi in educational governance, policy and practice. One of the success factors of this work draws on enhancing Māori community relationships and participation.
Within her own community in central Auckland, she helped establish full immersion te reo Māori units in mainstream schools.
'He kai kei aku ringa' is a Māori proverb that resonates with Dr Hoskins as a metaphor for having the means to thrive (rangatiratanga) largely in our own hands.