Bringing new ideas to life in the healthcare sector
Pharmacist Amy Lee embarked on a Bioscience Enterprise degree to work on healthcare projects with a positive global impact.
For masters student Amy Lee, the sciences have always been where her fascination lay. She was especially drawn to the health sciences because of their biological, chemical, and social aspects.
"Seeing the difference that healthcare professionals make in patient outcomes and how a meaningful conversation and medicine can help to change someone's life," says Amy, is what inspired her to study a Bachelor of Pharmacy (Honours) at the University, from which she graduated in 2018.
With her degree in hand, she embarked on a career as a pharmacist. While she enjoyed the ability "to create a positive impact in the local community and educate patients on how to maintain and improve their health", she aspired to work on more innovative projects with a positive global impact.
She realised that her passion was in bringing "new ideas to life, especially in the science and healthcare industry".
"Throughout my undergraduate studies, I developed an interest in innovation and entrepreneurship," Amy recalls.
So in 2020, she decided to embark on a Postgraduate Diploma in Bioscience Enterprise. This unique programme brings science and business together, providing students with industry networking opportunities as well as teaching them about finance, intellectual property, and commercialisation.
"Through the programme I have been able to use my healthcare knowledge and experience in many innovative and exciting ways."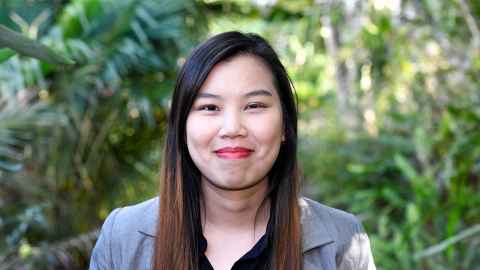 Through the programme I have been able to use my healthcare knowledge and experience in many innovative and exciting ways.
Amy has gone from strength to strength in her studies and cites being able to contribute to research projects and volunteering ventures throughout her time at university as a highlight.
"I have been fortunate to be involved in research projects that can provide commercial value which is an area that I have a keen interest in." She also says that the hands-on experience has enabled her to build a strong foundation for her career.
Amy is now working towards her Master of Bioscience Enterprise thesis on commercialising digital health interventions, whilst also working for a health software start-up. After she graduates, she wants to continue being "involved in projects that help start-ups and small organisations achieve their business goals", combining her passion for healthcare and innovative technology.
"Working in healthcare has made me passionate about helping others to achieve their healthcare goals and now with my learnings from work and my studies, I aspire to help others achieve their business goals."
In the future, Amy sees herself in a leadership role where she has the freedom to work with many different passionate people, helping them bring their ideas to life and facilitating their learning and development. Her aspiration is "to be able to give back to others, like my current mentors, colleagues, and friends".