Saliva – a game changer for Covid-19 testing
Biomedical Science alumna Dr Anne Wyllie is at the forefront of the global pandemic efforts, having developed a faster, more efficient and less invasive Covid-19 saliva test.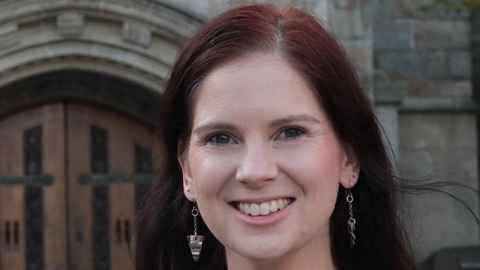 It has been incredible to see how quickly things can develop when so many people work together towards a common goal.
During her six years at the University of Auckland Anne gained a Bachelor of Science, Postgraduate Diploma, and a Master of Science with a focus in cancer immunology.
She went to the Netherlands and completed a PhD in Medical Microbiology at UMC Utrecht and is now a research scientist at the Yale School of Public Health in the United States.
"Having worked to develop saliva as a sample type in my research leading up to that point," Anne says, recalling when the pandemic began, "I wondered if there was potentially a role for saliva to help overcome many of the challenges we were facing on a daily basis (the shortage of swabs, the need for trained healthcare workers to take the swabs, testing hesitancy and aversion from individuals not wanting to be swabbed)."
Anne and her research team started developing SalivaDirect in May 2020 and worked tirelessly to create the most sensitive test possible.
"In the end, we achieved a method with the same sensitivity as many of the other great polymerase chain reaction (PCR) tests out there, including the US CDC's own PCR test which requires a much more extensive (and expensive) test process."
How is the saliva testing going currently?
Testing itself is going brilliantly. A number of countries actually made it their sample type of choice very early on. In the US it continues to gain traction. Many labs and most patients prefer saliva testing to swab-based approaches.
What part of this research is most exciting to you?
It was so inspiring to find so many people across so many different sectors willing to come together as part of the pandemic response and openly share ideas, concerns, and resources. It has been incredible to see how quickly things can develop when so many people work together towards a common goal.
Why is testing for COVID-19 via saliva so important?
Overall what is most important, is that we have options. Saliva collection can be done using a wide range of simple laboratory plastic tubes and our work has also demonstrated that SARS-CoV-2 detection in saliva remains very stable at room temperature – and at elevated temperatures. This means you do not need cold chain transport so can have even greater benefit in low resource settings. Being able to self-collect can ease collection sites.
Thinking about circumstances in New Zealand I also think it could transform mass testing of people arriving into the country. A saliva collection kit could be at each seat on a plane, while masked, passengers collect saliva in their mouth, then quickly remove their mask to collect their sample in a tube in less time than many take to eat or drink, wipe down their tube and hands with a disinfectant wipe and drop it off in a collection box. This would make a much faster – and more affordable – way to test large numbers of arriving passengers.
Where do you see your career heading?
I hope to remain involved with advancing saliva as a diagnostic sample type to improve access to healthcare and to improve preventative healthcare, and along the lines of my previous research interests, to use saliva as a means to better understand how normal upper respiratory tract pathogens circulate through our communities and in healthy individuals before they cause disease.
What has been the highlight of your career so far?
While working with the NBA was definitely a surreal experience, I was recently at a conference which focused on lessons learned during the pandemic for getting children safely back to school and helping to ensure they could remain safely in school. Almost every speaker mentioned our work which I was in no way prepared for – I hadn't been fully aware of our impact until then. It was absolutely incredible to hear so many schools using saliva to successfully make a safe return to school, either by actually using SalivaDirect, or through lessons learned from our work.
What motivates you to make a difference in the world?
I'm not sure whether motivation is the right word, rather, our team has worked tirelessly the past year just from knowing what real world impact we could have and when you know there's a way you can help, it's not something you can easily turn away from.
Finally, tell us something about yourself that we can't learn by Googling you!
I actually met some of my best friends in my UoA laboratory classes! The BSc Biomed really brought together a wonderful cohort of students, a good number more I'm still in touch with and have loved to see where their careers post-UoA have taken them.