Auckland Bioengineering Institute: a few milestones from its 20 years
The Auckland Bioengineering Institute turned 20 this year and was meant to put on a public showcase. That's now down for 2022 but there's still plenty to write home about.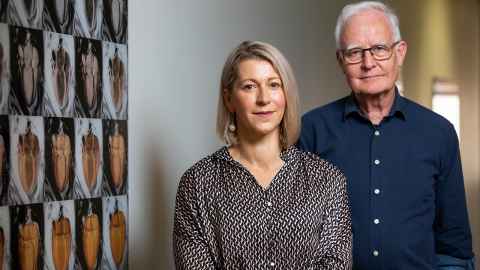 Lockdowns have scuttled many events this year, including a public event planned for September to mark the 20th anniversary of the Auckland Bioengineering Institute (ABI).

But the ABI's co-founder and director, Distinguished Professor Peter Hunter, is happy to talk about the institute's achievements, from its ambitious beginnings to its latest huge undertaking, the 12 Labours Project.

Over the past two decades, there have been prestigious awards, world-class spin-out companies, a bioengineer jetting off to NASA (doctoral student Finbar Argus), many research grants and even a couple of Oscars for a man fascinated with faces, Associate Professor Mark Sagar, CEO of Soul Machines.

The ABI began in 2001 as the Bioengineering Institute, a cross-faculty research centre  from Engineering and Medical and Health Sciences that combined experimental work and instrumentation development with computational modelling of physiology and physiological function. In 2008, it became the University's second Large Scale Research Institute and gained the name it has today. The Consortium for Medical Device Technologies (CMDT) was also established as a national resource in 2012 to help grow the medical device industry in New Zealand, an industry the ABI had fostered and in which it was a proven innovator. In 2014, the ABI began hosting the Medical Technology Centre of Research Excellence (MedTech CoRE).

Since 2001, the ABI has grown to more than 250 people, including academic staff, professional staff and postgraduate students. Its overarching aim is to improve medical diagnosis and treatment of injury and disease in all aspects of human physiology, including ankles, knees, lungs, heart, brain, gastrointestinal system and pelvic floor muscles, and connect scientific research to clinical and commercial outcomes.

"We can be very proud of where we stand on the world stage," says ABI deputy director Professor Merryn Tawhai. "We have a 20-year track record in mathematical modelling of various organ systems in the body and we're the largest bioengineering institute in the world."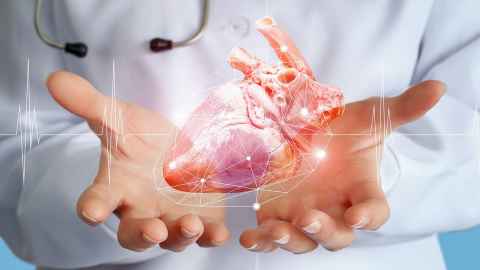 We can be very proud of where we stand on the world stage.
Peter adds: "Early on, we had the critical mass to purchase expensive resources and the ability to tightly link modelling and instrumentation to experiment in many research projects.

"We bought New Zealand's first supercomputer and developed instrumentation using our own mechanical and electronic workshops, and experimental laboratories in the Department of Physiology at the Faculty of Medical and Health Sciences (FMHS) and the School of Biological Sciences."

The ABI's achievements show the power of operating in a multidisciplinary environment.
Says Peter: "It's the talented research academics and the interaction between faculties that is the leading characteristic and strength of the ABI.

"We've also invested in our people – training doctoral students, creating jobs, and running clinical trials and spin-outs. Much of our early work was based on international science and this has given us critical linkages across the world."

Those investments, and the relationship between computational modelling and medical instrumentation development, have led to world-first discoveries. These include a new way to screen vision, a virtual 'pregnancy', augmented reality to assist people with disabilities, new diagnostic strategies for digestive disorders, a virtual 3D heart for diagnosing cardiac disease, and an app to quickly diagnose brain injury.

There have been more than 20 spin-out companies, borne of ideas developed at the ABI by staff or students and then commercialised. ABI's 'Cloud 9' innovation area on its ninth floor has nurtured the likes of Alimetry, Electroclear, Formus Labs, FlexiMap and PowerON. Those who have gone on to commercial success include JunoFem, HeartLab, Kaha Sciences, IMeasureU, Objective Acuity, StretchSense and Formus Labs.

And there's Mark Sagar's Soul Machines whose AI technology began with digital human BabyX. The company has gone from strength to strength including the creation of 'digital people' being used in industries from education to customer services.
"Mark is a unique researcher because he has both outstanding artistic and mathematical abilities," says Peter. "His Oscars were for his pioneering work in facial motion capture on King Kong and Avatar, but his ability to turn this into a highly successful spin-out company was a bonus."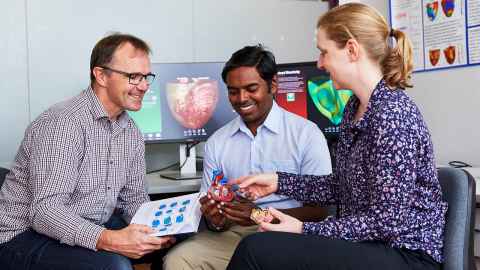 Five ABI researchers have won James Cook Research Fellowships from the Royal Society Te Apārangi – Professors Andrew Taberner, Poul Nielsen, Martyn Nash, the late Andrew Pullan and Peter himself.
Peter has also been honoured with the Rutherford Medal, the Royal Society's highest accolade; Merryn was awarded the MacDiarmid Medal; and Professors Iain Anderson and Simon Malpas were separately recognised with the Pickering Medal. ABI alumnus Dr Ben O'Brien (CEO, StretchSense) won the Prime Minister's MacDiarmid Emerging Scientist Prize in 2013. Associate Professor Peng Du of the Gastrointestinal Research Group won the same prize in 2018.
There are huge benefits to working in the clinical environment of the Auckland District Health Board.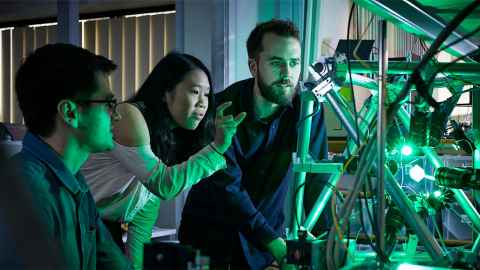 Constant growth since 2001 has changed the makeup of the ABI's graduate students, from being locally born to 70 percent international from 36 different countries. Of the international students, 70 percent remain in New Zealand. Of those who stay, 60 percent end up in spin-out companies, 20 percent in companies like Fisher & Paykel Healthcare and Orion Health and 20 percent go on to become university research staff in the ABI or elsewhere.
The ABI's expertise in mathematical modelling of various organ systems is world-renowned. Recently, the Ministry of Business, Innovation and Employment (MBIE) awarded it $15m funding over five years to take those projects further through what's known as the 12 Labours Project.

The funding will support a global project to mathematically model the physiological systems of the human body, an important extension of the Physiome Project. The project involves building an online computational model to create a virtual physiological human. The ultimate goal is to use it to develop patient-specific diagnosis and treatment.
"We have large teams with deep expertise on modelling different components of the body," says Merryn. "We can model the cardiovascular, gastrointestinal and respiratory systems, for example, and we can do that in very fine detail through use of medical imaging and mathematical  measurements. Where the challenge lies is linking these together so we really can simulate function in a body.
"MBIE's funding will also help develop a new generation of niche devices that can be implanted to measure signals from inside the body to inform the mathematical modelling."
Physical space is an issue. The ABI includes Bioinstrumentation, Biomimetics and Implantable Devices labs, as well as the Augmented Human and Empathic Computing labs.
Peter says an important strategic goal is to establish a MedTech Innovation Quarter (MedTech-iQ) in Grafton and Newmarket.
"There are huge benefits to working in the clinical environment of the Auckland District Health Board, as well as boosting the ABI's links with FMHS and the Liggins Institute."
Merryn says the ABI's strong track record and leadership in medical technologies make for an exciting future. "You need commercialisation through companies wrapped around these technologies to really support them through the clinical implementation.
"I expect we will see some early wins because of what we have already done – it could be through AI-based processing and interpretation of patient data or low-cost diagnostics. The 12 Labours Project is a highly visionary project that's really setting New Zealand up well."
Story by Prue Scott
This story first appeared in the Spring 2021 edition of Ingenio, the alumni publication of the University of Auckland.