Engineering students ahead of the game with racing EVs
A cross-faculty team of students has been racing EVs since 2015, designing and building cars.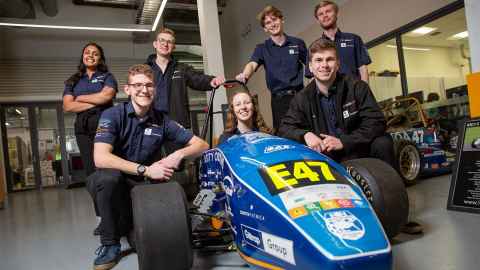 Each year, a cross-faculty team of around 70 students vies for honours in the annual Formula SAE Australasia competition which is contested by more than 25 universities from Australia, New Zealand, the US, Japan and Europe.

The Auckland team embraced EVs back in 2015 as part of their challenge to design and build an EV race car from the ground up, although the primary aim is to get a vehicle up and running rather than produce any new research or technologies.

A previous attempt to build a customised battery management system didn't work, but the 2021 team has been making a battery encased with carbon fibre, instead of aluminium, to save weight.

We're all pretty passionate about the idea of battery-powered electric cars, so we'd all be keen to get involved in that industry.
"The challenge is finding new ways to go fast," says team leader Keith Anderson. "We also expect to see further innovation as the team progresses with a long-term plan to have an autonomous vehicle."
Keith says the 2021 team got 50 percent lucky this year. 
"Just a couple of weeks before we plunged into level four lockdown, we completed a full endurance test for the 2021 car, which is the earliest ever that this has been achieved.
"That was good but the flipside was that the extended lockdown meant we had to cancel our plans both for attending the Australian competition, which has now been postponed, as well as not being able to co-host a New Zealand competition."
But he says actually achieving the build was a vast improvement on 2020 when they couldn't, so now they are just planning for 2022. 
"We've made a great start on designing the 2022 car already, under the leadership of Emily Steiner and Sabrina Yarndley, the team leader and chief engineer for the 2022 campaign."
He says they're all ready to hit the ground running as soon as it's safe to be back in the workshop, and are cautiously optimistic about their chances of attending the competition in Australia at the end of 2022.
Keith says for most participants, it's about getting hands-on experience with EVs in the hope of forging a career in the automotive sector.
"We're all pretty passionate about the idea of battery-powered electric cars, so we'd all be keen to get involved in that industry – it's definitely growing in New Zealand."