Dame Charmian O'Connor: a force in women's education
A stalwart of women's education is retiring from leading a successful charitable business that awards scholarships to women totalling more than $600,000 a year.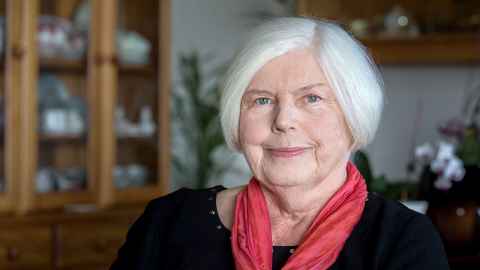 Nearly 70 years of involvement does not come to an end with a date.
Emeritus Professor Dame Charmian O'Connor has stepped down from the board of the Kate Edger Educational Charitable Trust, which is funded from academic dress hire, but hopes to stay involved in critical awards decisions.
"The fact my active involvement is coming to an end does not mean that my passion, commitment and interest in the trust and the work it stands for has in any way diminished," she says.
"Nearly 70 years of involvement does not come to an end with a date," says 84-year-old Dame Charmian.
In 1950, her mother, an early female graduate, joined the Auckland branch of the New Zealand Federation of University Women, hand-sewing fur onto academic regalia for hire to staff and baking for charity garden parties.
In 1957, when Dame Charmian became one of the earliest New Zealand women to graduate in the physical sciences, she joined the federation, which was later renamed the NZ Federation of Graduate Women. She rose through the ranks until she was president.
She worked in the Department of Chemistry while continuing her research and, in 1974, became the first woman in New Zealand to be awarded a Doctor of Science and, in 1986, became Auckland's first female professor of chemistry.
Dame Charmian is known as a mentor for women in science, including Distinguished Professor Dame Margaret Brimble and Professor Penny Brothers.
As Assistant Vice-Chancellor for Staff Development and Equal Employment Opportunities (1987-1998), Dame Charmian established the Equal Opportunities Office, later the Equity Office. She served as Deputy Vice Chancellor in 1994.
Dame Charmian retired from the University in 2004 and was made a Dame Companion of the New Zealand Order of Merit in 2018.
As the Federation of Graduate Women began to lose members at the turn of the century, Dame Charmian took over the federation's academic dress hire charity.
In 2004, she founded the Kate Edger Educational Charitable Trust, funded by Academic Dress Hire. She expanded the business, first extending regalia hire to students, as well as staff, then to lawyers being admitted to the bar.
Initially, the not-for-profit, Academic Dress Hire, earned the trust $6,000 to $7,000 a year to give to women to support their university study. Today, with the additional help of businesses, private individuals and other trusts, it has upwards of$600,000 to distribute in awards each year.
Support is given based on academic achievement and a proven need, says Professor Linda Bryder, who is a new trustee appointed to take charge of the awards' distribution.
For the first time, the trust made an award to a man this year, and Dame Charmian believes the awards will become more inclusive, as well as continuing a longstanding commitment to increasing funding for Māori and Pacific students.
As Dame Charmian hands over the reins of the charity she built from scratch, she has confidence the board will continue her legacy.
"I believe the Kate Edger Educational Charitable Trust will continue to be a force for women," she says, just as she has been.
Story by Jodi Yeats