Terry O'Neill: a career of two halves
Terry O'Neill says a late-in-life decision to enrol in tertiary study led to a fulfilling and somewhat unexpected career.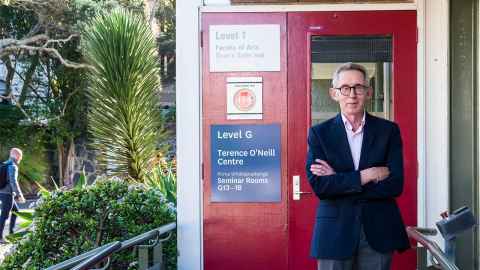 Dr Terry O'Neill's office is in a state of orderly chaos, piles of paperwork neatly arranged on every surface, Rainbow table-tennis bats perch on a shelf, and complex plans jostle for wall space with a serene print of his maunga, Taranaki.
These paradoxes typify Terry's approach to his role as Director of Student Equity over the past decade, a position he left in October. Staff say, as a boss, Terry is pragmatic and solution-focused, yet profoundly informed by research and theory.
Terry, who has low vision due to a condition called chorioretinitis, says his lived experience as a gay man with a disability has lent him both a "well-developed sense of humour" and a "certain toughness", which can be useful in advocacy work.
His life is a "game of two halves": before and after studying at the University of Auckland, Terry says.
"The first half was constrained by some ill-judged specialist advice. I was told, wrongly, that if I went to university, my eyesight would get worse, and I wouldn't cope."
After finishing New Plymouth Boys' High School, Terry worked in jobs, including as a bank teller, in hospitality and, with worsening eyesight, at the Waitara freezing works.
Finally, he thought, "This is not satisfying." At 37, he enrolled, with some trepidation, at the University.
"Transformative is a word often used in student equity," Terry says. "For some people, it can feel a bit overused, but for my life, it remains very powerful.
"Study also opened up opportunities for meaningful and stable employment – an issue that remains challenging for many people with disabilities."
I was told, wrongly, that if I went to university, my eyesight would get worse, and I wouldn't cope.
While working towards his doctorate in Sociology and Social Policy, focusing on sexuality, identity and masculinity, Terry co-managed Student Disability Services. After graduating, he worked for ten years at the New Zealand Human Rights Commission before taking up the student equity directorship a decade ago.

Terry's achievements have included significant programmes to support Māori, Pacific, refugee-background, low socioeconomic and Rainbow students. He had a lead role in the University's inaugural Disability Programme for students and staff and is delighted this work is now being transitioned into the first whole-of-institution Disability Action Plan (DAP).

Terry's contribution will also be remembered in a physical form, with the University's main facility for students with disabilities recently renamed the Terence O'Neill Centre.

Terry originally planned to leave in April but extended his tenure out of a desire to ensure a smooth transition to the new student equity role in Campus Life. Another driver was to usher the Disability Action Plan through to adolescence.

Now, Terry is looking forward to taking time out before making any big decisions. He will enjoy pastimes including the gym, attending concerts and following politics. The University will still be part of his life, thanks to his relationship of 30 years with Associate Professor Mark Barrow, Dean of Education and Social Work.

While Terry would like to be remembered for his "small part" in these initiatives, he thinks he will probably be remembered for something more practical.
"Having all those red-button automatic-door openers around campus installed!"

Terry "came across some funding", and the rest is history.
Story by Jodi Yeats
This profile first appeared in Ingenio Spring 2021 edition.