Planetary prizes for Auckland PhD candidate
Michaela Dobson has become the first New Zealander to be awarded the Lunar and Planetary Institutes Eugene M. Shoemaker Impact Cratering Award. She's also part of a team that received the U21 Researcher Resilience Fund to create an online space science workshop.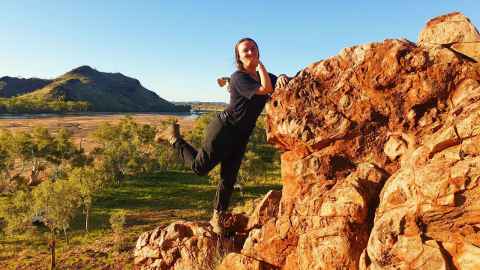 Michaela Dobson, a doctoral candidate from the Faculty of Science, received the Eugene M. Shoemaker Impact Cratering Award because her research samples may be impact spherules, meaning they formed when a giant meteorite – a similar size to the one that killed the dinosaurs – struck Ancient Earth. If an impact origin is confirmed, it will become the oldest evidence of an impact event in the geologic record.
"I am extremely grateful to receive this award, which will allow me to undertake high-precision isotope analysis on these deposits, collaborate with experts in this field, and build vital networks within the space science community," Michaela says.
Originally from Christchurch, Michaela grew up with a love of the outdoors and a fascination with life's big questions, such as 'What is the origin of life?' and 'Is there other life out there in the universe?'. Studying astrobiology and space sciences gave her the opportunity to explore these questions, and her PhD allows her to make meaningful contributions towards answering them.
"These kinds of big questions are very easy to ask but remarkably hard to answer," Michaela says. "When I started my PhD I learnt that studying specific landscapes in New Zealand, such as the hot springs in the Taupō Volcanic Zone, could help us understand more about the origin of life and possible life on other planets."
Michaela works on a core from North Western Australia which hosts the earliest evidence of life on land in the form of fossilised microbes called stromatolites. One interpretation is that these stromatolites formed in hot spring deposits, so she compares these to actively forming microbial hot spring deposits from the Taupō Volcanic Zone.
"It's so exciting when I cut the rock in half and discover something that wasn't shown on the outside. One highlight was cutting open a piece of core and discovering highly convincing evidence for life!"
It was mind-boggling to think that I was the first and only 'thing' to ever see this life, which has been preserved for 3.5 billion years.
Determined to pass this excitement on to future generations, Michaela is part of a team that has developed an online space science workshop for school students. The team, which also includes students from the University of New South Wales and McMaster University, was awarded the U21 Researcher Resilience Fund for their project.
"Our online workshop, Exploring Life's Origins, uses the same tools that researchers use in attempting to answer the big question, 'how did life form on Earth?'. The idea is that students can use real scientific data to undertake scientific methodology and draw their own conclusion about the research.
"We want this workshop to help remove the stigma around the challenges of undertaking research, while building students' confidence to become scientists. Because it's online, the workshop is accessible for students in a pandemic world, while also allowing students who would not normally have these engagement opportunities, such as rural students, to participate."