Billie Lythberg: the business of being curious
Dr Billie Lythberg is an art historian and anthropological researcher, but she's right at home in the University of Auckland Business School. She says across all her disciplines, she works with ground-breaking thinkers.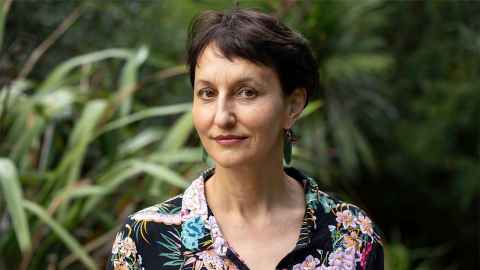 Dr Billie Lythberg straddles research worlds and disciplines with apparent ease and energy.

She's a senior lecturer in the School of Business and Economics, director of business studies at the Tai Tonga campus, researcher, and editor of books and journals.

But how did someone whose PhD was awarded in art history end up in the Auckland Business School?

"About 2009, while finishing my thesis, I worked for UniServices on Waitangi Tribunal oral and traditional history reports, which are based on living histories and involve interviews with descendants," she explains.

"I was working with the late Mānuka Hēnare, whom I'd worked with at the James Henare Research Centre in 2002. When I finished my PhD, I was offered a postdoctoral position at Cambridge University in the UK. They wanted me to be based in Auckland because the project was Aotearoa and Pacific focused. Mānuka offered to make me an honorary fellow of the Mira Szászy Research Centre in the Business School for the duration."

Later, project after project fuelled a full-time research role. A fixed-term lecturing position followed, then a permanent role.

Mānuka Hēnare was a powerhouse in Māoridom and a mentor at the Auckland Business School, where he was an associate professor. He died in January 2021. It feels apt that Billie has helped edit his long laboured over PhD, now published as a book: He Whenua Rangatira: A Mana Māori History of the Early-Mid Nineteenth Century.

Billie was a co-editor with Dr Amber Nicholson, now at AUT, who also did her PhD at Auckland and worked with Mānuka for more than a decade, and Mānuka's friend and colleague, Professor Dame Anne Salmond. A soft launch held online in March was attended by around 85, including Mānuka's wife Diane and their children, but a physical launch will follow once Covid levels allow. Diane told the attendees the family had been able to present Mānuka with a soft copy of the book while he was in hospital, "so he knew it was on the way".

"Writing was the least favourite part of the project for him," said Diane. "He much preferred research. With an amazing ability to procrastinate, he made the whole PhD journey last ten years to 2003. The book took a further 19 years."
The experience of being at Selwyn College, a school with such a diverse student body, whose parents were artists and academics, just made it seem like things were possible.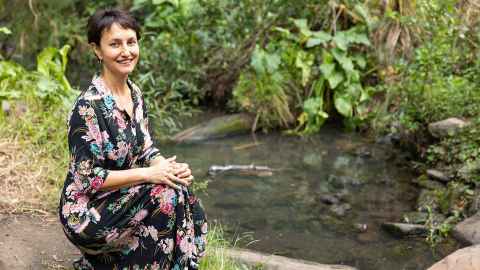 Billie is also among the authors of another book that could easily slot into the New Zealand history curriculum. Hei Taonga Mā Ngā Uri Whakatipu: Treasures for the Rising Generation (Te Papa Press) emerged from a four-year Marsden Fund project about the Dominion Museum Ethnological Expeditions of 1919 to 1923.

The book is a 368-page hardback that covers the history of the expeditions accompanied by striking photographs of people encountered along the way. It took a group of contributors, including Billie and Professor Dame Anne Salmond, around five years to research and produce.

"I'm a relational researcher," says Billie. "I don't tend to do projects where you just move off and no longer work with those people. I build relationships with all the people I undertake projects with. So for me, it seems quite natural when a project extends beyond its initial scope.

"An example is my relationship with Dr Wayne Ngata, one of the book's authors and editors. I have been working with him since 2010."

For Anne, the relationships in this book go deep. Her great-grandfather, James McDonald, was the expedition's photographer and videographer.

The Dominion Museum Ethnological Expeditions were the brainchild of doctor, anthropologist and museum director Te Rangihīroa (Sir Peter Buck, Ngāti Mutunga) and Wayne Ngata's great-uncle Sir Āpirana Ngata (Ngāti Porou), who was minister for Māori Development. They were joined by museum staff, including ethnologist Elsdon Best, who was fluent in te reo Māori, cinematographer and acting director of the Dominion Museum, James McDonald, and Johannes Anderson, a student of waiata from the Turnbull Library.

At the end of World War One and the great 'flu epidemic of 1918, there were fears aspects of Māori culture could be lost. In just two months, more than 2,500 Māori had died of 'flu, including many experts in Indigenous arts and knowledge.

Apirana first had the idea of recording this history by capturing sound and vision. He had been updating his Māori dictionary to record dialects and realised that more than words were needed to tell the story of a culture. In December 1918, he worked to secure government funding for the project to record and preserve waiata, karakia, weaving and fishing techniques, kapa haka and many other tikanga Māori practices.

"Māori dances and poi … may be described in writing, but no pen-picture can convey a tithe of the vigour and perfect uniformity of the former, or the grace and beauty of the latter," wrote Āpirana. "For the perfect record, one must go to the picture film ... But no whole-hearted attempt has yet been made to record characteristic scenes from native life." (Journal of the Polynesian Society)

The group travelled to Gisborne in 1919, Rotorua in 1920, Whanganui in 1921 and Tairāwhiti in 1923.

"It was a visionary group of people who came together to produce the photographs, writings, journals, and various publications," says Billie. "The film and sound recordings are amazing."
 
I'm a lifelong learner and I'm curious about many things. So to have that as my job is pretty amazing.
Part of the book's research saw Billie and the project's PhD scholar, Dr Natalie Robertson (Ngāti Porou), a senior lecturer at AUT, given access to the Bishop Museum Library and Archives in Hawai'i, a renowned repository of Pacific history.

"We had incredible access and arranged to digitise everything in their Sir Peter Buck archives relevant to this project. Natalie and I spent a week photographing, and we hope to make resources available to people doing similar research."

Accessing letters and professional diaries in Te Rangihīroa's private archive was invaluable.

"People held onto letters back then. We stumbled across fairly personal and unexpected writings, usually kept by the recipient. Te Rangihīroa and Apirana Ngāta are great examples; the published volumes of their correspondence are well known. Natalie and I found materials that had never been published, including part of Ngata's work towards a Doctor of Letters."

She picks out this manuscript: 'The Terminology of Whakapapa,' as a key taonga now published in Hei Taonga Māngā Uri Whakatipu.

Billie is Pākehā but says many of her mentors have been Māori.
"I'm interested in how we describe ourselves as researchers. I'm happy to be described as a Pākehā researcher because that immediately positions me in relation with Māori. I'm privileged to have strong Māori mentors in my career, beginning with the late Professor Ranginui Walker who invited me to teach Māori Studies after my MA. And, of course, Mānuka Hēnare.

"Wayne Ngata often guides me as to what's appropriate and what's not. We've had interesting conversations about how Pākehā researchers can continue to be valuable without filling space that ought to be left open for Māori researchers.

"Working and writing with Dr Dan Hikuroa and Dr Natalie Robertson these past few years has also been awesome. And Dr Kiri Dell in the Business School is a force. She says, 'Pākehā need to support Māori to be Māori'. So a primary consideration for any research project is, 'Will this work serve Māori first and foremost?' That's for Māori to determine."

Far from considering a role in the Business School an odd choice for someone whose heart is in anthropology and history, she finds it invigorating.
"We can't separate the significance, importance and purpose of things ancestors did, from considerations of economy and business, people and environment, present and future."

Billie works to reconnect artefacts from archives worldwide with communities where possible. She also works with the GLAM sector (galleries, libraries, archives and museums) on organisational approaches consistent with mātauranga and Pacific knowledge systems. She loves working with artists, "some of our most ground-breaking thinkers".

She is also exploring how businesses could change to reflect societal needs in 2022.

"I'm working with Professor Susan Watson, the dean of the Auckland Business School, and others, to consider what a company can be. For example, the Whanganui River now has a legal personality. Susan's work examines the same legal personality underpinning our incorporated companies. If we can activate the persona ficta to transform our relationship with rivers, what might be possible for companies that have this status too?"

To meet Billie is to be impressed by her energy and enthusiasm for her work.

"I'm curious and love the challenge of trying to bring something about. I get a huge amount of energy out of initial ideas and then working out how to make them happen and bringing teams together – that's what energises me."
We stumbled across writings that were fairly personal and unexpected, usually kept by the person who received them.
But why did a Pākehā girl who grew up in Devonport become enthralled with Māori history?

"I crossed the harbour to attend Selwyn College, an incredibly progressive school," says Billie. "The experience of being at school with such a diverse student body, whose parents were artists and academics, just made it seem like things were possible. Later, I did my MA in the short-lived interdisciplinary programme New Zealand Studies, majoring in Pacific and post-colonial literatures and Māori Studies."

After a graduate certificate in anthropological theory and Pacific art history came that PhD, which explored Tongan women's innovation in barkcloth-making and its commodification using approaches from economic anthropology.

Billie was the first in her family to attend university. "I'd always wanted an academic career. I'm a lifelong learner and I'm curious about many things. So to have that as my job is pretty amazing.

"My research interests have remained constant, but I explore them through different disciplinary lenses. My work is very much aligned with the University's strategic plan because it's developed with people from multidisciplinary backgrounds as well as researchers from beyond the academy."

Her other skills include writing articles for media and she devised the ten-part Māori TV series Artefact. Could she imagine the Dominion Expeditions becoming a documentary series? Her face lights up.

"Wouldn't that be phenomenal?"

By Denise Montgomery