Boost for nursing student
Sometimes it pays to be a westie. Emmanuel Cea has been helped out with his nursing studies because of it.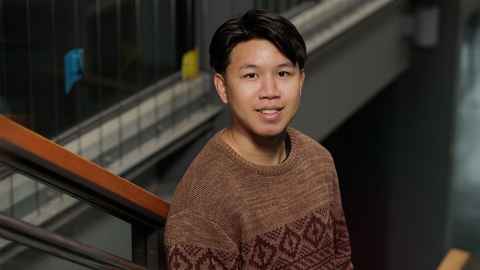 Emmanuel Cea is in his third year of a Bachelor of Nursing degree in the Faculty of Medical and Health Sciences.

Originally from the Philippines, Emmanuel moved here with his family when he was eight. After growing up in a country where financial hardship makes access to education difficult for many, Emmanuel says he was brought up to appreciate the opportunities study can bring.

Having always had an interest in helping and caring for others, Emmanuel says it made sense when his mother suggested he take up nursing after graduating from high school. Now he's gaining the skills necessary to play his role in keeping Kiwis healthy. And with a shortage of nurses in the country, his contribution to society will be much-valued. 

"With Covid, you can see the importance of nurses and how they're on the frontline fighting the pandemic and stopping the spread – they're actually risking their lives to do that," he says.

In 2021, Emmanuel was given a helping hand towards his studies when he received the Robyn Dixon Nursing Award, established by Associate Professor Robyn Dixon at the University of Auckland  in 2018.

The scholarship offers support to a student who attended college in west Auckland, who is enrolled full-time in a Bachelor of Nursing and is experiencing financial hardship.
Bigger things are waiting for me – and that is to help people and save lives.
Emmanuel says receiving the award "felt like a blessing".
Although he is aware he might not have chosen the easiest career option, he has no doubts about the path he is on and hopes to specialise in mental health nursing.
"Most of the time I have spent studying in university has been challenging due to the pandemic.
"This has made me realise the importance in this career to push through by studying hard and face the challenges.
"Bigger things are waiting for me – and that is to help people and save lives."