Nursing shortage: Florence is not a machine
Nurse and senior nursing lecturer Dr Natalie Anderson says the pandemic has highlighted the critical need for more nurses to train – and be supported to do so.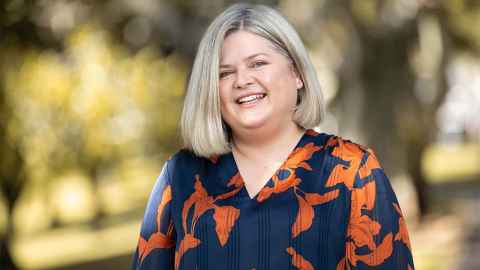 Nursing, research and teaching – they're all demanding careers, so who would have thought they would be a good mix?

"I've been teaching for a long time," says Dr Natalie Anderson, a registered emergency nurse at Auckland Hospital and senior lecturer in the School of Nursing at the University of Auckland.
"I was a volunteer for St John Ambulance in my teens and they put me through a first aid instructors' course. It taught me a lot about adult learning principles. When I was about 19, I began teaching first aid to members of the public, then to volunteer ambulance staff."

Although now a nurse, Natalie initially thought she might become an organisational psychologist. She did an arts degree majoring in organisation studies and psychology.

"I was working part-time in a rest home and I enjoyed caring for people. It was something I could imagine doing for a job."

After her nursing degree, a masters in science followed, majoring in health psychology.

"As a nurse, understanding what motivates people and affects behaviour is important."

She completed her PhD in Nursing in 2020 and now, as well as being an ED nurse, is a course director in the School of Nursing, lecturer, researcher and supervisor of postgraduate students.
"My love of learning also lent itself to a love of teaching. I don't consider myself to be this amazing academic, or even an amazing clinical nurse. I'm just good at a bunch of stuff. I like working in interdisciplinary teams with people who see the world differently."

In the past few years, the dearth of nursing staff has taken its toll on the profession.

"Things were challenging in nursing before Covid-19 came along. A few years back, I was doing interviews outlining the dire situation in our emergency departments."

On TVNZ's Sunday programme in April, Health Minister Andrew Little admitted New Zealand hospitals were around 4,000 nurses short.

"But there's an argument that we weren't adequately staffed in the first place," says Natalie. "So even if we fill those vacancies, you're asking one nurse to do the job of one and a half or two nurses."

People are living longer and/or may have complex health problems they wouldn't have survived in days gone by.

"As wonderful as that is, it takes a lot of care to manage those conditions. I've been nursing 21 years and the patients are sicker and more complicated than I've ever seen before."
Some of the best nurses I've worked with have left and the reason is because they care so much.
If Natalie held the purse strings, and money was no object, she knows what she would do.

"I would immediately invest in growing our workforce because so many nurses are nearing retirement age. By the time I become an old woman, I'm worried there won't be anywhere near enough nurses. Of course, I'd love to pay nurses more and create more nursing jobs, but we also need to generate new graduates."

Natalie's first job as a nurse was in an intensive care unit.
"We were well-funded. I had weeks of orientation and education and amazing senior nurses guiding and developing me. Now I see new grads going into environments where their education is cancelled or delayed because of Covid-19. Some of them also had disrupted training. There's a serious deprioritisation of health professional development and it's also hard to feel nurtured in your job, especially for new nurses. We need time and enough experienced nurses to do that."

She says a lack of diversity also needs to be addressed.
"We need more Māori and Pacific mentors. Students and new grads need to see themselves in their teachers and supervisors. Over the past two years, we've seen some Māori and Pacific students drop out of their health professional courses because they need to earn money for their families. It's heart-breaking because we need them in healthcare. More pastoral support and scholarships are needed."

While low pay isn't the first thing Natalie mentions when asked about improvements to the profession, inequities are clear.

"We're often compared to police when speaking about careers, which is interesting."

A police officer trains for 16 weeks and earns a pro-rata package of around $53,000 to do so. Upon graduation, they will earn $68,000 as a new cadet. Compare that with a nurse who loses income for three years to complete a self-funded degree, starts with a student loan and goes into their first year of nursing on $59,000.

"We have to make nursing in New Zealand more attractive, especially when Australia pays much better. Our hospitals would grind to a halt without international nurses but they often don't stay long, heading to Australia. They also come without knowledge of Māori and the Treaty, unlike a New Zealand trained nurse."
I'd love to pay nurses more and create more nursing jobs, but we also need to generate new graduates.
The overwork, exacerbated by the pandemic, hasn't been great for nursing.
"Some of the best nurses I've worked with have left and the reason is because they care so much. We are 'care rationing', which means, 'there's a list of jobs I'd love to do, which includes holding people's hands, really listening to them and ensuring they're comfortable'. These aspects of nursing are being deprioritised because time-critical tasks take precedence. You don't feel good at the end of the day when you realise some of those jobs never got done. In ED we're caring for people on the worst day of their lives. Connection, compassion and reassurance is core to nursing but is being put aside. Nurses shouldn't have to work like robots."

The Nursing Safe Staffing Review released in February showed 83 percent of nursing staff said patients in understaffed shifts aren't receiving complete care. The DHBs use Care Capacity Demand Management (CCDM) software to try to match patients' care needs with resources. But after issues were raised about CCDM, a review was conducted between September and December 2021, led by the Nursing Advisory Group, focusing on inpatient wards. CCDM was intended to be the solution to safe staffing but it has highlighted that demand for care far exceeds the nurses available. The report says: "If the number of nurses in the workforce is not increased, it is impossible to achieve safe staffing and positive work environments ... Nurses will remain overworked and exhausted."

In the first iteration of the report, emergency departments were left out. Natalie was outraged.

"We wrote and said, 'Emergency departments are in a crisis; we can't just turn people away and put out 'no vacancy' signs'. We're very proud that the College of Emergency Nurses then got a section in the report, acknowledging things are bad in EDs."

But there's been little traction. "We're no closer to having more nurses."
Connection, compassion and reassurance is core to nursing but is being put aside. Nurses shouldn't have to work like robots.
Natalie's research is complementary to her work as an emergency nurse. Her PhD focused on the paramedic experience of dealing with cardiac arrest. The issue of whether to continue or even start cardiopulmonary resuscitation (CPR) is complex.

"I've been involved in resuscitations where we've had to decide how long to keep trying to resuscitate. I've been to situations where an experienced paramedic just says, 'No, this person's died, and CPR won't have any effect on them'.

"I looked after my grandmother in her last days after she had a massive stroke. I have an innate acceptance that death isn't something to be afraid of. It comes to everyone. Care at the end of life can be rewarding if we can focus on comfort and family presence."

She says New Zealand's paramedics are highly qualified and capable of deciding when a death is expected and unavoidable, or if it's been so long since the patient's heart stopped that CPR won't reverse the situation.

"Are you really saving someone's life or are you just giving them another death?

"I've done lots of CPR and felt the thrill of getting someone's pulse back and having them talk to me. But I've worked in ED and intensive care and seen survivors of cardiac arrest who go on to die anyway – often with severe brain damage or severe heart failure."

Natalie has been nursing for two decades and is still enthusiastic about nursing and teaching, but compassion fatigue is real.

"There have been times when I've realised my cup of caring is empty. It's important to hold onto the good experiences you have and the amazing people you meet in the job."

She tells the story of one exceptional patient as an example of courage and kindness.
"She was literally dying, but thanked me for making her comfortable and asked, 'Have you had your break yet, dear?' She died 20 minutes later. At the end of her life, when she was feeling terrible, she was still thinking of others."

Natalie refills her cup of caring as much as she can by getting out into nature.

"Bird photography is my hobby and part of the reason I love it is because where birds are, people and noise aren't. I go hiking in quiet places. I stand still and absorb what's going on. Birds don't demand anything of me." (See instagram.com/beautytodeathratio.)

"Beauty to death ratio is a concept an emergency physician on Twitter came up with – the idea that you're balancing out negative stuff, people who are aggressive and drunk or sad and dying – with beautiful things. For me, the beauty ratio is being in native bush with beautiful native birdsong around me."
There have been times when I've realised my cup of caring is empty. It's important to hold onto the good experiences you have and the amazing people you meet in the job.
Natalie says well-being is difficult in nursing at the moment.
"We know there are people dreading going to work, who feel exhausted all the time and who worry about what's happened after they leave work. But feeling that you're doing a good job is really important to health professionals."

Natalie is unsure how Health New Zealand, replacing the DHBs, will improve things.

"What bothers me is nurses often haven't had a seat at the table when health resourcing decisions are made. But we're the largest cohort of health professionals in the system.

"It's because we're mostly women and seen as followers, not leaders. Historically, it's been a bunch of predominantly white male doctors with similar worldviews sitting around the table making these decisions, all agreeing with each other. If you bring nurses and minority groups into that, we will speak truth and cause discomfort – and much-needed change."

Whichever way the new model is structured, Natalie, who is on the national committee of the College of Emergency Nurses, says emergency departments need investment.

"I've heard my medical colleagues speak up and use words like 'unsafe' and 'crisis' recently. I know they don't do it lightly."

Last July, hospitals were swamped with children with respiratory syncytial virus (RSV). Natalie is worried about this winter, when hospitals will still be dealing with Covid-19 and also influenza. "Winter is going to be so challenging. I'm concerned for my colleagues who work with children. They're trying to prepare for this onslaught of kids who have missed other vaccinations, and haven't been exposed to many bugs for two years."

But despite all the concerns and challenges, Natalie believes New Zealanders are lucky when it comes to healthcare.

"I've never been prouder of having a public health system and Covid-19 has made me appreciate the benefits of it. It has saved thousands of lives. But it is also really expensive. It requires massive investment at the community public health level, so we don't have as many people coming to ED because they've just got nowhere else to go. There isn't a cheap solution."

By Denise Montgomery