Staying put around the globe: careers keep alumni in interesting places
Three alumni living in three very different places explain what's kept them abroad for so long.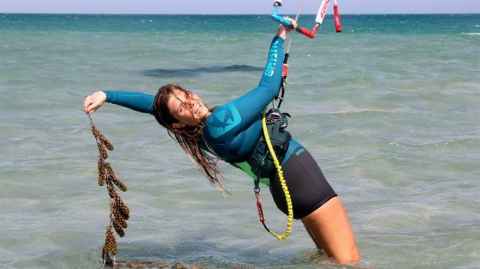 I'd never have imagined I'd run my own kitesurfing school.
MIA AYOUB El Gouna, Egypt
If travel broadens the mind, it can also create career-path detours. Mia Ayoub set off for a planned year's OE after completing a business and economics degree and a postgraduate diploma in management at the University of Auckland.

A decade on, she still hasn't kicked off the marketing career she envisaged for herself in which, dressed in "a killer suit and heels", she would be occupying a desk in a high-rise office building. Instead, work is running kitesurfing school Kite Tribe, started with her sister Sophie on the Red Sea shore, and her usual attire is shorts, T-shirt and jandals.

Mia has become stranded in El Gouna, a resort town about 500km from Cairo. The town, built in the late 1980s by Egyptian billionaire Samih Sawiris, is 25km from Hurghada, a city of about 250,000 people and with an international airport.

It's hardly by chance that she has ended up in Egypt, which is the country of her birth. But the kitesurfing venture is a more surprising turn for someone who declares herself not into sport.
That changed when she befriended a community of kitesurfing instructors, and eventually developed the skills to teach the sport herself. In 2017, she and Sophie, three years her junior and recently departed from the business, started Kite Tribe.

"I did initially enter the Business School because I wanted to have my own business one day, even though I didn't know what that might be at the time. I would never in a million years have imagined I'd run my own kitesurfing school," Mia says.

She also runs a small shop that sells artisanal ceramics and handicrafts made in Egypt, part of a family business started by her grandfather more than 50 years ago.

When Covid-19 struck, Egypt remained comparatively free of the restrictions widespread in the West, so Mia was content to stay put rather than return to New Zealand.

Besides family and friends, she misses the green, though.

"The desert landscape here is so different from New Zealand's lush bush."

Her advice to anyone contemplating a similar venture is to know your strengths and weaknesses.

"Admit your weaknesses and understand when it's time to get others with different skill sets onboard," she says.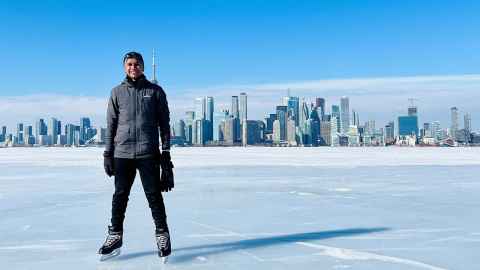 I wanted to test myself in a bigger market.
MARK BARBOZA Toronto, Canada
When a pandemic strikes, most people hunker down. Some pick up a guitar.

That's what Mark Barboza, an information systems and accounting graduate of the University of Auckland, now resident in Toronto, did. Mark, a director at management consultancy PwC, hadn't played guitar before, but after immersing himself in the live-music scene during his first few months in Toronto, Canada's largest city, he decided to give it a try.

"One of the best decisions I made when the pandemic was declared was to go out and buy a guitar," says Mark. "It's given me something to channel my spare time into and has become a real passion."

Mark, who graduated in 2010, has spent 12 years at PwC, having also had a stint with the firm in Singapore.

"My role is to help financial institutions be operationally resilient. This means advising them on what is critical, and then helping them prepare for and withstand different forms of disruption, be it a cyber attack, technology outage or disruption to people and premises."
It's a key regulatory area of focus in North America. Banking regulators believe that harm could be brought to customers and the financial markets if financial institutions can't continue to deliver what is critical. That would erode customer confidence if they couldn't access their money following, for example, a ransomware attack.

Mark came to New Zealand from Dubai in his early teens and his job has taken him to Australia, Japan, Brazil and Chile. However, he always had his sights set on North America.

"I wanted to test myself in a bigger market and the opportunity with PwC in Toronto was the right place at the right time."

A family connection in the country, proximity to the US, and Canada's embrace of emerging technologies such as AI were all drawcards.

A couple of years in, though, his new-found guitar prowess is one of his proudest accomplishments.

"To have gone from zero to being able to play 20 to 30 songs fills me with a lot of happiness and joy."
I'm a volunteer, as are about 95 percent of the crew.
JUDY HARDING Senegal, Africa
Covid-19 has left most Kiwis firmly grounded in Aotearoa New Zealand for the past two years, but it hasn't stopped Judy Harding from plying the seas off West Africa aboard a hospital ship.

Judy, a 2001 graduate of the University of Auckland's Faculty of Education Tai Tokerau Campus in Whangārei, joined the Africa Mercy in September 2021 as a grade three teacher.

"From September until this January, we were docked firstly at Las Palmas, Gran Canaria, then Granadilla, Tenerife, in the Canary Islands, before finally sailing to Dakar, Senegal," Judy says.

In Dakar, the 152m ship, which has five operating theatres and 80 patient beds, resumed a mission that had been interrupted in 2020 when Covid hit.

"The ship had to leave quickly before all the patients had received their surgery. So the return of the Africa Mercy has been long-awaited.

"The main surgeries being performed right now are maxillofacial and women's health. The first patient was a 27-year-old who had their cleft palate repaired.

"Those who had appointments 22 months ago are the first to be treated."

Judy, who after graduation taught at Dargaville Primary School for nearly two decades, has just two pupils at present.

"The students we teach are the children of the crew – mainly managers and surgeons who make a long-term commitment.

"I'm a volunteer, as are about 95 percent of the crew. In fact, we pay a token fee for our food and board."

As well as providing surgical care, the Mercy Ships Christian organisation aims to build medical capacity in sub-Saharan Africa and run food programmes.

"We are here for ten months, so I hope to learn a lot about the people and culture of Senegal," Judy says.

"The people are so friendly. Being part of the organisation for two years I will have personal time off, during which I hope to see more of Africa."

The experience, Judy says, is the fulfilment of a 15-year goal.

"Don't give up on a dream because the time is not quite right yet."
Story by Anthony Doesburg
This is the regular Around the Globe Ingenio item, and appears in the Autumn 2022 edition of the magazine. 
Are you alumni doing interesting things around the globe? Get in touch and we may feature you in an upcoming issue of Ingenio. 
Email: ingenio@auckland.ac.nz