Dame Jane Harding and team win Prime Minister's Science Prize
The neonatal glucose studies team of researchers led by Distinguished Professor Dame Jane Harding have been honoured for their outstanding work helping prevent brain damage in newborns.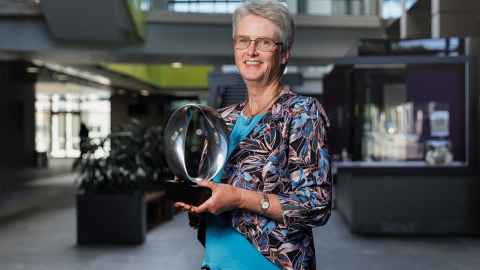 The Prime Minister's Science Prize has been awarded to a multidisciplinary team led by Distinguished Professor Dame Jane Harding.

For more than 20 years the Neonatal Glucose Studies Team has been investigating abnormal blood-sugar levels in newborns.

"Sugar imbalances are really common in babies," says Jane, a leading neonatologist in the Liggins Institute. "About four out of five very pre-term babies has high blood sugar. About one in six babies has low blood sugar. That's around 12,000 babies a year. We know that, in some babies, low blood sugar can cause brain damage. Looking after those levels is an important challenge."

The Prime Minister's Science Prize recognises 'transformative science', that has had a significant social, economic, health or environmental impact.

The team's research has investigated why high and low blood-sugar levels occur in newborns, how to monitor those levels, how they affect a child's development, and what to do.

"One of the satisfying things is making a difference to babies," Dame Jane says. "A simple sugar gel rubbed inside the baby's cheek helps improve low blood-sugar levels, meaning they don't need to go to intensive care. It has become a first-line treatment around the world."
Dame Jane has been with the Liggins Institute since its inception – 21 years this year. Many of the members of the team have been working together for more than 15 years and Jane says respect and trust are critical to their work.

"Babies are complicated creatures. Their growth and development is complicated. We need a big multidisciplinary team who can bring a lot of different skills and expertise to the problems, because they are hard to tackle," she says.

"We have brought together experts that include a bioengineer, vision scientist, psychologist, educationalist and other disciplines. That can be challenging because we think about things in different ways. We don't always speak the same language, so having to learn each other's ways of thinking has been an interesting challenge."
A matauranga Māori approach is increasingly embedded into the research to ensure Māori are recruited and retained in studies.

Another challenge has been the long timeframes involved in some of the research.

"If you want to know the long-term impact of anything that happens around the time a baby is born, you have to wait until they go to school to find out. We've just finished one study on babies we enrolled at birth and have just seen them when they were ten. We have to be committed long-term."

The team approaches mothers who are likely to have a baby born at risk of sugar imbalances, at antenatal clinics or in the hospital. Jane does gets to interact with some of the families involved.

"But mostly that's done by the fantastic team of research nurses, midwives and the clinical staff looking after the mother and baby. They have most of the contact. It is so important that the families know their trusted clinicians are supportive of our research if they are to consider taking part."
If you want to know the long-term impact of anything that happens around the time a baby is born, you have to wait until they go to school to find out.
There have been numerous spin-offs from Dame Jane's research, including a new non-invasive glucose-monitoring device that's undergoing testing and will reduce painful and distressing heel pricks used to collect baby's blood.

In addition to the team's success in developing new treatments and better screening methods for babies' blood sugar, their work in assessing vision is being applied more generally. They began to study vision because it is likely to be affected by low blood sugar.
"We know that low glucose injures the part of the brain that is normally involved in vision but it is very difficult to test visual function in very young children who can't tell you if they can see something."
The method they developed for testing vision in very young children was subsequently patented, and a spin-out company was formed to develop the method for office-based testing of vision in children cand adapted for assessing vision for the Paralympics.
The ongoing importance of their work is evidenced by the recent publication of two papers in the same issue of JAMA – a globally leading journal.

Dame Jane is particularly thrilled the prize is awarded for the efforts of the entire team and says all are enormously honoured to be recognised. They plan to use the $500,000 prize money to continue following up the babies and to develop national best-practice guidelines.

Dame Jane says she has always found working with babies and children rewarding.
"What could be more special than being involved at the birth of a baby? The vast majority get better and go home and start their lives.

"It's an area I've been interested in for many years, mostly because these are such common problems, but we haven't really had enough information to know the best way to manage them. We are talking about trying to prevent brain damage in newborn babies, which is so obviously important."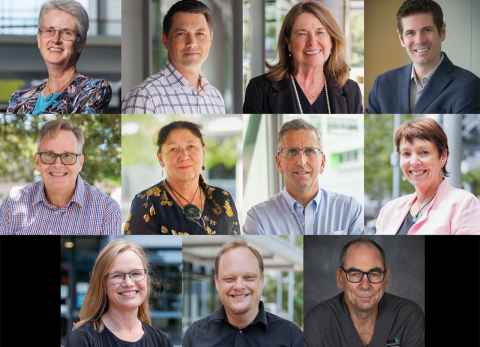 Neonatal Glucose
Studies Team

Prime Minister's Science Prize Winners 2022
Distinguished Professor Dame Jane Harding

neonatologist
Liggins Institute
Associate Professor Jane Alsweiler
neonatologist
FMHS
Distinguished Professor Geoff Chase
bioengineer
University of Canterbury
Dr Richard Edlin
health economist
FMHS
Greg Gamble
statistician
FMHS
Dr Deborah Harris
neonatal nurse practitioner
Victoria University of Wellington
Associate Professor Chris McKinlay
neonatalogist
FMHS
Jenny Rogers (Ngāi Tahu)

kaiarahi, follow-up team leader

Liggins Institute
Dr Phil Weston
neonatalogist
Waikato District Health Board
Professor Trecia Wouldes
developmental psychologist
FMHS
Dr Ben Thompson
vision scientist
University of Waterloo, Canada
Media queries
Jodi Yeats, media adviser
Faculty of Medical and Health Sciences
and Liggins Institute
M: 027 202 6372
E: jodi.yeats@auckland.ac.nz