Law alumna scores inaugural writers' residency
Ockham award-winning writer and former lawyer Gina Cole will work on her upcoming Pasifika futurism novel in Australia this year, thanks to a new writers' residency.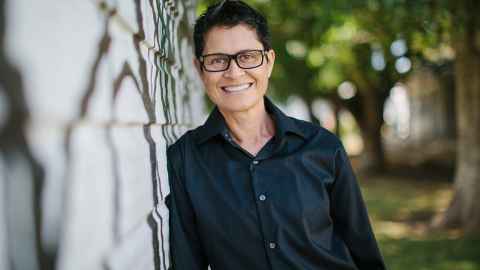 Despite dedicating more than 30 years of her life to law, University of Auckland alumna and Ockham New Zealand winner Gina Cole is unlikely to return to practising anytime soon.
The celebrated author, known for her Pasifika futurist science fiction, is heading off to Australia's Blue Mountains this September after being awarded an inaugural writers' residency.
Gina will spend four weeks at the Varuna National Writers' House in Katoomba, New South Wales, thanks to the Michael King Writers Centre in association with Varuna, which is the foremost institution for literature development in Australia.
Varuna's creative director Amy Sambrooke says the opportunity to connect Gina with First Nations writers and with Pasifika writers in Western Sydney was too good to pass up.
"We will be thrilled to meet her and have her here for the Blue Mountains Writers' Festival."
Gina, who is of Fijian, Scottish and Welsh descent, is looking forward to linking up with First Nations authors and Pasifika writers, as well as working on her new book, which, like her newly released novel Na Viro (Fijian for whirlpool), will also be a science fiction fantasy novel and a work of Pasifika futurism.
"It's great to have international residencies again," says Gina. "This gives me the gift of time and the opportunity to focus on one project in the company of other writers."
Gina, who studied law at the University of Auckland in the late eighties and was admitted to the bar in 1991, was always interested in writing. However, it wasn't until 2009, when she had garnered years of experience as a lawyer and built a successful barrister's practice, that she started to get serious about her passion.
In 2013, after some adroit juggling, she attained her masters degree in Creative Writing from the University of Auckland.
"I was working full time as a lawyer and thought I would potter along and do a few papers in creative writing, then someone suggested I do my masters ... I went for it and was accepted.
"I continued to work during the day as a lawyer, I had one day a week in person with my masters class, and I wrote in the gaps in between. I had no social life. I thought I could operate in a similar way when I undertook my PhD but that wasn't the case!"
In 2017, Gina's collection of short stories told through a Fijian lens, Black Ice Matter, won Best First Book of Fiction at the Ockham New Zealand Book Awards while she was still working as a lawyer.
The following year Gina closed her legal practice to embark on her writing journey full time and she hasn't looked back.
Gina's Varuna residency includes return flights to Sydney, four weeks' accommodation and meals, a $5,000 stipend and the opportunity to appear at the Blue Mountains Writers' Festival in October.