Another chance to see Juliet Gerrard documentary
Anyone interested in science might consider heading to the movie theatre to take in the film about Professor Dame Juliet Gerrard on Saturday morning, 30 July.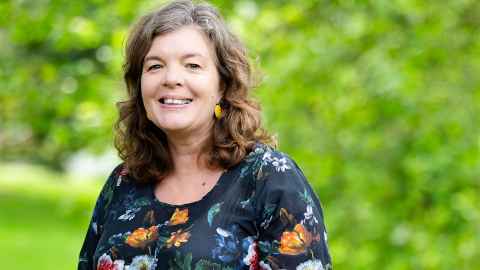 Juliet Gerrard, Science in Dark Times, the documentary featuring Professor Dame Juliet Gerrard (Faculty of Science) will get another airing at the NZ International Film Festival.

The film was supposed to screen at the Festival in 2021, but the Auckland part of the festival was cancelled due to Covid-19.

The film's producer/director Shirley Horrocks (ONZM), an arts/business alumna who lives in Auckland, didn't get to see it in the theatre as a result, despite her efforts in creating the documentary.

"I couldn't even go to the Wellington World Premiere because Auckland was in lockdown," Shirley says. "My only presence there was through a filmed statement from me. That was interesting as I hadn't been to the hairdresser for four months and ended up being filmed wearing a purple turban!"

In the documentary, Shirley captures the first three years of Juliet's tenure as the Prime Minister's Chief Science Advisor. She uses material filmed in a series of science videos for the Office of the Prime Minister's Chief Science Advisor (OPMSCA), in which Juliet features. They cover subjects such as rethinking plastics, fishing, cannabis and, of course, Covid-19. The plastics video includes a conversation between Juliet and renowned primatologist Dame Jane Goodall.
Leading scientists have a lot in common with artists, in their energy and their ability to think creatively.
"Juliet is a natural on camera," says Shirley. "She has an interesting back story and a subtle humour."
Juliet was born in Nottingham in the UK and has a first-class honours degree in chemistry and a DPhil from Oxford. She moved to Christchurch in 1997 to work for the NZ Institute of Crop and Food Research (now Plant and Food) and then taught at Canterbury University. She started at the University of Auckland as a professor in 2014.

Shirley says working with Juliet was a rewarding experience.

"She's a remarkable woman. Leading scientists have a lot in common with artists, in their energy and their ability to think creatively. Like artists, they are too little known. They ought to be household names, yet many of them never gain a public profile."

"I'm pleased to hear her say that," says Juliet. "People tend to think of artists as creative and scientists as more data-driven and nerdy. But scientists are very creative. You need rigour and all the experimental methods to test your idea. But you need the idea in the first place."
Juliet Gerrard: Science in Dark Times, on Saturday, July 30 at 10.45am at the ASB Waterfront Theatre