Research students take on race against the clock
Fourteen postgraduate research students will take on the ultimate race against the clock at the highly anticipated Three Minute Thesis Final on Friday 5 August.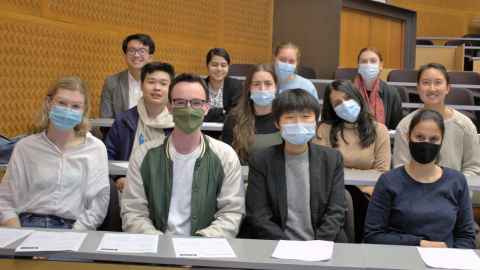 Ten doctoral candidates and four masters students are preparing to take the stage at the Three Minute Thesis Final on Friday 5 August, tasked with the challenge of sharing their research in just 180 seconds.
The highly anticipated annual event is a chance for postgraduate students from all faculties to come together and share their research to a general audience, with nothing to help them but a single slide.
The doctoral winner will represent the University of Auckland at the U21 3MT online competition and the Asia-Pacific Final Competition run by the University of Queensland. The masters winner will compete at the national Inter-University Masters Final, which will be hosted by the University of Auckland this year.
Meet the finalists
Masters finalists
Aldric Khoo (Liggins Institute)
Using your genetic code to determine your risk of lung cancer
Isla Christensen (Faculty of Science)
Framing complex environmental issues: a case study of kauri dieback management in New Zealand print media
Jerusha Gojer (Liggins Institute)
Are you eating to heal or to be ill?
Rebekah Bradley (Faculty of Science)
Assessment of the MinION as a platform for forensic sequencing of Mitochondrial DNA
Doctoral finalists
Lysea Haggie (Auckland Bioengineering Institute)
A Spiking Neural Network Model of the Motor Cortex
Smridhi Marwah (Faculty of Education and Social Work)
Understanding how age, ethnicity, sexuality and Covid-19 influence women's perceptions of their bodies
Katie Smith (Faculty of Science)
Capturing the Mind in Action
Henry Till (Faculty of Engineering)
Tsunami Loading on New Zealand Buildings
Qun Ma (Faculty of Education and Social Work)
Early childhood teachers' professional identity in China: A case study
Priya Qualtrough Mittal (Faculty of Engineering)
Improving millimetre wave coverage in an indoor environment using passive reflectors
Trevyn Toone (Faculty of Science)
Restoration and Recovery of Green-lipped Mussels
Michael Pudjihartono (Liggins Institute)
The uncharted DNA: From junk to gold
Ali Lowrey (Faculty of Science)
Grape Expectations: New Zealand wine and climate change
Prasanth Sasikumar (Auckland Bioengineering Institute)
Empathic Remote Collaboration