Maia Hetaraka: ideas for Māori education success
Maia Hetaraka is director of Tai Tokerau Campus and says students being able to study at a campus close to home is key to academic success – and that includes her own.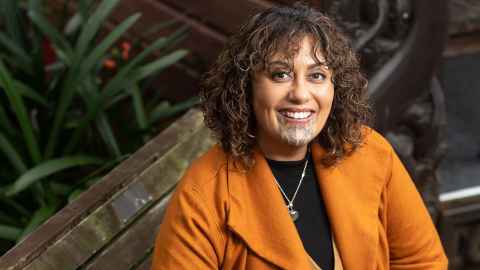 Dr Maia Hetaraka is anchored and confident in her place in the world. Te Tai Tokerau.

From her home in Whangārei, bouncing her two-year-old mokopuna on her knee, Maia talks candidly of the big challenges with education in Aotearoa New Zealand. Her roles of mother, daughter, grandmother, academic and educationalist exist with seamless ease.

Earlier this year, Maia (Ngāti Wai, Ngāi Tahu, Ngā Puhi) stepped into the position of director of Tai Tokerau Campus, Te Puna Wananga, reaching a top role in academia with relative speed. It was only in 2020 that she graduated with a doctorate in education. She is enjoying the busy, challenging and rewarding role that sees her building connections between Tai Tokerau and the wider University.

Maia's success has not been predicated on a curriculum vitae of star-studded qualifications and tenures from across the globe. Rather, she is fiercely proud that her full gamut of undergraduate and postgraduate qualifications has been completed from Northland, including her Doctorate in Education exploring the possibilities and challenges of successfully enacting the Ministry of Education's Māori education policy "within Aotearoa New Zealand's socio-political context of colonisation".

"I have done all my degrees through our Tai Tokerau campus. For me, the value of having Waipapa Taumata Rau, University of Auckland based in Northland has been life-changing."

Maia says the pursuit of study close to home has been important for her whole family. Especially as during her early years of study as a young single mum she doubts she would have survived if she had moved her family to Auckland.

She doesn't feel unique in this experience. She says many of her students in Tai Tokerau have similar stories.

"I had my first daughter when I was 18, straight out of school. I started studying extramurally through Massey, but I decided that was not really what I wanted to do. Once I began studying my Bachelor of Education (Primary) at the University's Tai Tokerau Campus, I found I really loved learning.

"It sparked a passion and I carried on for my honours and PhD to complement my teaching practice. And to contribute to the many efforts by many people to improve systems for Māori."

Now as a standard bearer for contextual and place-based learning, Maia says she can see a shift in the "big old institution".

"The University of Auckland is beginning to understand the importance of context and place-based learning, that where we are contributes to how we learn and to our education journey."

She sees that, on one hand, systems and processes are becoming more centralised at the University, but on the other there is more openness to allow campuses like Tai Tokerau greater autonomy.

"It may be an effect of working differently during the Covid-19 pandemic, but from where I sit here in Tai Tokerau, I feel that our Vice-Chancellor and Pro Vice-Chancellor Māori have been instrumental in slotting things in place that means there is movement, and it is exciting movement.

"The institution now recognises that things are different here. We have more of a whānau environment. Students can study at a world-class university but the way we operate relates more to us in Northland."

If you are literate in terms of reading and writing, you are deemed to be educated. From my perspective, that is a very narrow, limiting view.
Since the 1990s, Tai Tokerau Campus has offered studies in education. More recently, course delivery has extended to nursing which Maia says brings a whole new energy to the space. With the campus rebuild in the pipeline, she hopes more study options become available to the people of Northland.

"When you can study at an institution like the University of Auckland, and when you can get a degree that is recognised around the world – from Northland – it makes your chances in life that much greater."

Maia's secrets to success are close to home in many ways. Motherhood and a vested interest in equipping the next generation for their own successes has helped her engage in education. And, for as long as she can remember, both her father, tohunga whakairo (master carver) Te Warihi Hetaraka, and mother, Janet Hetaraka, have had high expectations of her and set excellent examples. Striving for excellence is ingrained.

She credits her groundedness and confidence to her parents' commitment to raising their family to be comfortable in te ao Māori, as well as in Pākehā contexts. It is perhaps also the foundation for her leadership style and ability to walk into challenging conversations and express her views warmly and openly but with strength and determination.

For instance, as an educator, and a person who has been through the New Zealand education system and who works in that system, Maia considers her view to sit outside the mainstream.

"Education and schooling are two very different things. Schooling is obviously what happens when we send our children to school. Schooling does not necessarily educate. In fact, particularly for Māori, the education system has been one of the major blocks interrupting our own education practices and our bodies of knowledge."

She points to literacy as an example.

"In our school system, it is all about literacy, but a very specific kind. If you are literate in terms of reading and writing, you are deemed to be educated.

"From my perspective, that is a very narrow, limiting view. For me, being educated relies on using all our senses; it is how we are able to read the world around us."

Maia says if we could let go of one thing to help advance education, it would be the sense of superiority in many of our institutions and systems.

"Letting go of those deeply entrenched perspectives of knowledge, of education and of what counts, that our way is the way, and our knowledge is the knowledge. That will open up the possibility that there are other just as worthy streams of knowledge, just as valid ways of thinking and knowing."

A constant puzzle to her is why successive governments look elsewhere for education models, and sometimes models that are not working so well, particularly when we have so much expertise in New Zealand.
"We have people who know education and know us."

For me, the value of having the University of Auckland based in Northland has been life changing.
With renewed celebrations around Puanga and Matariki, Maia senses a groundswell of people who are thinking about what education actually is and what that means for Aotearoa New Zealand.

The New Zealand Curriculum refresh is a new source of hope. Maia has been working on the social sciences and history streams.

"The potential for this refresh to open up education in our schools is massive.

"Still, work needs to be done for our teachers to let them know what this education is, because the new curriculum may ask them to carry out their work in a different way to what they have been doing."

She says people are fearful of the change and it will not all be plain sailing. She suspects, for such a long time we have been told what we have in education "is not big enough, not good enough, and that we have to look elsewhere".

"I hear people saying we will limit our children by only teaching New Zealand history here, showing that there are huge misunderstandings.

"It is because people have not been exposed to the wealth of rich knowledge, understanding and history that we have in Aotearoa.

"The refreshed curriculum gives us an opportunity to explore the wealth of our history and that of others, it provides an 'and', not 'instead of' education. Māori understand this approach – knowing ourselves is a solid foundation from which to know the rest of the world and our important place in it."

Maia is looking forward to the next generation who come through, hoping they will be people who will know the worth of world-class schooling and a world-class education gained from a kete of knowledge close to home.

And with September being Māori language month (and Te Wiki o te reo Māori from
13-19 September), she draws on a whakatauākī from Sir James Hēnare, that exalts te reo Māori as the lifeforce of the culture.
"He said, 'Ko te reo te mauri o te mana Māori'."

ABOUT MAIA'S MOKO KAUAE
Maia's moko kauae was designed by her brother, who based it on the matau ā Maui.
"I got it a month before my granddaughter was born (her birth was a motivator) so she has only ever known me with it.
"A key meaning for my kauae is knowledge generation and dissemination; that knowledge is dynamic and living, but it also has its roots in the past."