Meet the Business School's new Kaiārahi
Hone Arohaina Te Topa Thorpe (Te Āti Awa) started as the Business School's new Kaiārahi on 1 August 2022. He told us a bit about his past, and his journey to where he is now.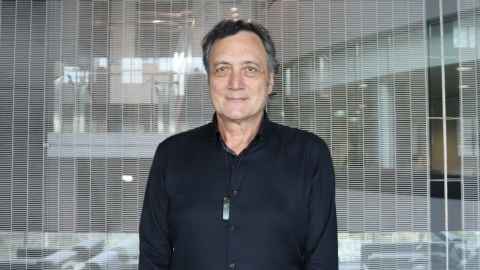 Fifty years ago on 14 September, Ngā Tamatoa and the Te Reo Māori Society presented a petition to Parliament requesting that courses in Māori language and aspects of Māori culture be offered in all schools. The Business School's new Kaiārahi, Hone Arohaina Te Topa Thorpe (Te Āti Awa), was part of the group delivering the petition to Parliament on that cold, grey day. In fact, you can see him in the photo below. "I'm in the third row after Rēne Te Ō Uenuku, the rangatira from Ngāti Toa, a local iwi."
As a student activist, Hone had joined the Te Reo Māori Society and Ngā Tamatoa to be amongst like-minded Māori at university.

"It was a monumental occasion that I have never forgotten. The speeches in te reo Māori on the steps of Parliament still resonate today in my work in the business school."
"Hana Te Hemara from Te Āti Awa, who has become the mother of Māori Language Week was the driving force for the petition. She was also an unrelenting force for the development of Māori business and formed the first Māori business association. Signed by 33,000 Māori and Tauiwi, she delivered the petition along with elders and activists to Members of Parliament that included Whetu Tirakātene-Sullivan and Matiu Rata. It was an amazing day."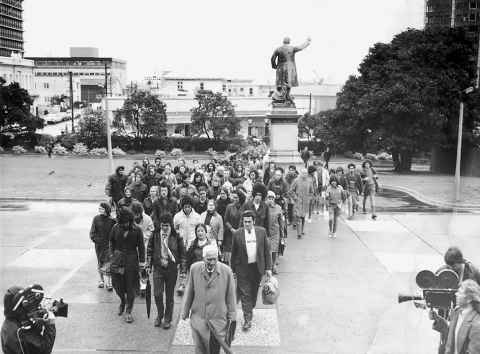 Hone Arohaina Te Topa Thorpe (Te Āti Awa) started as the Business School's new Kaiārahi on 1 August 2022. As Kaiārahi, he reports directly to the Dean and will work closely with the Executive Team and Business School staff to support Taumata Teitei aspirations.
Hone comes from an education background, and ngā tauira (students) and teaching are always close in his field of vision.
Growing up in his Riwaka whānau and Puketapu hapū around the waters of Totaranui and Whanganui-ā-Tara has shaped Hone. Regular travelling as a tamariki over the straits of Raukawakawa in the ocean pathways of his tūpuna between these two waters gave him his foundation as mana moana. With his Te Āti Awa anchor firmly set on the sacred island of Arapaoa he has ventured into the world.
As a rangatahi he was a kapa haka member at Ngāti Pōneke and a member of the Te Reo Māori Society of Victoria University. He was action orientated with Ngā Tamatoa. He regards Te Tiriti as an ancestor that lives with us and speaks to us in our contemporary lives.
Graduating with a science degree in geology he worked as a micro-paleontologist at the DSIR, eventually becoming a high school teacher. His action orientation has continued as a teacher and leader in bicultural groups in the schools he has taught in. He trained as a Te Reo Māori teacher at the University of Waikato and found the experience profound and affirming. He completed a commerce degree at the University of Auckland as a mature student with a strong interest in management, ethics, leadership and strategy. He was an economics lecturer at AUT before becoming a tutor and manager of the Education Development Unit at the University of Auckland Business School.
His biggest strategy has been to set up a company with a website to publish bilingual books to assist all teachers with their teacher certification regarding the requirement to learn te reo Māori and tikanga Māori.
Hone continues to have a strong interest in the application of accounting, business law, economics, entrepreneurship, governance, marketing, management and systems in the Māori world. He is also interested in strategy development to bring more rangatahi Māori into these areas and to work with staff so that Māori can succeed as Māori in the Business School.
Hone is also a writer and an illustrator. He has written and published two high school economics books, one on inflation and the other on employment. He has an enduring passion for whānau, hapu, mātauranga Māori, te reo Māori, tikanga Māori, wairua Māori, research and self-improvement through learning. He continues to draw strength from the waters of his formal years and returns regularly to the resting place of his ancestors and his birthplace in Te Waipounamu.