Artificial intelligence maps threats to world's rarest dolphin
Three University alumni collaborate on drone tech and Artificial Intelligence to help to save the Māui dolphin from extinction.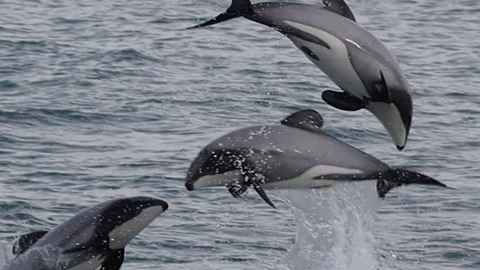 MAUI63 is so named as when the venture began, there were only 63 Māui dolphins left in existence. 
Using drone technology and AI to collect and process visual data, the founders hope to empower scientists, government, fisheries and the general public to take action to try and save the world's rarest dolphin from extinction and influence future marine conservation efforts.
The MAUI63 team uses a customised drone to find and track the movement of dolphins, and enables individual dolphins to be identified through their fin markings. The data can then be used to generate accurate spatial distribution models and create threat risk models based on natural and human-made threats. These include fisheries, climate change and toxoplasmosis. The data can then be used to help inform interventions, such as changing the location of fishing activities.
The three founders behind MAUI63 all met at Waipapa Taumata Rau, University of Auckland. Willy Wang, a doctoral student, was at the time working on a capstone project for his Master's degree at the Business School. The project required reimaginng a piece of emerging technology for a new entrepreneurial purpose.
Wang was investigating using drones to deliver supplies to trampers in the bush, but through the validation process discovered that the concept would not work. Pondering his next step, he walked along the waterfront and saw a sign that caused a eureka moment. The sign read 'We guarantee you will see whales or dolphins in their natural habitat and if you don't, your next trip is absolutely free!'. He speculated it would be possible to make operations more effective by using drone technology to make the prospect of spotting dolphins more certain.
Wang says "I sent an email to an operator in Kaikoura and heard back by 7.30am the next morning asking when I could come down. I knew I had something – but I had no idea what was to come."
Wang learned about the catastrophic state of the Māui dolphin population and knew that his efforts were best spent on addressing the bigger problem of species endangerment. In assembling his team, he turned to Professor Rochelle Constantine, a whale and dolphin researcher he knew who worked in the same building as him.
Constantine had been considering new ways to undertake aerial surveys to detect marine species, so was curious about Wang's idea of using drones.
A prototype was needed to demonstrate that the idea would work. Wang knew Masters classmate Tane van der Boon was a data scientist who as a hobby had been tinkering with computer vision, so took him out for a drink.
van der Boon says "I promised after a few beers that I could build an computer vision model that could detect dolphins. I spent my weekends for a couple of months working on training models. This was back when computer vision wasn't as mainstream as it is now. When we got it to work, we showed Rochelle and she went 'oh, you guys are actually serious' and she came on board and helped us source more footage to work with for our proof of concept."
Constantine says "I knew large drones had the potential to be used for ocean surveying and seeing how quickly the guys were able to train AI to audit the data, then I knew we were onto something that would make a difference"
With the team assembled, they formed MAUI63 as a not-for-profit. They soon had support from WWF who opened up an opportunity for van der Boon to go to Wellington to pitch their venture to the CEO of the Ministry for Primary Industries. From there, they gained support from commercial fishing companies Sanford and Moana.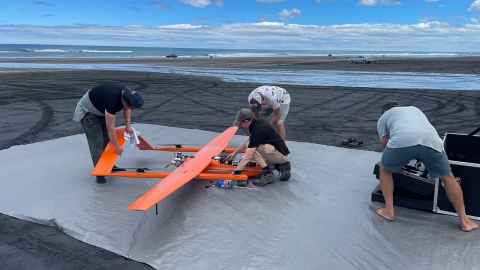 The plight of the Māui dolphin has gained international attention. In 2020, there was the threat of the United States banning imports of New Zealand seafood in response to perceived inaction around the Māui dolphin population crisis that would put at risk around $200 million in trade agreements.
Earlier this year New Zealand came under scrutiny from the International Whaling Commission (IWC), the global intergovernmental body charged with the conservation and management of whales consisting of representatives from around 80 countries. The IWC is now asking a group of scientists to peer review New Zealand's risk model for the Māui dolphin.
Wang says that the Māui dolphin is of concern to everyone as the proverbial canary in the mine. They have consulted widely with everyone from West Coast and Auckland iwi to commercial fishing operators around support for conservation efforts. "The dolphin is a key indicator of marine health as they're at the apex of marine biology. The fishing guys know this – that once the dolphin is gone, it shows the health of the ocean is in severe jeopardy. A thriving ocean is important to them as well.
Our combination of drone and AI technology also has potential application for monitoring water health."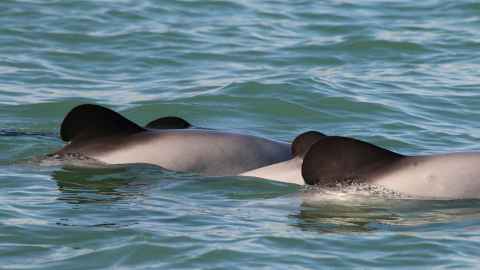 The MAUI63 team are currently working on an app with a back-end dashboard as well as a second citizen science app for the public's use to help contribute data.
Longer term they aim to have drones in both the North and South Islands doing continuous monitoring and want to ensure that other countries are enabled to protect marine life.
van der Boon says "Our goal is to make data publicly available so that data-driven decisions can be made on how to protect species. We chose the hardest thing first – trying to spot dolphins in the ocean is like trying to spot a needle in a haystack.
But if we crack this then the technology can be applied to help save other marine mammals. On an international scale, the big ambitious goal is to have data coming in from everywhere available in one place to pull insights from."
The team behind MAUI63 are now recognised as world-leading innovators and have been approached around a trip to Antarctica towards the end of the year to do some work for the EU Environmental Council to explore the impact of ice breakers on marine mammals and the ocean.
van der Boon says, "We've had lots of opportunities but we're trying to stay true to our core mission of protecting the Māui dolphin, and we'll be focused on nailing that before going too much further."
Mātātaki | The Challenge is a continuing series from the University of Auckland about how our researchers tackle some of the world's biggest challenges. Challenge articles are available for republication. Article first published by the Centre for Innovation and Entrepreneurship at the Business School, Waipapa Taumata Rau, University of Auckland.
Media contact
Gilbert Wong | Research Communications manager
E: gilbert.wong@auckland.ac.nz