Six cutting-edge solutions score slice of $100k
Consent, mental health, and water quality were just a few of the real-world concerns tackled by innovators and entrepreneurs as part of the 2022 Velocity $100k Challenge.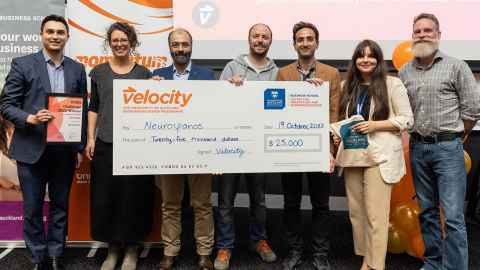 The brains behind a revolutionary solution to help improve precision and safety during neurosurgery were awarded first place in the 2022 Velocity $100k Challenge awards ceremony at the University of Auckland on 19 October.

The winning venture, Neurofanos, was awarded $25,000 seed capital. It was spearheaded by University of Auckland Bioengineering Institute research fellows Dr Hamid Abbasi and Dr Soroush Safaei, with Dr Jason Correia, consultant neurosurgeon, Auckland City Hospital, who is also co-director of the Neurosurgery Research Unit at the Centre for Brain Research, and Dr Samantha Holdsworth, director at Matai Medical Institute.
Meanwhile, five further teams took home a share of the prize money, which will help to generate momentum and support their ventures to develop into the future.
The $15,000 overall runner-up award went to a venture called Lighthouse for their work on a scalable digital tool to support clinicians and their clients with mental health and behavioural intervention delivery.
The team that took out the $5,000 academic category, Waitality, were awarded for their work developing a water sensor to determine drinking safety.
The $5,000 new ventures category win went to OutThere Astronautics for their innovation in the field of satellite communication.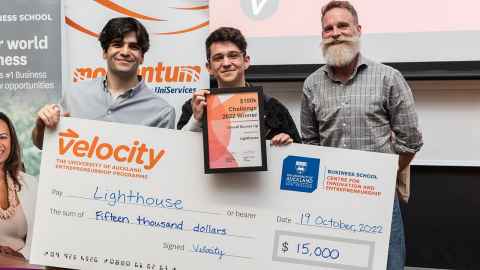 The joint social category winner, Let's Talk Consent, also scored $5,000 seed capital for developing a production company that aims to counter the narrative to rape culture and promote consent culture instead.
The team aims to empower the voices of rangatahi by providing them with a platform to disengage from narratives that perpetuate and normalise New Zealand's epidemic of sexual harm.
Meanwhile, the other recipient of the $5000 social category award went to team ISpy for their head lice egg detector, designed to ensure no egg is left unseen, reducing the rate of reinfection.

The Velocity $100k Challenge is New Zealand's leading student-led entrepreneurship competition, supported by the University of Auckland Business School's Centre for Innovation and Entrepreneurship. Over the last 19 years, thousands of people have participated in the programme, developing their entrepreneurial mindset, innovative capability, and enterprising skills.
Alums of the programme, including awards night keynote speaker Max Arshavsky, have taken this knowledge into a myriad of careers in various industries and have gone on to become founders, creating ventures that benefit their future and the future of the communities they serve.
Max Arshavsky, a former University of Auckland engineering student, took out the $100k Velocity Challenge with his team back in 2018. Since then, their business Zenno Astronautics, which pioneers super-magnets to support sustainable space exploration, has gone from strength to strength, most recently raising $10.5 million in funding.

Director of the University of Auckland Business School's Centre for Innovation and Entrepreneurship Darsel Keane says Velocity alumni make a tangible impact on the prosperity of New Zealand.
"Over the history of this programme our alumni have started hundreds of ventures, created thousands of jobs and raised over $1.3 billion in capital.
I've been so impressed by the quality of entries in this year's Velocity $100k Challenge and look forward to seeing the participants' passion, ambition and hard work turn their venture ideas into a reality."