FMHS researchers gain $3.5m Marsden funding
FMHS research tackling some of the biggest health challenges has gained Marsden funding.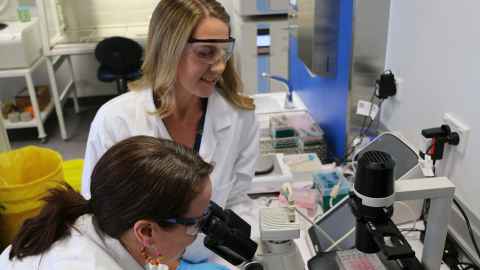 Cancer, stillbirths, osteoarthritis and diabetic heart disease are some of the Faculty of Medical and Health Sciences research areas to gain $3.5 million from Te Pūtea Rangahau a Marsden the Marsden Fund.
The Marsden Fund is managed by the Royal Society Te Apārangi on behalf of the government and supports research in disciplines ranging from social sciences and humanities to physics, chemistry and biochemistry.
The Faculty of Medical and Health Sciences is receiving three Marsden Grants totalling $2.8 million and two Fast Start grants totalling $720,000.
Dr Raewyn Poulsen from Pharmacology receives $941,000 to study "the X and Y factor in osteoarthritis". To date most research on osteoarthritis has been on males, while the condition is prevalent in women. Poulsen's group have analysed tissue to find distinctly different disease pathways for men and women, paving the way for differentiated treatments. One in four New Zealanders will develop osteoarthritis placing increasing pressure on surgical centres.
Associate Professor Jo James from Obstetrics and Gynaecology is working with bioengineer Dr Alys Clark to create a world-first virtual pregnant uterus. They will use it to research how blood flow across the placental surface impacts the birth of dangerously small pēpi ($936,000). When this flow is impaired, the fetus' growth is restricted, which is a significant risk factor for stillbirths.
A team from FMHS and Auckland Bioengineering Institute receive $934,000 to investigate why the heart fails when it beats like a metronome.
The two Fast Start grants both went to the Auckland Cancer Society Research Centre. Dr Petr Tomek will study stimulation of immune cells to fight cancer by silencing the arylformamidase enzyme ($360,000). Dr Alexandra Mowday was awarded $360,000 for research on tumour-targeting bacteria as immune stimulants for cancer immunotherapy.
Associate Dean Research Andrew Shelling says it's great to see two early career researchers getting First Start Grants, and three outstanding mid career researchers getting Standard Grants.
"The grants are supporting our outstanding emerging researchers in generating new knowledge that will tackle some of the biggest health challenges globally," Shelling says.
The grants are distributed over three years and are fully costed; paying for salaries, students and postdoctoral positions, institutional overheads, and research consumables.