Business School alumnus awarded prestigious accounting honour
Mitchell Pham has the unique honour of receiving a top award from CPA Australia, despite not being an accounting professional himself.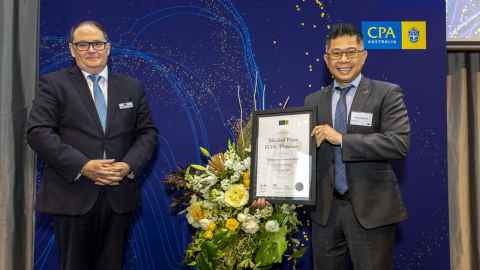 How does a business and technology luminary with no accounting qualifications wind up receiving a lifetime membership to one of the world's largest accounting bodies?
For University of Auckland alumnus Mitchell Pham, the answer is simple – his passions, and the remarkable career path he has forged by connecting businesses with the technology and finance industries in New Zealand and Asia, are what led him here.
Yesterday, Mitchell was announced as a Fellow of CPA Australia, receiving an honorary lifetime membership. This honour is conferred upon select non-members in recognition of their contributions and service to business and industry.
"CPA Australia Honorary Memberships are rare and are granted to someone to recognise their achievements and contribution to the business community," says Rick Jones, Country Head of New Zealand for CPA Australia.
"Mitchell has been recognised due to his extensive career in leadership roles within not just the technology sector, but more widely how this has positively impacted the wider New Zealand business community."
Despite not being an accountant himself, it's precisely Mitchell's experience as an industry outsider that has garnered him this special award. Over almost three decades working at the intersection of business and technology, Mitchell has seen first-hand how vital the financial profession is. More importantly, he also sees how it will become even more crucial as emerging technologies reshape our economy and wider society.
There is a misconception that the accounting and finance profession is becoming less relevant because of automation by software and AI technology – but I see it as more relevant now than ever, and even more so into the future for good reasons.
He points to the shift towards the digital economy and the growth of FinTech (financial technologies) as an example of the changes coming down the pipeline.
"Technology can change many fundamentals of business, enabling completely new commercial, monetisation and economic models that are not traditional – so it's not just about financial experts needing to understand technology, but also how technology is shaping commercial models for business enterprise and be able to advance that going forward."
Mitchell is uniquely placed to share these insights, thanks to decades of experience with his own technology companies and their work in financial services, healthcare, logistics and other industries, and his role as advisor for both private and public institutions. He established and chaired FinTechNZ for five years, chaired NZTech for six years, and currently chairs the Digital Council for Aotearoa New Zealand and the NZ ASEAN Business Alliance.
It was during his studies at the Business School that Mitchell discovered his twin passions for the technology industry and helping New Zealand businesses capitalise on opportunities in Asia, both of which have guided his career ever since.
"I had some amazing lecturers who really inspired me to see the future potential of how computing technology would completely change business, industry, economy and society," he says.
I had a really inspiring learning journey at the Business School, and that has never faded for me.
Over the years, he continued to give back to the University community – first as a tutor, then as a lecturer, and most recently as our Entrepreneur-in-Residence. In addition, he is an advisor for the University's own New Zealand Asia Institute (NZAI) and our Centre of Digital Enterprise (CODE).
As if that weren't enough, Mitchell – who first came to New Zealand as a former refugee from Vietnam - has also co-founded two not-for-profit organisations who provide support services for our country's refugee community.
For him, it's all about making a positive impact and being able to scale that impact by empowering the generations that follow.
"I think if you're truly passionate about something, then you have to realise that you alone as one person, and in one generation, can't make all of the difference. So how do you scale beyond yourself?" he says.
"You scale your impact by going back to where you started, and to where others like you would come from. That's how you scale – by empowering the next generations."