AUSA president Alan Shaker's message to students
New AUSA president Alan Shaker knows the challenges students face in 2023 getting to campus. But he says their university experience can be better if they do.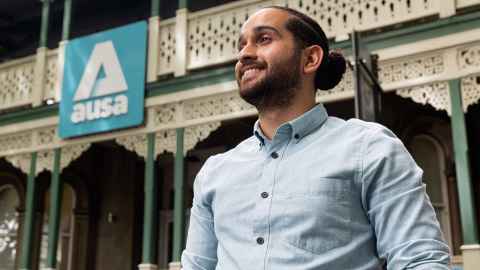 In 2021, Alan Shaker, then AUSA's education vice-president, was standing on AUSA's balcony gazing down on Alfred Street which was closed for O'Week festivities.

"I was looking at the number of students walking through enjoying themselves, interacting, getting into the music and food. It was good being able to do that again. I thought, 'This is why we do what we do'. The AUSA events team had worked so hard and the students loved it."

Alan was the AUSA's education vice-president for two years before being elected AUSA president in December 2022.
"It feels like a natural step up. I've been on the student exec for a long time in terms of student politics."

Looking at what he hopes to achieve in 2023, he is realistic.
"A year isn't long. Every student leader wants to change the world, but a year goes by very quickly. My goals aren't too different from the past two presidents I've worked under. I learned a lot from both Anamika [Harirajh] and Alofa [So'olefai], so it's about continuing their good work."

In the past few years, there have been constitutional changes to the way the AUSA is run that have helped it develop a long-term vision, assisted by an independent advisory board and the AUSA Student Council.

"In terms of my specific goals, there are three overarching things I want to achieve: to ensure AUSA's financial sustainability post-2025; to work with the University on a student voice framework; and the third is about student engagement and encouraging students back to campus.

"Because yes, they can do lectures at home. But we have all sorts of events, starting with O'Week which is obviously our biggest, throughout the year that keep students engaged."

"AUSA's position when it comes to teaching and learning is to advocate for flexibility, which the current system allows. Being a student today is vastly different from 20 years ago. There are so many who have to work full-time as well as study full-time or be carers. So flexibility is good.

"But in many ways, face-to-face experiences are irreplaceable. You make lifelong friends at university, and you don't get that without having real-life interaction."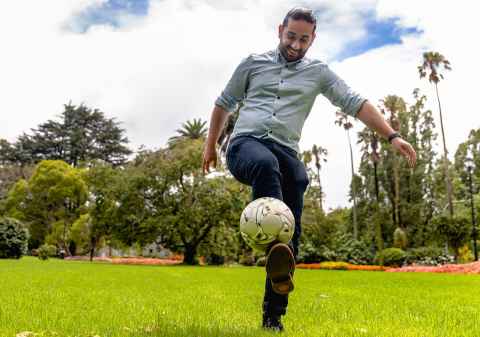 You make lifelong friends at university, and you don't get that without having
real-life interaction.
Alan says the new curriculum transformation framework certainly makes on-campus learning more attractive for those who are able.

"I live in South Auckland so when I catch the train, it takes over an hour to get here. I'm not going to catch the train to sit in a one-hour lecture in which the lecturer just speaks at me. I can do that at home. But small group teaching, face-to-face interaction, relational learning, and experiences outside lectures make being on campus the best. There are clubs and co-curricular activities that, in my opinion, will stand out when you apply for a job, rather than just top grades.

"With relational learning you engage with the lecturer, but also with your peers, socially and through projects."

He acknowledges the cost of public transport is a factor in a student's choice as to whether to attend in person. The government announced in December that it would continue to fund half-price public transport fares for full-time tertiary students who receive a student allowance.

Alan, who plans to be a secondary school teacher, is undertaking a conjoint degree in history and exercise science. With the full-time paid AUSA president role in 2023, he's doing two papers in the first semester and three in the second. He's also a football coach, having achieved his coaching licences through the Oceania Football Federation and NZ Football which allow him to coach in the Northern League.
"I'm from a football-mad family. Both my older brothers and father played, so it was only natural that I came to love the sport too."

A big Manchester United fan, he kept the Man U love going, coaching at Manukau United for a time.

"Manukau United was my local club and I'd played there, then became a coach there. I saw that club grow from being in the lower divisions to being in the top league in Auckland."

He's now coaching at Bay Olympic.
"I have a real passion for it. Opportunities have just opened up."
I absolutely love what I do. There's a reason I've run for the AUSA so many times – it's being able to make a difference in the lives of students. 
He also exudes passion for the role of AUSA president.
"It's an amazing job. I absolutely love what I do. There's a reason I've run for the AUSA so many times – it's being able to make a difference in the lives of students. I want to be a teacher so I'm very passionate about education and making a difference in the lives of young people."

Alan has an open-door policy. "Students can pop into AUSA House if they need help with anything or contact me directly on president@ausa.org.nz. There are so many times where you have students come and knock on your door, and you see the difference you can make."

It's clear this eloquent, enthusiastic young man will make an excellent teacher.

"I've not quite settled on whether I want to teach history or physical education, I'm leaning more towards history at the moment."

Alan's family arrived in New Zealand from northern Iraq in the early 1990s. As Kurds, they were forced to flee and didn't know a lot about New Zealand. Some of his relations went to Norway, others here.
"I feel incredibly privileged because they went through those struggles for me to have a better life. Everything I do is for them and the sacrifices they've made. My dad's a business owner and my mum has been working for Immigration New Zealand for the past 15-20 years. I'm sure, despite the struggles that led them here, they're really proud of how it's worked out."

In a notable first for student leadership, the elected student representative on the University Council is also Iraqi. Engineering honours student Hala Barakat was elected to the role in December, succeeding Junyi (Johnny) Wang.

"I met with Hala just before Christmas. We have a lot in common so that's awesome."

The student representative on Council is chosen through a separate election to the AUSA one, a system in place since 1 January 2020 following a change in legislation that led to an amendment to the Council constitution.
"When I speak of the three goals, I mentioned the student voice. Part of that is advocating to get the president back on Council. It's been the AUSA's goal since 2019, which was when we were last on it. Our argument is that about four times the number of students vote in the AUSA elections compared to the elections for the student rep on Council."

For the AUSA election, students voting must be AUSA members; for Council elections they don't.

"The AUSA sits on every committee that reports to the Council. We have eight full-time staff, a student council, an independent advisory board, and direct access to students, so we just think we're best positioned to serve on the Council."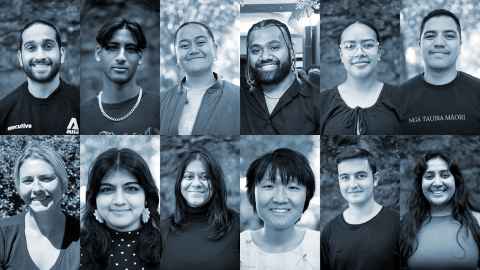 He is proud that the executive is diverse too. It includes four international students, three postgraduates and a wide range of cultures.
Alan and Hala will have regular catch-ups throughout the year to keep the information flowing."I'll do everything I can to help Hala. She's invited to our AUSA Student Council meetings and we're committed to working together and doing the best for students."
The modern AUSA tends to be apolitical but did recently put out a statement.
"At the end of 2022, we made a statement in support of the staff on strike because our position is we will do what students ask us to do. We are their voice. Many students knocked on my door or wrote emails asking us to speak out. So we did."
The AUSA also represents students employed by the University as graduate teaching assistants (GTAs)."The GTAs are the face of the education system for our first and second-year students. You're being taught with 15-20 people, and the GTAs are the people students remember. So if we can support them, it will lead to better teaching and a better overall educational experience."
Win, win.

Denise Montgomery
This article first appeared in the March 2023 edition of UniNews.