Fresh voice of Hala Barakat: student rep on University Council
Like AUSA president Alan Shaker, Hala Barakat has Iraqi heritage and says it has a big influence on the path she's taking.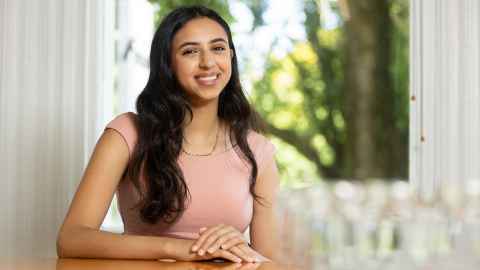 Hala Barakat is the 2023 student rep on the University's governing body, the Council. She was elected to the role late last year and attended her first meeting in December.

The 21-year-old disagrees that the AUSA president should also be the student representative on Council and presents a good argument. She has never run for the AUSA and thinks her approach is a fresh one, born of her experience as a resident adviser (RA) looking after students in accommodation and being on the Faculty of Engineering executive committee.

"I'll work closely with AUSA president Alan [Shaker], but I'm also keen to find my own way. I've not been interested in standing for AUSA. At the end of the day, the more voices and perspectives that are heard, the more effective the student body can be at identifying key issues that affect us."

In her first meeting with Alan, she was delighted to find they had so much in common, not just in their knowledge of students' issues but personally.

It is the first time that both representatives in the University's top student positions have had Iraqi heritage. In Hala's case, her parents are from Iraq but she was born in Saudi Arabia and has never been to Iraq. Her family came here when she was one. She has an older sister who is an engineering alumna of the University and an older brother who is at Otago, studying periodontology.

After winning a scholarship, Hala worked full-time as a trainee transportation and geotechnical engineer at Tonkin + Taylor over the pseudo-summer break before returning to full-time study.
The reason my parents moved to New Zealand was because of the academic side ... Iraqis hold academia and knowledge in high regard. 
She's not afraid to speak her mind on issues affecting students, including student safety in accommodation. As an RA for two years, she knows all too well students' concerns about security near some residential halls in Symonds Street.
"They are great facilities but there are social issues in that area from nearby residents; police are there nearly every day."

The University says it has mobile and static patrols in the area and has regularly met over the past 18 months to discuss boosts to security. Improvements include having installed a private security guard in Whitaker Place.

Hala enjoyed being an RA even though it involved lockdowns.
"I was one of those looking after 800 students. There might be people who called at 4am needing to go to hospital or someone having a seizure. It required quick thinking.

"But I enjoyed it more than if I was stuck at home because we had so many people studying together. We'd also go to the Domain and kick a ball around. It was quite lovely in many ways."

At 1.78m she's a natural for basketball, which she played in school, but has leaned more towards netball in recent years.

As head prefect at Westlake Girls High School, Hala had thought that she'd pursue medicine until she went overseas on a trip after Year 13.

"I was part of the UN Youth Global Development delegation and we went to the US and Europe. I got very sick and ended up in hospital.

"I saw the lifestyle of a doctor and thought, 'I don't know if I want to do that after all'."

But she enjoys maths and solving problems and that's part of her study focus for Engineering honours this year and a BCom next year.

She has had good training for her Council role by sitting on the executive committee for the Faculty of Engineering, as the student representative.
"You have to get past thinking 'Oh, I'm sitting with people who hold senior positions. I'm not going to speak up because sometimes my opinion isn't necessary'.

"If I think something should be changed, I'm not going to just mention it once. The goal is to keep it on their agenda and radar."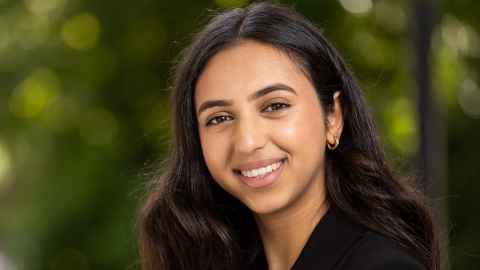 If I think something should be changed, I'm not going to just mention it once. The goal is to keep it on their agenda and radar.
She also works around 15 hours a week for UN Youth New Zealand, a charity that creates civics education for young Kiwis. She applies for grants and helps organise events, one of which is the Aotearoa Youth Declaration.

"We form committees on subjects like finance, health or transport and look at the changes we'd like to see in our lifetime. We collate it into a declaration and send it off to ministers, NGOs and anyone who would find it useful. That's how we spread the youth voice in our community."

Another is the New Zealand Model United Nations which involves around 400 people each year, and there's also the New Zealand Model Parliament, where participants play MPs.

"I like doing things that aren't just within engineering. It's not necessarily that I love politics, but I like to know how the country, and international relations work. Knowledge is great.

"The reason my parents moved to New Zealand was because of the academic side. They made me fall in love with knowledge and insight. I think that's definitely a cultural thing. I wonder if Alan would say a similar thing: Iraqis hold academia and knowledge in high regard."

She hasn't fully decided if she will go the commerce or engineering route once she has graduated. "I guess I'll just see which degree presents a job that interests me."

While she has a full load with work, charity work and study, her philosophy for living is one the older generation would likely envy.

"I want to work to live, not live to work. Working full-time over the holidays made me think about this. You're working eight to five and your days are 'what am I making for lunch tomorrow for work?', 'How am I getting to work?' It's all about work. So I thought when did this nine-to-five thing start; it was Henry Ford wasn't it?"
It was, in 1926.

"It's such a concept from the past. Even working 10-hour days, four days a week would be better, so you could have a three-day weekend."

As long as there's also time for family, friends, study, exercise and Lego, she'll be happy.

"They're the big things."
Denise Montgomery
This profile first appeared in the March 2023 issue of UniNews.