Tools of teaching trade pass to next generation
For University of Auckland student Tyler Kini, the March graduation ceremony at Tai Tokerau completes a long-held dream as he begins his new teaching life.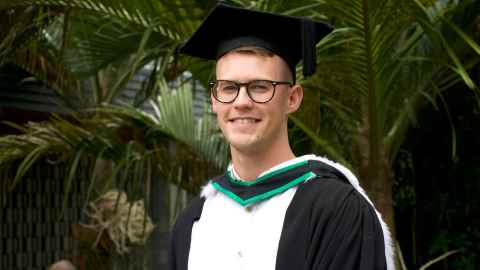 Having a popular teacher as a dad was what first made Tai Tokerau education graduate Tyler Kini (Ngāi Tahu) think teaching could be for him.
Tyler is graduated with a Bachelor of Education (Primary) alongside his mother Louise, who received a postgraduate diploma in nursing after 30 years in the field.
He says that although he spent years doing other jobs and travelling after leaving school, he always had teaching in the back of his mind.
"My father taught at Kamo Intermediate School in Whangārei, where I went, and always seemed to enjoy his job; just to see how he connected with students made me feel good."
After leaving school, Tyler says he was "a bit lost" and ended up working as a hotel receptionist before discovering the wider world on a short trip to the UK and Europe.
He later went back to London where he worked for a couple of years for an American start-up company similar to Uber. But while he loved big city life, the teaching dream hadn't gone away.
Back in Whangārei, he enrolled in a Bachelor of Education at the University of Auckland's Tai Tokerau campus in 2020, just as Covid hit.
"We had about five days on campus and then we were in lockdown. I didn't know anyone in my year group, so it was hard because I'm the sort of learner who loves discussion and bouncing ideas off people, and without that contact it was hard to do it over Zoom."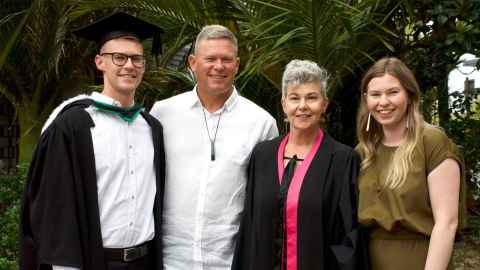 He says the switch to online learning and isolation because of Covid was the biggest challenge of the three-year degree. In that situation, he believes, it pays to have someone on your side.
"Mirko Wojnowski is a teacher who took me under his wing from the start. He supported and helped me and went out of his way when exams or assignments were coming up; he was my main anchor during those three years."
Tyler is now teaching at Maungatapere, a rural primary school of 320 children, west of Whangārei. After a month in the job, he has started getting into his stride.
"For the first few weeks I was a bit like a deer in the headlights, just getting used to the pace and intensity of the school day. I have the same class for pretty much every subject, so it might be maths at the start and then we're quickly switching into handwriting or spelling and then on to something else."
He also took a moment to get used to the busyness of school life.
"A week can just fly by with activities like swimming sports that aren't related to teaching in the classroom but are fun things the kids love. I probably didn't take that into account on my practicums, which fortunately happened to be at the same school."
My father taught at Kamo Intermediate School in Whangārei, where I went, and always seemed to enjoy his job; just to see how he connected with students made me feel good.
As a hockey and rugby player in the past, and now a keen golfer, PE is his preferred subject.
"There are already some nice memories, like our swimming sports last week, that will stay with me forever."
He says being in the north, te ao Māori and te reo Māori is prominent in the school and surrounding community.
"The kids bring their treasure with them in that respect. I'm confident at speaking but I couldn't really have a conversation and that's something I want to work on."
And a final piece of advice to anyone contemplating study after some years away?
"Surround yourself with a good support group. It can be people in your year who you form relationships with and bounce ideas off, or with whānau and friends, or both. I would also say, at 29, that there's a benefit to not going into teaching straight after school. You bring more maturity and life experience to the job."
Tyler graduated at Forum North in Whangārei on Friday 3 March, alongside 18 other University of Auckland Bachelor of Education students and five nursing graduates, with his proud father and sister in the audience.