Power of song and stamina: ten-year vision realised
Natasha Urale-Baker set herself the ambitious task of completing three degrees in ten years as a mature student. This spring she graduates with her PhD in Social Work, with a focus on Samoan funeral rituals.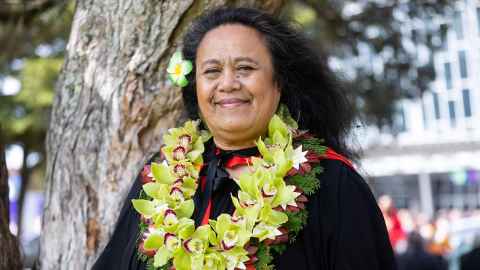 If you want to understand a culture, look at its songs and rituals, says University of Auckland graduate Natasha Urale-Baker.
Natasha is graduating with a PhD in Social Work from the University's Faculty of Education and Social Work after her dream to complete three degrees in ten years as a mature student – and despite a global pandemic – finally comes to fruition.
She will be the first Pacific student to complete her education from undergraduate to doctorate in the social work faculty, which is based at the Epsom campus.
Of Samoan descent, and a musician, her academic interests coalesced with the rest of her life in her research question: what do the songs used in Samoan funerals in Aotearoa tell us about Fa'asamoa (Samoan culture and identity) now?
"I was interested in what has changed and what's remained the same in Samoan funeral rituals," she says.
"I'm very conscious that the Pacific population is changing very, very quickly, but I wanted to know what constituted the 'bedrock' of those rituals."
And what hasn't changed, she discovered, is the metaphysical or spiritual element.
"As a songwriter and musician myself I knew this, but four years of talking to participants at funerals confirmed it. It's that thing that all humanity shares, the transcendent; the act of gathering together which affirms those social bonds, the ties that bind. There's something that happens when we're all singing together, and it's more than the sum of its parts."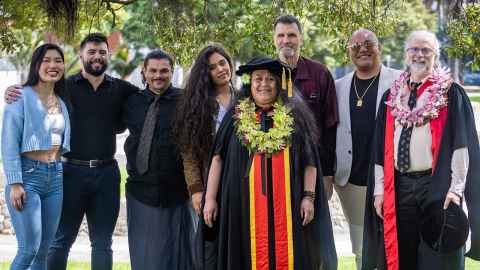 She was lucky to have completed her field research before Covid changed everything.
"Just after I submitted my thesis, it was the Covid lockdown and Samoan funerals changed forever, but fortunately I'd already gathered my data. Things will never be the same again; it was a snapshot in time."
One of the most fascinating things, she says, turned out to be the literature on ritual.
"The ideas of [French sociologist] Émile Durkheim, for example, who describes rituals as 'sites of collective effervescence' where people are signalling to outsiders, 'This is who we are'. Young ones in the Samoan funerals might not speak the language, but they can sing the songs, and the traditional hymns."
Natasha decided on the topic around the time of her father's funeral, for which she conducted the service.
"I had to do an original psalm, my brother insisted on it. My father was my conduit to maintaining my Samoan heritage, and as the oldest, I was always his 'right hand', but now I'm the one who quotes him."
It's that thing that all humanity shares, the transcendent; the act of gathering together which affirms those social bonds, the ties that bind. 
Coming from a creative family of filmmakers, musicians and artists, (in fact her mother 84-year-old Pusi Vaele Urale is due to have an art exhibition this week), she did "the very unconventional thing" of going to university at 47.
"I gave myself ten years to get from bachelors to PhD, and I really loved my time at the faculty [of Social Work], it was pivotal for me. I particularly want to acknowledge my wonderful supervisors Professor Christa Fouché and Associate Professor Melani Anae ( from Pacific Studies in the Faculty of Arts).
For her masters she looked at justice in relation to Pacific youth, so the funeral idea was a departure.
"People ask what the connection between these things is, but the whole world is connected. And I was also encouraged in this area by a wonderful man, Professor Emeritus Cluny Macpherson, who is based at Massey.
"I emailed him and he emailed back 500 words on a Sunday morning. I was honoured that this elder took the time to do that. He said the question has to be manageable in the time frame and has to fill a gap in the literature. But then he said, 'I don't know if you want to be sitting in funerals for four years!'"
As a mum or an auntie, people know I can growl, but that I will give you my heart, and that's the foundation that remains in my relationship with young people. They know I love them.
Her current role as a manager of youth development at Youthtown Ltd, [a 90-year-old not-for-profit devoted to engaging and developing young people] was created especially for her and is something she felt compelled to do.
"It's a wonderful organisation, the people are wonderful. About a year and a half before I finished my doctorate, I knew something had changed. I realised my path was to go into the community, to relate theory to practice, which is usually the place where everything falls down."
She says she could probably have done the role without a degree but felt it was important to make the connection between the social impact of what you've learned, and how you think that might play out.
"Theories are not another planet; we need to be able to demystify the language of theory. They are after all just a course of action, an idea that explains, justifies or predicts something."
And being "short on patience" and therefore only having two children herself with her American husband Fred, she is from a large family and her life is full of young people.
"I'm always asking my students, 'What's it like being young at this time?' I remain fascinated by what remains and what changes. We need to be really mindful of that, because technology has changed the game in so many ways."
And in the end, she says, her fundamental relationship with young people is based on love.
"As a mum or an auntie, people know I can growl, but that I will give you my heart, and that's the foundation that remains in my relationship with young people. They know I love them."