Graduate makes impossible dream come true
From living in a rural village in Indonesia to walking across the stage at Spark Arena to get his PhD in Education; it's been a remarkable journey for Arif Abdul.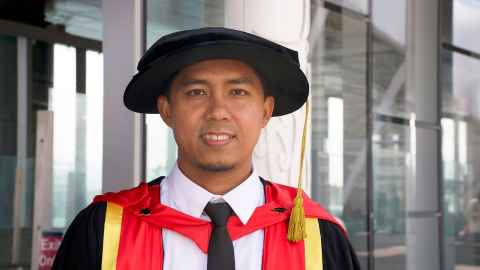 Six years ago, Arif Abdul knew nothing about the University of Auckland, or Aotearoa New Zealand.
Nor did he dream he would be living in Auckland city through a global pandemic and multiple lockdowns, that he and his wife would have their second child here, or that he would make life-changing connections with his two supervisors at the Faculty of Education and Social Work in Epsom.
In 2015, Arif was living in West Kalimantan, Indonesia, working at a university in Pontianak and planning to go to Leicester University in the UK to do his PhD in English language teaching; he'd even received an unconditional offer.
However a fortunate meeting with a University of Auckland representative at DIKTI (Republic of Indonesia Ministry of Education and Culture) University in Jakarta made him reconsider at the last moment and changed the whole direction of his life.
"New Zealand was not on my radar at the time, but then I found out that Auckland would support my tuition fees for an English course and DIKTI offer me a scholarship to help with living costs, so I was very lucky."
He says for the first six or seven months after arriving, he wasn't sure he'd made the right decision.
"I wasn't confident at all that I could reach the standards of the best university in this country, and one that is highly ranked worldwide. However, my supervisors at Epsom, [honorary academic] Mary Hill and Associate Professor Lexie Grudnoff believed in me and encouraged me all the way through. In fact, Mary became like my second mother."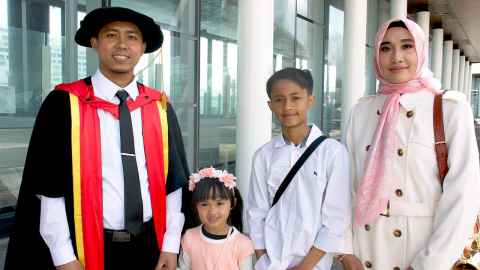 His own mother however, was also an exceptionally hardworking person who brought up her family of 11 (10 sons and a daughter) alone after Arif's father died when he was only four.
"I'm from a very poor family. We lived traditional lives as farmers in a rural village in West Kalimantan and our house had no electricity until I was in Year 5 at primary school.
"Neither my dad or mum went to any formal school, not even to primary school, so they couldn't read or write, and only some of my brothers finished to primary level; but they were smarter than me because they were able to support me to accomplish this mission for the family."
Arif's brothers got together and decided that at least one of them should further their education and that it should be him.
"So they sent me to junior high school and then senior high, and supported me financially all the way through. There were a couple of times I needed to stop because of the financial pressure, but then I carried on again," he says
And it was while he was at the University of Tanjungpura Pontianak to do his undergraduate degree in TESOL (Teaching English as a Second Language) that he decided to leave and stand as a candidate for the Sun National Party, established by the Muhammadiyah Youth Movement organisation.
"Unfortunately, I wasn't elected but I was left instead with lots of debts to my family and others who'd helped my campaign, so in 2009 I needed to go back to university. I was 25 with no money, and no job and I hadn't completed my undergraduate degree."
 
When I was down you said 'Kia kaha!', when I felt lonely, hopeless, and strange, you said 'They are us.' And when I felt like giving up, you said, ' You're special Arif, let's finish what we have started'.
A couple of years later he met his now-wife Raysa at their university's graduation.
"We had gone to the same university but hadn't met until graduation day, and we discovered we'd both worked at the same school before as well. It was the beginning of my love story!"
Fast forward and the family of three – their son Muhammad Farrel Arysa had been born in Indonesia before they left – found themselves in Auckland on student visas in university accommodation in the old Railway Station, where they've lived ever since.
"I can see Spark Arena from my window!" says Arif.
Having his daughter Auckla Aotea Arsya arrive in the third year of his doctorate felt like "doing another PhD at the same time," he laughs.
Arif's PhD thesis looks at the advantages for teachers (and their students) who actively continue their own learning during, and beyond, their official training period.
"I followed a group of secondary teachers from their initial teacher education programme into their first year of teaching.
"These teachers were not just teaching the curriculum but carrying out small scale research projects to see if what they were doing was working, why it was or wasn't, and how they could do things differently; if a student wasn't engaged for example, how they might change that with another approach."
And he found that teachers who constantly question their practice and look at new ideas get better results, not just for their students, but for themselves.
"This approach, of continuously being open to learning – from their students, other teachers, and from latest research – sets teachers up to be life-long learners and is very beneficial for everyone."
After graduation Arif is hoping to do postdoctoral research in New Zealand if he can secure funding; otherwise he will have to go back to Indonesia to complete his teaching contract.
But for now he is looking forward to celebrating a day he could never have imagined would come, and aside from his mother and siblings, wife, children and two supervisors in particular, he wants to thank the University and the people of New Zealand.
"I might not have been at the finish line without your financial and emotional support, particularly during this Covid pandemic; every student will have experienced challenges over the past few years.
"But when I was down you said 'Kia kaha!', when I felt lonely, hopeless, and strange, you said, 'They are us.' And when I felt like giving up, you said, ' You're special Arif, let's finish what we have started'."