Graduate, 81, receives highest honour – and is still learning
Awarded the Doctor of Literature, Emeritus Professor Alan Kirkness says not many people in New Zealand will know his research, nor of his connection with the Brothers Grimm.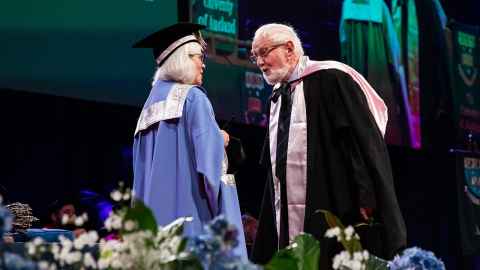 Aged 81, one of the University's graduates this week really stood out.

He was the final graduand to walk the stage at the Faculty of Arts graduation ceremony on Wednesday 28 September, and therefore the taker of the highest honour at the ceremony.

Emeritus Professor Alan Comrie Kirkness was awarded a higher doctorate – the Doctor of Literature (LittD) – for his internationally acclaimed and ground-breaking work on the Deutsches Wörterbuch (German Dictionary) founded by the brothers Jacob and Wilhelm Grimm, and its history and place in the development of German lexicography.

Receiving a higher doctorate is a rarity at the University due to the very high bar set for admission – demonstration of an original scholarly contribution of special excellence - and the rigorous examination process involving evaluation by three independent examiners of high international standing. All three examiners were unanimous in their assessment of the status and eminence of Alan's work.

Alan is an emeritus professor who taught in what was then the Department of Applied Language Studies and Linguistics at the University of Auckland, retiring in 2004. The award of a LittD is a significant accolade. It recognises Alan's authoritative standing, international eminence and work of real distinction over an extensive period.

"It's both gratifying and humbling to be recognised as a scholar by my home university, especially as practically all my work is in German and on German topics," says Alan.
"Few, if any, in Auckland will know much if anything about my published research. My scholarly reputation, such as it is, is more likely to be situated in Germany rather than here in New Zealand. This makes the award by the University of Auckland even more of an unexpected honour."
I am fully retired but I am now reading about New Zealand history over the past few centuries.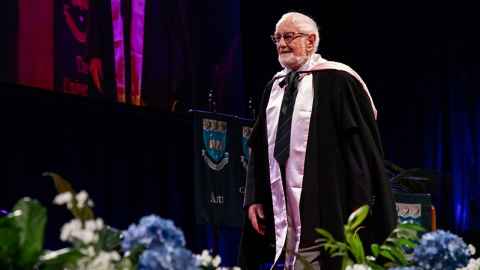 Alan says he has always been a "word freak" or logophile interested in dictionaries and encyclopaedias.

"When I went to Germany in 1973 it was to work on the Grimms' Dictionary. While there, I got a job at the Institute for German Language in Mannheim to lead a project finishing a historical dictionary of foreignisms in German which had been left unfinished."

Alan worked as a lexicographer for a number of years as the team finished the alphabet from R to Z.

"Later I wrote more about dictionaries, concentrating on the Grimms' German Dictionary, They authored the work as Jacob Grimm and Wilhelm Grimm, two quite distinct personalities."

After Alan's retirement from the University in 2004, he continued his research, trawling through extensive archival materials and completing a number of large-scale projects on them and the Grimms' Dictionary, and working closely with the Centre for Grimms´ Correspondence at Humboldt University in Berlin.

Professor Martin East was at Alan's graduation ceremony to witness his award. Martin's personal connection to Alan goes back over 20 years, when Alan was adviser for Martin's own PhD thesis that investigated bilingual dictionary use when students wrote essays in German.

"It was a genuine pleasure and privilege to be at the graduation and to share a part in this milestone event," says Martin, who is head of what is now the School of Cultures, Languages and Linguistics in the Faculty of Arts.
"The award of a LittD is a significant accolade for a former academic staff member."

Alan says he has now completed as many of the projects on the Grimms and their dictionary as possible.

"I finished this work because of (old) age and (indifferent) health, as well as the distance from essential German archives and libraries."

He spends a lot of time listening to classical music but his desire to learn hasn't stopped.

"I am fully retired but I am now reading about New Zealand history, over the past few centuries, in an attempt to understand more of the Māori world and today's ethnic relations, not least with reference to the Treaty of Waitangi.

"It's a completely different focus, where I have a great need to catch up."