Exuberant outlier scores top marks and lifelong friends
September graduate Jim Floerchinger stretched himself during his studies, setting a strong example for his son and opening avenues in the international business arena.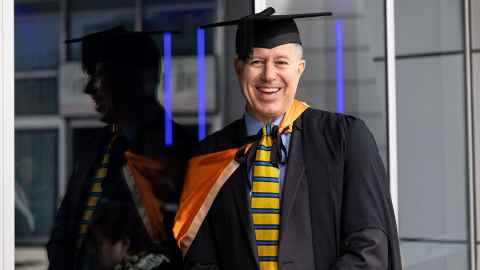 Jim Floerchinger's status as a mature student was the source of minor mirth while studying for a Master of Management in International Business.
The exuberant 52-year-old graduate, who made several lifelong friends during his later in life studies, was jokingly dubbed the 'outlier' by fellow (younger) students in his stats class.
"We often had classes on Zoom, but the social aspect of university was also important to me. We had get-togethers at my house, went on trips, and it was great getting to know everyone."
The pandemic was a catalyst for the Missouri-born former Harvard water polo coach and current teacher to return to studying.
"I was sitting on the couch, thinking I wanted to pursue something different and broader in scope and scale. The pandemic made me consider a few things, and I felt like it was time to back myself a bit more."
During his full-time studies, Jim was also a coach at the Sea Wolf Water Polo Club, dad to a 13-year-old, and a King's College coach and teacher.
Although it was challenging to juggle everything all at once, it was worth it; Jim graduated with first-class honours and top marks in several of his papers.
"A lot of the time, it was hard managing work, coaching and family relationships. There was a lot to do, but I'm glad I pushed myself. I realised I could do much more than I thought I could.
"As well as pushing myself, my teachers also pushed me, which allowed me to figure out my limits which is ultimately what you want. You want to come out changed."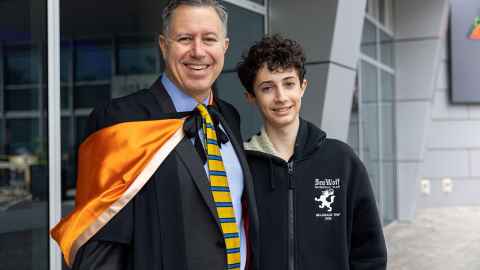 The process of returning to study later in life, says Jim, also served as a good example for his son.
"I think my son thought it was kind of funny with me going back to studying at first, but it was good for me to show to him that education can stretch you in ways you might not have envisioned. The programme helped me refine important skills, I had wonderful, encouraging professors, and I met a great network of people."
Jim, who for 14 years ran a part-time business importing medical devices into the country from the US, UK and Japan, says his experience helped him better understand some areas of his specialist masters degree.
"When I finished my masters I cleared the table in order to create the space to take on something different and more significant.
"I'm currently talking to recruiters and figuring out what's next – I want to be part of something that exports some of the amazing aspects of Aotearoa New Zealand to the world, and now I have the knowledge and skills to do it."