NASA leaders applaud NZ role in 'golden age' of space exploration
NASA's top leadership keen to see graduates take up internships at the space agency.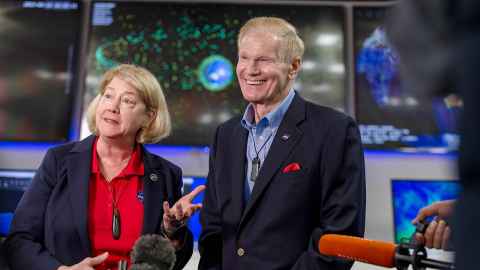 New Zealand is well-placed to take a significant role in 'the golden age of space exploration', according to Senator Bill Nelson, the Administrator of NASA.
He said the space agency was keen to see graduates from New Zealand taking up internship opportunities and praised the country's achievements in the space sector during a visit to Waipapa Taumata Tau, University of Auckland on 13 March.
Senator Nelson, who holds the top job at NASA, was accompanied by Pamela Melroy, the Deputy Administrator and a former air force colonel. Both NASA leaders have been to space, Nelson as a payload specialist, Melroy as one of only two women to command Space Shuttle missions.
Senator Nelson told an audience of students and researchers hosted by Te Pūnaha Ātea, The Space Institute at the University, "We are in the golden age of space exploration. Not only are we going back to the moon, but this time, to stay, to live, to work, to learn, to invent, to create to make it possible to venture further out into the cosmos."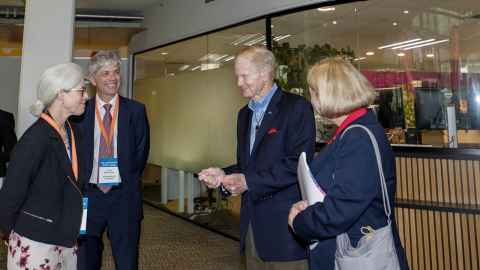 The moon was a vital staging point for the Artemis mission to Mars and NASA had committed to ensuring the first woman and the first person of colour would be part of the moon mission.
Melroy noted that New Zealand was only one of five nations in the world with the capability to launch rockets into space. As an astronaut, she had gazed at New Zealand from space and was heartened to visit and admire the colours of glacial opalescent rivers and lakes up close.
"It is great to have New Zealand as part of this age of space exploration."
If space had taught her anything it was to see Earth as a single planet.
"If we want to protect our planet we have to act as citizens of Earth, as members of the crew of spaceship Earth."
The Deputy Vice-Chancellor, Research, Professor Frank Bloomfield, noted that the University had had the foresight to build a critical mass of researchers across several faculties and to establish Te Pūnaha Ātea, as the focus for a range of space-related research, teaching and learning.
He said, "We're extremely proud to support researchers collaborating in research ranging from astrobiology through to the use of artificial intelligence to search for exoplanets and work on the CAPSTONE mission." (The mission has a craft in lunar orbit as part of the preparation for reaching Mars.)
As a signatory to the Artemis Accords, New Zealand is one of 23 nations who support the multilateral and peaceful exploration of space.
The accords set principles for the exploration of space that align well with kaitiakitanga and represent a commitment to ensure space exploration is carried out in a safe, sustainable and transparent manner complying with international law.
Media contact
Gilbert Wong
M: 021 917942
E: gilbert.wong@auckland.ac.nz