Te Pouhere Kōrero launch: The future of history is Māori
Te Pouhere Kōrero 10 is a special edition journal that launched on 28 March as a resource to aid teaching compulsory Māori history across schools.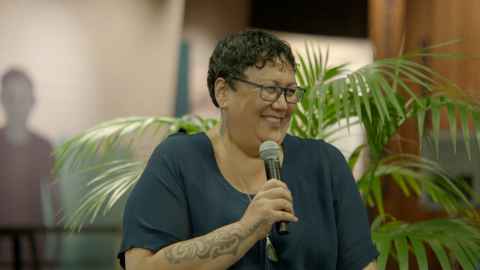 Te Pouhere Kōrero, supported by the Judith Binney Trust, celebrated the publication of Volume 10 of the prestigious Māori history journal of the same name – Te Pouhere Kōrero 10: Māori History, Māori People. It was launched at the National Library of New Zealand in Pōneke.
Te Pouhere Kōrero is essentially a 'for Māori, by Māori' collective, led by established Māori historians across Aotearoa, with a mission to encourage Māori history everywhere – not just in schools.
The launch held a panel discussion with three of the 12 authors of Te Pouhere Kōrero 10, Associate Professor Aroha Harris (Waipapa Taumata Rau, University of Auckland), Dr Arini Loader (Te Herenga Waka, Victoria University of Wellington), and Dr Peter Meihana (Te Kunenga ki Pūrehuroa, Massey University).
The panel explored the different contributions to the journal from each author, including place-based history, the concept of citizenship, Māori art history, decolonisation, colonial history, and how to teach Māori history.
The Government announced in 2019 that the history curriculum would receive a reset, implementing iwi history, and not a "sanitised kiwi history" as described by Dr Peter Meihana.
Associate Professor Aroha Harris says volume 10 is a "real milestone".
"I think if we can learn to love our history, we can learn to love each other and not feel threatened.
"There's nothing to fear about Māori history, and there can never be too much of it."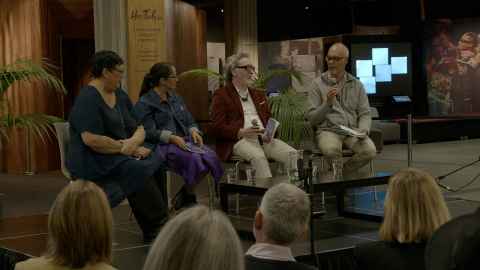 The launch was opened by Auckland University of Technology's Vice-Chancellor Damon Salesa, a trustee of the Judith Binney Trust. He acknowledged Judith Binney and the passionate historian she was, and said it was an honour to open the event on behalf of the Trust.
The journal was later presented by Victoria University's Pro Vice-Chancellor Māori, Rawinia Higgins, an alumna of Te Pouhere Kōrero.
In the first chapter, describing the history curriculum reset as long overdue Associate Professor Harris writes: The Māori Women's Welfare League first advocated for Māori subjects – including history, arts, literature and language – to be taught in schools at their inaugural conference in 1951. That was more than 70 years ago.
Harris encourages a traditonal Māori approach to teaching, which is inclusive of all history, and not one-sided. She explains that many marae have pou that represent Pākehā, missionaries, and ancestors of the Pacific Islands, accepting that Pākehā are a significant part of the country's history.
"This isn't about being anti-Pākehā; Te Pouhere Kōrero 10 is a history that includes and enhances Māori history.
"This volume is incredibly generous," Harris says. "It gives educators a lot of tips and I encourage them to take on board the challenges that may come with this new curriculum.
"Don't just go cherry picking for the good bits that you can use in the classroom. Take on the critcisms too because they go together.
"This isn't about bringing people down."
You can find a digitised version of Te Pouhere Kōrero 10 here.