Students and staff unite to tackle sustainability in Future17 programme
Twenty students and five staff are taking part in the University of Auckland Future17 global education programme to address sustainability challenges and building connections between higher education and the workforce.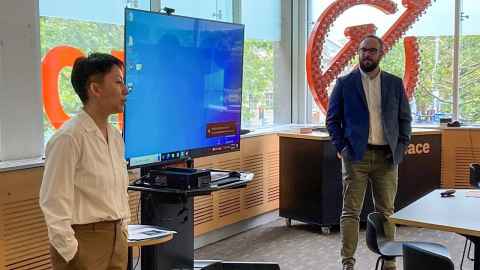 Students and mentors from universities across Europe, Africa, South America, and Oceania will collaborate with international partner organisations to tackle real-world issues related to the United Nations Sustainable Development Goals (SDGs). At the end of the programme, student teams will present their proposed solutions to partners, including corporate organisations, charities, and NGOs.
One of the Future17 challenges includes broadening the uptake of biogas digesters among Indonesian farmers, which transform farm waste into gas for stovetop use, and reducing the reliance on firewood. The environmental thinktank su-re.co is leading this initiative. The CEO of su-re.co, Dr Takeshi Takama, is a University of Auckland alumnus and a business owner who is working towards achieving the SDGs.
Future17 participants will also work on challenges such as:
Creating strategies for a packaging company in India to encourage businesses to shift from single-use packaging to reusable plastic pouches.
Developing a fundraising strategy for a Pakistan university to deliver technology training to women living in remote areas.
Forming recommendations on how to launch into the US market a natural-dye product, made with waste generated through the manufacture of iced tea at a Sri Lanka factory.
At the University's kick-off event held at the Centre for Innovation and Entrepreneurship on 24 February, the students and mentors met each other for the first time.
"We're excited that we get to do something creative; the teams are excited about the outcomes of the challenge, about what they're going to produce. And we're excited about the fact it's going to be complex," said Cody Mankelow, a Future17 mentor.
Future17 is currently offered through the Business School as a 15-point, stage three course, BUSINESS301. The initiative was launched in 2022 by the charity arm of higher education thought leader and rankings organisation QS, in conjunction with the University of Exeter (England). The University of Auckland joined the programme in September 2022.
To find out more about Future17 — including how to get involved as a mentor or propose a business challenge, aligned to the SDGs on behalf of one of the University's partners — email future17SDGs@auckland.ac.nz