Social work sisters: persevering through grief
Following in her late sister's footsteps, University of Auckland Master of Social Work graduate Deirdre Little is now working with tamariki to ensure they have the best opportunity to engage with education.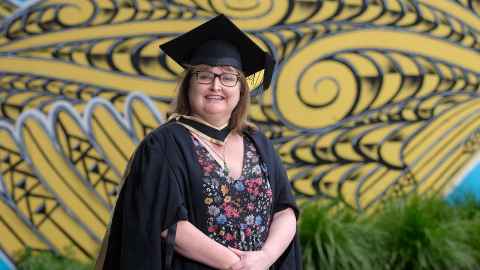 A few years ago, Deirdre Little couldn't have imagined how different an average day would be for her now.
Instead of working in a corporate office in human resources, she's now a school social worker, working collaboratively with schools, the community and others to support and advocate for students and their whanau.
At grassroots level, this can mean anything from providing winter blankets to whanau in need to offering one-on-one or group programmes to build students' self-esteem, develop social skills or deal with anxiety, grief and loss.
Alongside her 25-strong cohort, Deirdre will be graduating with her Master of Social Work (Professional) in the University's autumn ceremonies, and she couldn't be happier to have made it to this moment.
"I look back now, and I still don't know how I did it! I do know what helped so much was the support and flexibility of lecturers and the kindness and encouragement of my fellow students."
Going back a bit, Deirdre says although she'd spent most of her working life in the corporate world, her older sister Rachel's career as a social worker had always appealed.
"I used to hear about what she was doing and be really fascinated, it sounded like such a rewarding job. The heart, passion and mahi she put into her work in mental health was incredibly inspiring."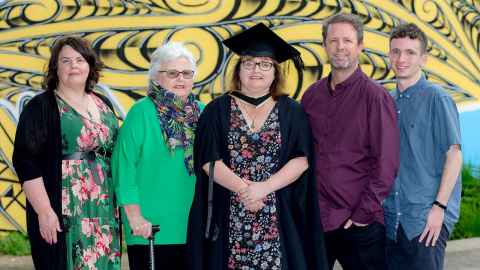 And she'd found that although people often go into human resources to help others, they also end up having to deal with "a lot of negative stuff," including redundancies, especially at the height of Covid.
"So, in 2021, with a lot of encouragement and advice from Rachel, it felt like the perfect time to make the move."
Deirdre was pleasantly surprised to find that as she already had an undergraduate degree (in business) she could become a qualified social worker in two years by doing the full-time course at the University's Faculty of Education and Social Work.
But a month after she started the course, her sister was diagnosed with cancer and her world turned upside down.
"For the whole time I was doing this qualification, I was dealing with my sister being very sick and then a few months after the diagnosis, we were advised she was terminally ill, and then the following year, in August 2022, she passed away."
And in terrible timing, one of her final papers, 'Grief and Loss', which was only offered in semester 2 of every year, coincided with her sister's hospital stay and subsequent death.
As she was in no state to attend lectures on the topic she contacted her lecturer, Professor Jay Marlowe, and explained the situation.
"I discussed with him that I had to do this paper, I couldn't wait another year because that would mean I couldn't complete my study and register as a social worker. His answer was, 'How can we do this for you?'"
I feel like I'm doing this at the right time in my life and it's something I always wanted to do. My advice to others thinking about it would be to just go for it. You won't regret your decision.
She ended up completing the paper online at her own pace with extended deadlines which, while still incredibly tough, proved 'doable'.
Her current role in the Social Workers in Schools team (SWiS), run by the Anglican Trust for Women and Children, often involves working with young children suffering from anxiety or low self-esteem.
"I strongly believe in tamariki getting the most out of their education so they can be the best versions of themselves, and that often involves giving them the confidence I lacked growing up."
Raised by a hardworking single mother with a dad who wasn't around much, Deirdre says all her mother wanted for her three daughters was to avoid her own fate of working in a factory most of her life.
"She wanted us to complete tertiary study and get a qualification so we would be in different circumstances to her; she didn't really care what it was as long as we enjoyed what we were doing.
"I feel like I'm doing this at the right time in my life and it's something I always wanted to do. My advice to others thinking about it would be to just go for it. You won't regret your decision."
Deirdre Little will be graduating with her proud whanau: husband Craig, son Josh, sister Linda and mother Dorothy in the audience.