Meet the Business School alumni shaking up the supermarket duopoly
The team behind Huckleberry are using the insights they gained at the Business School to drive positive change.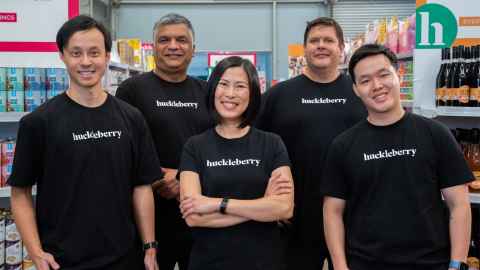 The executive team behind organic grocer Huckleberry are working towards their vision of a better, more sustainable grocery industry in Aotearoa New Zealand – and their shared experience at the University of Auckland Business School is what propelled them towards the right path.
Darren Guo (Chief Executive Officer, Huckleberry and Managing Director, 2121 Group) and Mat Hughes (Chairman and Director, 2121 Group) first connected while studying for a Postgraduate Diploma in Business Administration at the University. Darren later went on to study for an MBA alongside Justin Xie (Chief Financial Officer, Huckleberry), and Wen Goble (Organic Lead, Huckleberry). After taking over Huckleberry in early 2022, Darren brought his fellow University alumni on board and together, the group are now taking bold strides in New Zealand's supermarket scene.
Darren says it was the brand's commitment to sustainability and high-quality organic products that led him to become involved.
"As part of our 2121 Group investment vision, Mat and I focus on long-term investments in brands that have the potential to outlive us and create a lasting impact."
Our shared passion for sustainability, health-conscious living, and the potential to make a meaningful difference in the industry led us to seize the opportunity and become involved in Huckleberry.
The company is currently in the midst of a capital-raising effort – one that rewards investors with discounted groceries for life, amongst other benefits – to help them achieve the next phase in their ambitious plan to give Kiwi shoppers better options at the supermarket.
That desire to innovate for the better is the driving force behind Huckleberry's expansion plans, including new store openings, an improved online shopping experience and the development of own-brand products to reach a wider audience.
"We're committed to creating a lasting, positive impact on society through Huckleberry, by championing environmental conservation, supporting local producers and promoting health and wellbeing," says Mat.
Their journey from studying together at the Business School to helming a company like Huckleberry was a "steep learning curve", says Wen, but one that has ultimately proved rewarding.
"The team dynamic is collaborative and supportive, and we constantly challenge each other to think creatively and push boundaries," she says.
"Everyone's open-minded to new ideas and different perspectives," Justin agrees.
"Our team works in a challenging and open environment, where we can collaborate and contribute towards our common goal."
The group's collective experience at the Business School is part of the reason they can work together so successfully now, says Darren.
"As alumni, we each bring unique skill sets and perspectives to the table. Our shared educational background has built a strong bond among us, laying the foundation for trust and respect within the team. This has made it possible to effectively tackle challenges and make crucial decisions with confidence."