Peng Du's lifelong mission, and eye for art
Dr Peng Du's gastrointestinal electrophysiology research allows high-tech investigation of gastric diseases.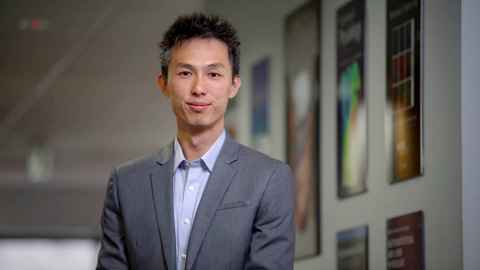 Fun fact: Biomedical engineer Associate Professor Peng Du, a key player in emergent medical technology in New Zealand, once curated an art exhibition. 
Entranced by the aesthetics of science, he put together Art of Bioengineering at the Gus Fisher Gallery in 2015. Its unexpected and dramatic visions are stil  on show in the foyer of the Auckland Bioengineering Institute (ABI).
"Art is another form of communication. Things that you can't put into words, you can put into pictures. You can see something created unintentionally and inspect your work through another mindset."
Peng is the ABI's Associate Director of Research and a lecturer in Engineering Science. In 15 years at the University, he has an impressive list of accolades, including the Prime Minister's MacDiarmid Emerging Scientist Prize in 2019 and the 2022 University of Auckland Research Impact Award. His world-leading research culminated in the development of a wearable device, Gastric Alimetry, that records gut bioelectrical activity non-invasively. It's now used in more than 15 hospitals in five countries. Peng's research has also uncovered new biomarkers for previously undiagnosable digestive diseases. Alimetry Ltd, the company spun out from the research, grabbed a record three awards at the 2022 NZ Hi-Tech Awards.
Peng spent his early years in the city of Ürümqi in Xinjiang province, a city with a majority Muslim population. "That bicultural environment as a Han Chinese is an interesting dynamic, similar to Pākehā and Māori. There's the coloniser and the Indigenous people; integration and sometimes a clash of cultures."
His family moved here in the late 90s and he headed to Kelston Intermediate. The relaxed freedoms stood out for 11-year-old Peng: calling teachers by their first names, open fields and barefoot kids. And there was the new mix of ethnicities and another language.
At Avondale College, Peng worked his way up to the top stream from the bottom. In his final year, he see-sawed between university-level mathematics and catch-up subjects needed for Bursary. "I ended up taking Classics and English," he says gleefully.
He still has a keen interest in ancient architecture. "In Rome, I enjoyed seeing the buildings I learnt about in school – the Pantheon, Hadrian's baths, the aqueduct, the Colosseum."
With University spin-outs, there is no middle ground where you can have one foot on each side.
By the end of high school, Peng had fallen in love with chemistry. He even got to hold the Nobel Prize for Chemistry in his hands after an inspiring public lecture from Professor Alan MacDiarmid. At university, he incorporated chemistry, biology and engineering into the fairly new degree of Biomedical Engineering.
His introduction to the gut came in his second year, and when he met Professor Andrew Pullan his PhD topic was sealed. 
"Andrew was charismatic. He could paint a picture, 'Here's the gut – it's this green pasture, the new and final frontier!'" Peng couldn't resist.
Peng also met Professor Greg O'Grady who taught him about clinical translation and putting a device into patients' hands. That combination ultimately led to Alimetry Ltd, but despite its success, Peng is still in academia.
But the value of Peng's research means he has gained funding from the Royal Society Te Apārangi, the Health Research Council, Te Tītoki Mataora, the US National Institutes of Health, and a number of others. 
Peng, a father of two, describes academia as a sheltered environment to investigate questions of interest.
"It's more of a lifelong mission than a short-term goal – job security is a concern."
"With University spin-outs, there is no middle ground where you can have one foot on each side, but ABI is making a case where you can go back and forth."
By Megan Fowlie
This profile first appeared in the Autumn 2023 edition of Ingenio.