Jack Woon's TV show a delicious take on NZ-Chinese culture
Filmmaker Jack Woon has engineered a creative path to showcase Kiwi-Chinese cuisine and culture with his TV show Sik Fan Lah! He talks to James Fyfe.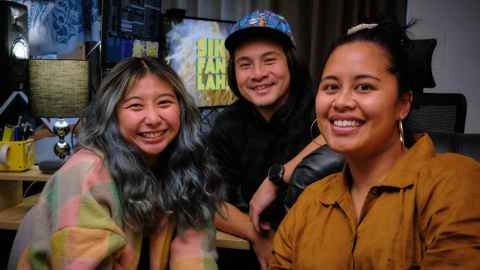 Alumnus Jack Woon is giving Kiwis a taste of New Zealand-Chinese food and culture.
He's the writer and director of TV show Sik Fan Lah!, a six-part series that acts as a gastronomical guide to Chinese food in Aotearoa, introducing a number of Chinese New Zealanders along the way.
The show, the name of which is a Cantonese phrase meaning "it's time to eat", aired on TVNZ this year and is now on TVNZ+.
Jack says the idea of the series is to convey just how diverse Chinese culture is through our universal love of food, while also giving us a glimpse into the lives of Kiwis with a Chinese background and hear their stories about growing up in Aotearoa.
Faced with the arduous task of trying to cover such a varied culinary culture, each episode of the show is hosted by a different person, providing a range of voices and experiences. Hosts include MasterChef winner Sam Low, Black Fern Tyla Nathan-Wong and Abigail Masengi, studying Health Science and Global Studies at the University of Auckland.
"We tried to pack in as much as we could, just to convey that central idea that this is exciting because it's diverse," says Jack.
Although the series revolves around food, the conversations that take place around the dinner table also touch on deeper themes, such as identity, race and parental pressure.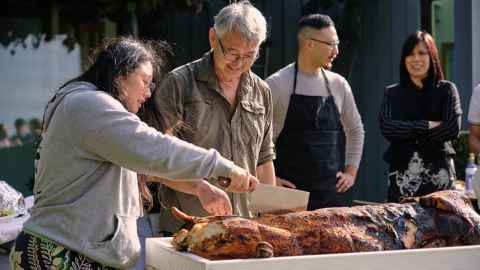 Born in Malaysia, Jack moved to New Zealand when he was five. Coming from an engineering family – his father and three older brothers are all engineers – he was expected to go into the family trade. His real passion, however, always lay in film and television work. After completing a conjoint Bachelor of Engineering and a Bachelor of Arts majoring in Media, Film and Television, Jack graduated with a Bachelor of Arts (Honours) in Screen Production in 2010.
More than a decade later, after having worked on everything from feature films to nature documentaries in China, Jack says making Sik Fan Lah! was "one of the easiest projects I've ever done", thanks to the talented cast and crew he worked with.
"You just put some food there, and then the stories come out," he says.
The show was shot during a two-month road trip from Auckland to Otago in 2022, an experience Jack describes as an "epic holiday".
Filming during a pandemic meant it wasn't all fun and games, though. Strict Covid-19 regulations brought endless RAT tests for the crew and constant bureaucratic red tape to cut through – something Jack says was only made possible thanks to the "brilliant, just brilliant" work of Abba-Rose Vaiaoga-Ioasa, another University of Auckland engineering graduate who is now working in the film and television industry.
Covid-19 regulations also meant they weren't actually allowed to eat the delicious food being served up on screen, something that was "pretty tough on the crew".
You just put some food there, and then the stories come out.
Pandemic-related complications aside, Jack, 37, says the very fact that a series like Sik Fan Lah! exists at all shows how much New Zealand has evolved in recent years.
"I absolutely would never have thought the show would be possible when I was younger," he says, adding that he would like to see even more Asian New Zealand voices on TV in the future.
"In New Zealand, about 15 percent of the population are Pan-Asian, but we definitely don't see that represented on our screen."
By sharing the experiences of other Chinese New Zealanders, Jack hopes shows like Sik Fan Lah! will help redefine what it means to be a Kiwi.
"Our philosophy for this show is that we are Kiwis – Kiwi Chinese are normal Kiwis. We are a part of New Zealand and a very important part of its history as well."
This article first appeared in the Autumn 2023 edition of Ingenio.